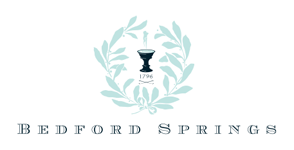 I played my first full round of golf with my (great) Uncle Bud at the Bedford Springs course in Bedford, PA. Bedford Springs was originally designed by Spender Oldham, modified by A.W. Tillinghast, and later revamped and altered by Donald Ross. In the 1890s and 1900s, Pittsburghers wealthy from the thriving steel industry would venture two hours south to Bedford, PA where the natural spring water was said to have rejuvenating, youth-giving qualities. While the women spent their time in the spas, the men entertained themselves with a round on the resort's golf course.
After falling into disrepair, both the hotel, spa, and the golf course have recently seen a massive influx of hundreds of millions of dollars. All three are open once again and receiving guests and golfers.
I played the course in September, 2007. Read on to see what I thought of this revived classic.

Course Conditions
Bedford Springs had fallen into disrepair. It was bought by a group that included my uncle, a local jewelry store owner, temporarily around the turn of the century. They sold the course to the current owners, who authorized a multi-million dollar renovation of the course that basically involved building a golf course from scratch… to match the golf course that already existed. New irrigation, new sod, new greens, new bunkers. Everything was so thoroughly renovated that calling it a "renovation" makes light of the work that was done.
The course was seeded in late 2006 and opened for play in early summer, 2007. I played the course in early September, 2007 and couldn't find a thing wrong with it. It was as if the course had been there – and well maintained – for a century. The grass was thick and lush with nary a weed or patch of clover anywhere. The rough was thick and healthy. The greens were running at a good clip – probably 11-12 on the stimpmeter (which is more than enough for greens designed, at least in part, by Donald Ross). Bunkers were consistent.
Not a blade of grass seemed out of place. Though I don't care for this country's fascination with and demand for pristine golf courses, I can also say that Bedford Springs should satisfy even the pickiest of golfers, or at least would have when I played.
Layout and Design
The golf course stretches from 5,106 yards from the "Oldham" tees to 6,023 yards, 6,446 yards, and 6,785 yards from the Tillinghast, Ross, and Medal tees, respectively. It plays to a par of 72, but has three par-threes, three par-fives, and only twelve two-shot holes.
Bedford Springs is one of the oldest courses in the United States, and also has the distinction of having been touched by two (or three, if you're willing to extend the definition) of the most renowned golf course architects on this side of the Atlantic Ocean.
Spencer Oldham designed the original 18-hole, 6,000-yard course in 1895. The features included chocolate drops and geometric S-curve and donut bunkers that remain to this day. In 1912, A.W. Tillinghast redesigned the course, making nine slightly longer holes from the 18 that existed. Tillinghast also created one of the more famous holes in golf architecture, "Tiny Tim." Nine holes must not have been enough, so Donald Ross was called in. His redesign in 1923, the most prolific year for golf course construction in the 20th century, expanded the course back to 18 holes. His influence can be seen throughout the modern course with the small, contoured fall-off greens. The course was restored by "noted classic golf course restoration architect" Ron Forse.
Bedford Springs is a fairly open golf course. Very few holes wander among trees. The remaining trees dot the landscape and usually don't come into play. A small creek comes into play a few times, and the course features both gentle and rather abrupt elevation changes. Bedford is nestled in the foothills of the Appalachian Mountains, after all. The course is well bunkered and features fairways of average width. Several of the holes run along the same axis, which quarters the predominant westerly winds (map of the course).
In all, it's tough to pin down the heritage of the golf course given the many designers (and designs) it's had. Several holes show pieces of each architect, or are at least don't stand out as being of one's style over the others. The Old Course at Bedford Springs has some small, undulating greens but it's got some larger ones, too. It has fairways that dogleg left and right. Some of the greens are open in front, while some require a purely aerial attack. Every green isn't shaved on the edges, but neither are they all surrounded by gnarly rough.
In other words, after a few trips around the Old Course, you'll likely have hit not only every club in the bag, but every shot in the bag as well. High, low, bump-and-run, high with spin – the course demands a depth to your shotmaking that's not often found in modern golf. If you're unable to play the proper shot, you'll usually find yourself with a difficult chip, pitch, or putt for your next shot.
Bang for the Buck
Standard prices range from $95 off-season resort guest to $155 and up. Though that's a fair amount of money for the Bedford area (and my area as well), the course is a resort course. Most people will receive some discounts with stay-and-play packages or the like. Additionally, outings with six or more foursomes receive fairly well discounted rates.
The Old Course is a joy to play, and it's beautifully maintained. Perhaps I'm cheap, but I'd pay north of $160 to play there under very few conditions (one of which being "I'm on vacation for a day."). I definitely wouldn't pay the $75 twilight fee several times per week if I were a resident. As it is a resort course, no membership options are available.
In other words, let's put it this way: if you want to play the Old Course, either plan a romantic weekend get-away with your significant other and avail yourself of the various spa/golf packages offered, or round up enough buddies that you can qualify for a group rate.
The prices include a golf cart, but caddies are unavailable at the Old Course. The golf carts are not equipped with GPS, and a pin location sheet tells you where to find the holes each day. I don't care for set "pin locations" of this type because there have been many times I've returned to a course a year after playing it the last time only to discover that the holes are cut in exactly the same spots as they were the last time I visited because I had the misfortune of playing on "hole location 3 days" both times. How about some variety!?
Conclusion
The Old Course is one of the most interesting, challenging, and beautiful courses I've played. It's come a long way since it nearly went to pasture less than five years ago, and a long way since I played my first round of golf on the course in the early 1990s.
With three designers and a wide array of holes that ask you to hit nearly every shot with every club in the bag, the Old Course will provide a challenge to even the most seasoned and skilled golfer, yet the fairly gentle nature of the course will not overly penalize the bogey golfer.
Though the rates can be steep, if you can book a round on the Old Course with a group or a package rate, I don't believe you'll be disappointed in your experience.