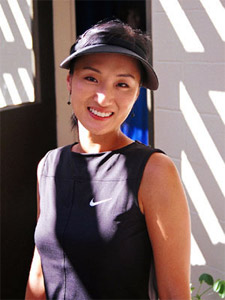 Grace Park, despite a bogey on the last hole Saturday, leads the 20-player field at the Samsung World Championship by three strokes over fan favorite Cristie Kerr and the best female player in the world Annika Sorenstam. Mexican heroine Lorena Ochoa is one further back. One behind her: defending champion Sophie Gustafson, Hall-of-Famer Juli Inkster, and Catriona Matthew, who shot a first-round 64.
Grace Park grabbed the lead in the first round at Bighorn Golf Club and set a new 18-hole tournament record at 10-under 62. She shot a 5-under 67 on the second day to set a new 36-hole record and open a four-shot gap. Her 71 (-1) in round three slimmed the gap to three but again established a new tournament record at 200, previously established at 201 by her two closest trailers, Annika Sorenstam and Cristie Kerr, in 2002.

Park three-putted the par-5 third for a bogey, but bounced back to -15 with a birdie on the sixth from 12 feet. Kerr tied Park at this point, with birdies on her first five holes, before falling of later with three bogeys in a span of six holes. Park pressed on, making five pars, before birdieing the eleventh from 12 feet and the twelfth from a foot to get to 17-under. She traded a bogey and a birdie at 14 and 15 before driving her ball well to the right on the eighteenth. A 4-minute, 30-second search turned up her ball but led to an unplayable lie, resulting in the finishing bogey.
Looking to win this tournament wire to wire, Park has won five LPGA events (including one major), each of them with the lead going into the final day. She's lost only one such lead, in this year's Wachovia LPGA Classic, when Lorena Ochoa shot a final-round 65 to best Park.
Said Park of her third-round performance:
I'm not showing if, but I'm extremely frustrated, but I'm sure there are a lot of frustrated golfers out there today. I mean, nobody really went deep today and the condition wasn't any tougher than the first two days. I just think we all had a little, what do you call it? Whatever. Stalled today.
The leaderboard stands as follows:
       Player                 Score       Tee Time
1      Grace Park             -16         1:55 PM
T2     Cristie Kerr           -13         1:55 PM
T2     Annika Sorenstam       -13         1:45 PM
4      Lorena Ochoa           -11         1:45 PM
T5     Sophie Gustafson       -10         1:35 PM
T5     Juli Inkster           -10         1:35 PM
T5     Catriona Matthew       -10         1:25 PM
Michelle Wie struggled to a two-over 74 in the first round, but has since turned it around with a 72 and a 67 to sit at -3 (15th). Fellow Seoul Sister Se Ri Pak shot an 80 on Saturday and is currently in last place at +3.
TV coverage for the final round runs from 4-6pm ET on NBC.