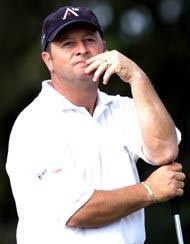 As many suspected, Ian Woosnam will be the next European Ryder Cup captain and Faldo will follow in 2008. The double appointment – yet to be done in Ryder Cup history – was reached by unanimous decision. Said European Tour Executive Director George O'Grady, "We have rewarded two great champions."
Woosnam received an early present on this, his 47th birthday. A former Masters champion (1991) and an eight-time Ryder Cup player, Woosnam served as assistant to Sam Torrance in 2002. Said the wee Woosie, "I'm going to be captain and I'm not going to be a playing captain. That decision is made now." Not that his game is in any shape to make the team as a playing member…

Woosnam's next step will be to choose a vice-captain, and he's already made it clear that his choice will be an Irishman. Woosnam doesn't know all the top players on the Euro tour, but is going to work to change that, saying "In the next 18 months, I will get to know these guys very well."
Many speculate that Faldo was announced as the 2008 captain to avoid snubbing him as the choice for the 2006 matches. Faldo, also 47, is the most successful Brit golfer of his generation. Faldo has five more majors than Woosnam and three more Ryder Cup appearances, at six and eleven respectively.
Said the selection committee chairman Jamie Spence, "We didn't feel it was fair to keep him hanging on."
Woosnam will captain the squad at the K Club in Ireland, and Faldo will bring his team back to the United States in play at the Valhalla Golf Club in Louisville, KY.
Photo Credit: © L'Equipe.