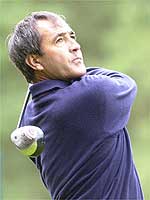 The European Tour is investigating Seve Ballesteros, accused of assaulting a Spanish golfer off the golf course during an amateur tournament last month. Ballesteros was a spectator at the over-35 event in Pedrena, Ballesteros' home town. Jose Maria Zamora, a tournament director on the European Tour and amateur player, is the reported victim.
Zamora penalized Ballesteros for slow play at last year's Italian Open. Ballesteros refused to adjust his card and was later fined by the tour. The European Tour has said that they're investigating but is declining to comment. No other details are available, and we imagine that suing someone in Spain is just as easy as it is in the United States, so what constitutes "assault" can be left to the imagination of the readers. Was it a prod with a forefinger on the shoulder to accentuate a point, or was it an attack?
We will simply go with "innocent until proven guilty." Especially given the fact that it is the European Tour doing the investigating and not the local police.