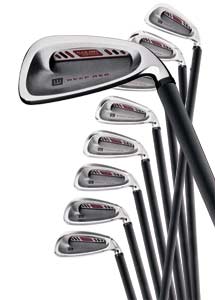 Executive Summary: the Wilson Deep Red Irons are an excellet set of irons for a mid to high handicapper.
About the Purchase
Unlike Erik, I'm happy to report exactly where I purchased my set of Deep Red irons. I purchased the 2003 Deep Red Irons from rockbottomgolf.com, over eBay. They have a direct sales site, and if you feel like gambling, you can try their auctions. I opted for the latter choice, and ended up saving almost $100 in the process. If you're in the market for a club or set and don't mind older clubs, give them a shot.
Look and Feel
These clubs are aggressive, and a great deal of that bold aggressiveness comes from Wilson's Fat Shafts. Instead of the standard hosel width, the Deep Reds have a nearly half-inch hosel which slams right into the head of the club. Most people don't know Wilson for their golf clubs, but standing next to a guy with "normal" irons, you definitely get some glances.