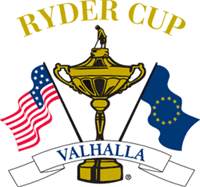 The 37th Ryder Cup has come down to the final day – something you couldn't say the previous two years. Of course, the last time the U.S. took a 9-7 lead into the final-day singles matches, they lost – in 1995 at Oak Hill in Rochester, NY.
Like 1995, the U.S. team is playing without Tiger, but the comparisons will likely stop there. This Ryder Cup, unlike others in recent years, has seen a sort of role reversal. Sergio Garcia and Lee Westwood have records of 0-1-2 and sat out a match for the first time in over a decade. Rookies on the U.S. squad have stepped up, like Boo Weekley and Hunter Mahan. In short, the U.S. team has been making the clutch shots and holing the key putts, while such instances for the Europeans have been much fewer and farther between.
It's all shaping up to be an exciting final day at the 37th Ryder Cup. Click through to read along.

12:03:03: Sergio vs. Anthony Kim may be the most compelling matchup of the day, despite Sergio's 1-3 record in singles. Fortunately for golf fans, we're not starting off with a bunch of dull matchups since it's about all we have for half an hour. The first tee announcers continue to mess up their calls on the first hole, which apparently goes farther left than they think. Sergio finds the fairway, as does Anthony Kim. The "Olé" song rings out. C'mon, fans, this match is in the U.S. Let's get those "USA" cheers going. I'm so sick of "Olé."
12:08:44: AK slams it to gimme range on the first hole! We're treated to our first (and hopefully last) glance at AK's "USA" belt. And finally, the U.S. team is wearing red. Sergio backs off, then hits his shot to near-gimme range as well. The first hole will be halved with birdies, setting up what looks to be an exciting day full of birdies.
12:14:35: Paul Casey vs. Hunter Mahan tees off. Even with four balls in play at the most on Saturday morning, NBC would only show about half of the golf shots being hit, and half of those were previously recorded. As such, I wonder if we'll even get to see AK and Serge teeing off at the second.
12:17:39: Jimmy Roberts talks to Paul Azinger and his popped collar. We do get to see the tee shots at the second: Sergio tugs it a bit into the left rough, while AK finds the fairway by about a foot on virtually the same line. "Fairways are drying out; getting a lot of roll today" says Johnny Miller.
12:20:04: Mahan hits a poor approach, and Paul Casey takes advantage, hitting his to about 15 feet – not great, not bad. "The first hole will be birdied half the time, even with Ryder Cup jitters" Miller had said.
12:23:20: AK, from 106, continues his solid wedge play and hits the ball to three to four feet! "Nearly flies it in" says Koch. AK rallies the crowd as he walks towards the green. We didn't get to see Mahan's putt, but Casey misses his birdie putt and Mahan has four feet for par. He lips out, and Casey goes 1up.
12:26:22: Karlsson vs. Leonard tees off. Robert finds the fairway, as does Leonard. Jimmy interviews Nick Faldo. Yawn. Finally we're "treated" to a look at the "tabs." Double yawn.
12:29:18: AK, from four feet, bangs it right into the back of the cup after starting birdie-birdie. He's 1up over Sergio, evening the leaderboard.
12:30:29: Dottie Pepper is with the Leonard-Karlsson group: does NBC have 12 roving announcers? I wonder how they'll handle that today. Justin hits a fairly poor shot that takes a favorable bounce to 20 feet. Karlsson tugs his 9-iron well left into the long grass. Two U.S. flags on the board to start should really pump up Phil, who hasn't played consistently well this week at all, in the fourth match.
12:35:22: Karlsson nearly holes out his bunker shot, negating my theory from above unless Leonard knocks a long one in. AK hits a horrible shot on the par-three third and puts his bunker shot to five feet – a great shot – but Sergio has a 20-footer for birdie. Leonard pulls his birdie putt, halving the first hole.
12:38:40: Sergio misses his birdie putt, and AK rolls his putt into the heart of the cup to stay one up. We go to yet another commercial break. NBC tends to front-load them, so at least we should see less when matches are actually being decided.
12:40:30: One of those commercials is the stupid Lexus commercial with Raymond Floyd, Chi Chi Rodriguez, Annika Sorenstam, and CHIII. Such a lame commercial, and so old. I'd rather watch the even lamer Microsoft ad with Jerry Seinfeld than that thing (except it's been canceled).
12:41:27: Mahan puts it to ten feet and wins the second hole, squaring the match, but thanks to that Lexus commercial we don't see any of it live, and only see Mahan's approach.
12:42:02: Rose flies the ball over the top of the flag to about 12 feet at the first. Phil's ball rolls to a stop just inside of and right of Justin's. One player has over 30 wins on the PGA Tour, the other zero, yet Justin defeated Phil 3&1 at the Match Play earlier this year. Jimmy Roberts shows us football. I wonder how much we've missed watching the Lincoln Financial whatever.
12:46:41: Phil, putting to win the hole, pussies out and barely gets the ball to the hole, missing just left. Phil putts a lot better when he has the opportunity to charge the hole a bit. So does Tiger, come to think of it, but Tiger almost always charges the hole. Phil has to get out of "stroke play mentality" a bit. There's nothing wrong with hitting a ball two to three feet past the cup.
12:48:37: Stenson vs. Perry tees off. AK, at the fourth, hits to three feet. His putt isn't conceded but AK buries his putt. He's three under through four holes, having gone 3-3-3-3, and is still only 1up. What a start by AK (and Sergio for that matter)!!! Mahan holes a good-sized par putt to stay square with Casey.
12:52:28: Leonard holes a six-footer to halve the second with Karlsson. Stenson hits to eight feet on the first hole. Perry, 30 yards ahead, will try to match. He hits to about 12 feet. Tim Rosaforte joins us for a bunch of irrelevant information. Perhaps the most interesting information "Rosie" had to offer is that Ian Poulter is a whiny bee-yotch. AK apparently bumped him when celebrating something yesterday, and Baby called it "unprofessional."
12:57:30: Kenny P rolls his birdie putt in to put the pressure on Stenson. Garcia, from 165 at the fifth, puts his ball well within AK's. Stenson halves the first. Leonard hits to six feet at the third, the same hole on which he was denied an ace by about three dimples.
13:00:42: Phil, putting to win the hole at the second, misses on the low side again from 12 feet. Mahan, at the fourth, rolls a 12-footer in to win the hole. He goes to 1up against Casey. Leonard's six-footer catches the low edge and lips out. He'll stay all square. The U.S. leads two matches and has four all square – I'll write this up as 2-0-4.
13:02:05: Boo Weekley does a horse impression down the first fairway after teeing off. Hilarious!
13:02:25: Garcia rolls his par putt just outside of gimme range. I'd probably give it to him, and Miller agrees, but AK makes Sergio putt it. "You want to get him under your skin. He gets whiny if you do that." says Miller about Garcia.
13:03:57: Weekley tugs his wedge left onto the mound. Oliver Wilson, who took down Mickelson and Kim already, fats one a little to 30 feet short of the cup, but putting.
13:08:06: Wilson just misses his birdie putt, but Boo still has to get up and down. Boo, from on high, gets a good break to halve the first hole. He raises his arms to celebrate and raise the crowd. Westwood says Boo's behavior was fine.
13:09:21: Phil leaves a birdie putt to win the hole a foot short. See my earlier comments on Phil's putting. Sergio, on the 500-yard par four, finds the crappy super-long rough with a divot-taking 3W from the tee. Karlsson birdies the fourth with Leonard putting from 10 feet.
13:10:18: I'm wondering why Sergio can't take relief from the steps just beside his golf ball. It might give him a better lie, at the very least, if he's close enough to the steps.
13:12:38: Leonard fails to halve, going one down against Karlsson. Matches are 2-1-3.
13:13:09: Sergio is attempting to get relief, but his stance looks awfully awkward, with his front foot pulled well backwards.. AK is called in, and asks about his "normal stance." He points out that Sergio's stance is anything but "normal," and the referee – with an audible British type accent – disagrees. AK leaves and says "You gotta do what you gotta do" to the ref. In no way is that stance normal. That ref's full of crap. Roger Maltbie disagrees, but he's a weenie who avoids controversy. 🙂
13:16:15: Mahan wins a hole with a par after Casey bogeys from 100 yards in the fairway. Kenny Perry goes 1up on Henrik Stenson. 3-1-3.
13:17:01: Garcia now decides to take an unplayable lie. Phil hits to five feet at the short fourth hole. He gets a free drop from a sprinkler head. Garcia, playing his third at the sixth, gets a good bounce onto the green.
13:22:35: Wilson beats Weekley at the second hole to go 1up. Phil finally holes a birdie putt, but it's to halve. AK rolls his long birdie putt to about four feet, while Sergio has a 15-foot par putt. Hansen wins the first hole against Holmes to go 1up. Weekley and Holmes need to at least stay square in their matches to keep the crowd really on the side of the U.S.
13:24:22: Sergio misses, and AK has a four-footer for par to win the hole. Sergio is outside of AK and will putt for bogey first. KP rolls a 25-footer in to go 2up through three against Stenson! Garcia, for five at the sixth, rolls it in.
13:25:57: Miller: "The last time the U.S. team won 5½ points was 1999." Ouch. So much for the "American dominance in singles." AK rolls his putt in to go 2up and fires up the crowd. The matches currently stand 3-3-1. It's irrelevant now, but I'm reminded of Olazabal breaking the "captain's agreement" yesterday by giving advice in the Phil/Mahan match.
13:28:00: More commercials. Anyone else out there watching and following along? Post in the comments to say hello.
13:29:39: Phil finds the green while Justin is in trouble at the fifth. Furyk puts his ball at the first to near-gimme range with Miguel-Angel Jimenez (MAJ) over the green.
13:31:55: KP lips out for eagle at the fourth! He will halve the hole in birdie against Stenson to stay 2up. Furyk, from three feet at the first (3-1-1 in singles), makes the birdie to go 1up against MAJ. The leaderboard is now 4-3-2 with nine matches out on the course.
13:33:03: Weekley, at the third, to win the hole and square the match, rolls it into the heart of the hole. The matches are now 4-2-3. That's 5½ points, with three matches remaining (not that things will stay this way all day… just saying…).
13:35:41: AK at the seventh, a hole that's totally killed the U.S. team this week, is short and right. Sure beats finding the water. Sergio, from eight yards closer (214), finds the water!!! AK is about to go 3up through seven holes. Hitting his fourth from the same spot, Sergio dunks it again!
13:39:36: Hunter Mahan holes a long putt at the sixth to halve the hole against Casey and to stay 2up. We go to commercial as Sergio continues the long, lonely, and loud walk up the seventh fairway. Ten thousand U.S. fans chanting and cheering can't lift his moods very much.
13:43:18: AK finds the bunker at the eighth, which has a bowl around the hole. At the second, Furyk gets to ten feet with MAJ well in the back of the green. Holmes, at the third, makes birdie to square the match. The matches go to 4-1-4.
13:44:55: Sergio hits to six or seven feet and will likely get back some momentum and get back to only 2 down. Karlsson, from 20 feet to win the hole at the sixth, does so. He goes to 2up over Leonard – the "lone European flag." KP at the fifth rolls another birdie in to get to three up, his third birdie in the first five.
13:47:45: One of the commercials shows that famous "Concession" putt. I'm sorry, but it's not "remarkable" at all – the damn putt was 18 inches. Jack would have been an ass not to concede that putt. He shouldn't get credit for doing it. In the words of Chris Rock: "You shouldn't get credit for something you're supposed to do. Whatchoo want, a cookie?" C'mon – is Jack in such great need for bump in reputation that we've gotta pump up a concession well inside the leather?
13:50:29: Sergio misses his seven footer! AK maintains his 3up lead over Sergio (and his honor on the tee). Hansen hits to nearly gimme range at the fourth. We learn that Hansen is playing with one of Sergio's regular caddies, as Hansen's slipped a disc on the range earlier today.
13:52:05: We see J.B.'s tee shot at the fourth, just off the green, in one! He hits to three feet and both will likely halve the hole in birdie to remain AS.
13:53:07: Rose, at the sixth, has a birdie putt to win the hole. He misreads it badly, but Phil still has seven feet for par. Phil, Phil, Phil – c'mon now. He doesn't – taking a step towards the hole as it lips out – and Phil is now losing to Justin Rose. Has Phil made a birdie yet?
13:55:02: Baby holes a 20-footer against Stricker to go 1-up. 4-3-3 with two matches left to begin – matches in which the U.S. are not favorites.
13:58:01: Graeme McDowell makes a good birdie putt, and Cink comes in on top of him to stay all square through two. Casey, two down, rolls in a long birdie putt at the seventh to get back to 1 down against Mahan.
13:58:47: Furyk goes 2up as MAJ misses a long par putt at the third. Sergio, from the bunker at the ninth from 127, hits the ball to 30 feet. Boo on the fifth walks in his birdie putt to go to 1up over Wilson. 5-3-3.
14:00:34: AK, from 100, throws the ball well behind the hole and pulls it back to hole high, ten feet from the cup. "That's a real easy putt" Miller tells us. Of course, any putt that doesn't have to traverse three tiers and six feet of fringe is a "makeable" putt to Johnny Miller. Too bad he couldn't quite make the putts when he was playing…
14:03:53: Leonard will birdie the seventh, having hit from 67 yards to about four feet.
14:04:06: KP makes a long par putt at the sixth! If he can avoid the 18th hole, all the better. Still, Stenson makes birdie to win the hole from KP, who falls to 2up. J.B. nearly eagles the fourth hole! He had less than 80 yards to the hole!
14:05:20: AK just misses his birdie putt, halving the ninth with Sergio. He'll stay 3up with nine to play.
14:05:48: Karlsson, from 30 feet against Leonard and putting for a four, misses. Leonard will have a chance to get back to 1 down.
14:06:12: Ben Curtis, against Lee Westwood, makes birdie to win the first hole. The U.S. has bad odds on that match, but you never know.
14:06:39: Cink rolls in a birdie at the third to go to 1up! Matches currently stand 8-3-1. Leonard fails to convert from six feet and stays 2 down.
14:10:12: Stricker birdies the second on top of Baby to remain one down. MAJ nearly eagles the fourth, with Furyk 15 feet away. Furyk would make the putt to stay 2up.
14:11:44: The first group is just making the turn, but Johnny tells us we've already had 41 birdies and ten holes halved with birdie today. Wow!
14:12:20: Karlsson goes to 3up over Leonard by nearly acing the eighth. Harrington will win the first over Campbell after a good approach.
14:13:21: Garcia, from 298 at the 10th, goes through the green with a driver, having gotten a good, firm bounce. AK has 272. He hits a hybrid, goes left, fails to get a bounce, and has a tough pitch remaining.
14:14:09: Phil phlops from long and left on the seventh, losing the hole. Rose moves to 2up over Phil. Why don't I care for Phil? His lackluster play in the Ryder Cup is part of it. 8-3-0.
14:16:34: My cheese puffs are stale. Stale doesn't mean inedible, though. Troyer Farms (a local group) make the best cheese puffs known to man.
14:17:59: AK fails to find the green from well back and left of the tenth. Campbell bogeys the first hole to fall 1 down to Paddy. Sergio's chip rolls to gimme range at the tenth, forcing AK to make to halve the hole.
14:18:57: Westwood birdie the second to square the match against Curtis.
14:20:10: Casey wins the ninth to climb back to 1down against Mahan. Cink rolls another birdie in to halve the hole. The matches are now 7-4-1.
14:22:07: Furyk bogeys to fall to 1up over MAJ. Sergio hits a 7-iron to 40 feet at the 11th. Stenson, two down and hitting his third at the seventh, finds the water. KP is safely in the fairway.
14:23:14: AK hits a 6-iron that just barely climbs the slope to 15 or 20 feet at the 11th. Stenson, playing his fifth, finds the water again. KP will go to 3up through seven holes.
14:24:17: Rose halves the hole with a short par at the eighth and remains 2up. Phil needs a comeback.
14:24:43: Hansen misses a 15-footer for par to halve the hole, and Holmes goes 2up over Hansen. Still 7-4-1.
14:27:17: Garcia's putt is three feet short at the 11th. Instead of showing golf, we have to watch Jimmy interview Nick Faldo.
14:29:22: AK missed his birdie, I guess, as he taps in for par while Sergio has a 2½ footer to halve the hole. Mahan hits to 15 feet at the tenth with his opponent just shy of the green.
14:30:06: Sergio misses the 2½ foot putt!!!! Barely touched the hole! He goes back to 3up! If AK can finish early, he can get out there to root on Phil or someone else.
14:30:47: Karlsson, putting for par to halve the hole, makes a 12-footer. Leonard has yet to win a hole and is 3 down through nine.
14:31:47: Paul Casey, putting from 15 yards short of the tenth green, backs off before playing. His "putt" rolls out to what is almost a gimme – just a bit longer than the putt Sergio just missed.
14:32:49: Paddy fails to halve the second against Campbell and the match falls back to AS. Baby hits to four feet as Stricker misses the green – he'll likely extend his lead to 2up.
14:33:36: Mahan, 1up on Casey, with a putt he has to make… does so! Mahan remains 1up.
14:34:59: Stricker, for par at the fourth, makes the putt. Baby's six-footer for birdie falls and he goes to 2up.
14:36:25: MAJ wins the hole by holing out from the bunker at the sixth to square the match. 6-3-3.
14:39:15: AK nearly eagles the 12th hole from 186 yards! Garcia is 40 feet away and now must make to halve the hole! Boo Weekley holes out from the bunker for eagle at the seventh and goes to 3up! What a span of 30 seconds at the Ryder Cup for the U.S.!
14:41:40: Paddy birdies the third to go back to 1up. Ideally, that match won't matter. Sergio, from 40 feet and needing to make the putt, gives it a run but misses right and rolls it six feet past. He's still away. AK is about half as far away.
14:42:48: Boo at the eighth finds the funnel and gets the ball to three feet. He's got three birdies and an eagle in the first seven holes and is looking at getting another bird. Dan Hicks tells us about AK's maturity as Sergio misses his par putt. He goes to 4up through 12.
14:44:26: Mahan hits a bunker shot inside of Casey's bunker shot at the 11th, and both will make par. Mahan remains 1up and the matches remain 6-4-2. 1:15 until the Steelers game starts
14:46:37: For the 100th time, we see pro golfers driving cars with an "L" on the front grill.
14:47:34: Jimmy talks with Paul Azinger. His message to his players is to stay in the present.
14:49:13: Westwood holes a ten-footer for birdie to stay all square against Curtis. Could the matches go late enough that the Westie-Curtis match will matter? Leonard misses a putt and Karlsson goes to 4up.
14:50:00: Boo birdies again at the eighth to go to 3up. "Oliver Wilson is getting booed around there," Miller tells us. Holmes makes six at the seventh and falls to 1up.
14:50:51: AK, at the island green 13th (where Sergio dunked a ball earlier this week), from 132, puts it to six feet or so for another likely birdie. Sergio is in a pot bunker 97 yards away. Sergio flies the green and finds a little tee behind the green. AK could go dormie if he wins this hole: 5up with five to play.
14:54:39: Sergio, from that tee, does well to get his ball to about ten feet. AK is 4up through 12. Mahan 1up through 11. Leonard 4 down through 10. Phil is 2 down through 9. KP is 3up through nine. Boo is 3up through eight. Holmes is 1up through 7. Furyk square through six. Cink is 1up through six. Stricker is 2 down through five. Curtis is square through four, and Campbell is 1up through three. 6-4-2.
14:57:43: Sergio starts to line up his par putt, then gets mildly annoyed that a leaf dare fall on his line near the cup. Sergio's putt, which may be 12 feet long, misses left. He'll concede birdie to AK? Perhaps not. He eventually would give it to him after AK started lining up the putt.
14:58:44: Casey has a 25-footer to square the match against Mahan. He slams it in the back of the cup. 5-4-3. Furyk birdies the seventh from the front pot bunker to remain AS with MAJ.
15:00:33: Rose nearly double eagles the tenth. He would birdie, and Phil's 15-footer for birdie misses. He falls to 3 down. Phailure. I still don't think Phil has made a birdie today. Maybe one at the fourth?
15:01:31: AK hits a tree and finds a bunker at the par-three 14th. Curtis loses a hole to fall to 1 down. The matches are suddenly 5-5-2. Campbell makes a ten-foot curler to square up his match, though, and puts it back to 5-4-3.
15:05:38: Hansen makes a par putt to square his match against Holmes: 4-4-4. Kim blasts long, uses the slope, and returns the ball to eight feet. Garcia's birdie putt is barely outside, but he's still dormie. "He can not afford to walk away from here with a halved hole" says Roger Maltbie. Duh, Roger. He misses right, and the crowd cheers on AK. If he makes, the match is over and the U.S. moves to 10 points on the day and Kim can root on his teammates.
15:08:47: KP at the tenth, yanks his ball OB and loses the hole. He falls to 2up going to the 11th hole. The tenth is not being kind to the U.S. team today. The par fives, except the seventh today, have not been kind to the U.S. this week. Water balls on the 18th, water balls on the seventh, and stupid runs at the green in two on the tenth.
15:09:55: AK rams his putt in and closes out Sergio Garcia, 5&4. He leaves the green, heading to the next tee, unaware that he won the match. Go cheer on your boys, AK! They might need it. What a match! What a round by AK! He didn't make a single bogey and made several birdies. We later learn that AK "wouldn't trade this experience for $10M." Good to hear – especially since you get the feeling he absolutely means it.
15:14:31: Paul Casey three-putts to lose a hole to Mahan, who is now 1up with five to play. Campbell makes par to go 1up on Paddy after driving in the fairway bunker and hitting his third from well back. Mahan nearly aces the 14th! Gimme birdie.
15:15:34: Casey matches Mahan's shot! Two kick-in birdies!
15:17:48: KP uses a side bank and rolls it to kick-in birdie range at the 11th. He's back to 3up through 11 holes. The matches are 10-7 and 5-4-2.
15:20:50: Furyk goes back to 1up over MAJ with a five-foot putt at the eighth. The matches move to 5-4-2, but the Euro four are big leads, and many of the U.S. five are 1up leads. Phil might make a birdie after finding the green 10 feet from the cup at the 12th, but Rose is half as close yet again.
15:22:38: Boo lands his ball left on the tenth and rolls the ball onto the green, 30 feet away for eagle. The boos echo through the Kentucky deciduous trees. Phil misses, and will probably lose the hole to fall to 4 down. Way to go, Phil. In case he hadn't noticed, his point matters – significantly. It's all but lost.
15:23:49: Boo, for eagle to win the hole at the tenth, leaves it short. Wilson has 12 feet for birdie to halve, though. He would later miss, putting Boo to 4up through ten holes.
15:27:55: KP was checked out for a "pain in his right shoulder." There's a pain going down his right arm. He'll continue to play, and got pain medication. He misses the green with his opponent very close to the hole.
15:28:56: Furyk, for par to halve the hole at the ninth from 15 feet, misses. MAJ squares the match: 4-4-3. Paddy, for bogey at the sixth, misses. Campbell goes to 2up. Casey, from the bunker on the 15th from 127 yards, finds the greenside bunker. Mahan has played three shots to get to the green.
15:30:21: Things are tight, and the golf is good.
15:30:50: Boo, at the 11th with a 6-iron, uses the sideboard a little to put the ball to 12 feet for birdie. The par threes have been tough on the Euros. Wilson, 4 down, puts the ball just outside of Boo's ball and almost on the same line.
15:31:41: KP, needing to make his chip, somehow manages to leave it a little short. He has two feet for par, but his opponent is close for birdie. Casey, from the bunker on the 15th with water long and the green sloping away from him, barely gets the ball out of the bunker into the greenside rough.
15:33:03: Stenson, 3 down, makes birdie against KP to get to 2 down. Stenson has won two of the last three holes and KP is injured. Wilson, for birdie, pulls his birdie putt badly. Boo has a birdie putt to go five up through 11. Hicks breaks out the Boo quote about running around the greyhound track. Boo leaves the putt short.
15:34:56: Mahan's putt breaks eight feet and the hole is halved in bogey. Casey still has to putt, but it's four feet right back up the hill. I'm giving it to him (he would later lip it in).
15:35:53: Ben Curtis rolls in a long putt at the seventh to get to 1 down. If that match turns around, that'd be huge. Matches are 4-5-2.
15:40:15: Karlsson, at the 14th, finally misses a birdie putt. Leonard has to make his birdie putt to win the hole and salvage the match. Stricker, from behind the 11th, saves par. Baby knocks his six-footer for par in to halve the hole. Back to Leonard: he misses. Four down, four to go.
15:41:46: To the 13th and KP, KP puts his ball to 12 feet. Stenson is 15 feet behind the hole. We once again go to commercial. AK is hanging out with Michael Jordan.
15:44:57: Mahan, at the 16th, puts the ball 20 feet from the cup in the fringe. Furyk is conceded a birdie and goes 1up over MAJ. Matches are currently 5-6 – apparently we've missed something. Thanks, NBC. I'm sure golf fans appreciated that timely commercial break instead.
15:46:48: Casey sticks it to eight feet. Mahan will have to do well to halve that hole despite his great shot. KP, for birdie, rolls it in at the 13th and goes to 3up with five to play over Henrik Stenson, injured arm and all.
15:47:37: "Mickelson in trouble." That's putting it loosely, eh? Rose can win the hole if he makes his ten-footer for birdie. Phil, naturally, misses his 30-footer. Thanks phor nothing. Holmes makes a 12-foot par putt to force Hansen to make from eight feet. He fails to, and Holmes squares his match.
15:48:52: Rose, to close out Phil Mickelson, leaves his putt on the right edge. Phil has all of one birdie on the day. He'll lose eventually.
15:49:35: Campbell, going for the green in two at the seventh, hits the rock wall and bounces into the water. He loses the hole to fall to 1up against Harrington, even after Harrington had to chip out from left of the fairway.
15:50:17: Mahan rolls his putt from the fringe six feet past the hole. Casey will probably make to square the match. Matches are 4-5-2 – and the U.S. needs 4½ points to win.
15:55:14: Mahan stripes it on the 17th, while Casey's ball rolled down into an awkward lie. Leonard loses 5&3. The matches are 10-8 and 4-4-2, with the U.S. still needing 4½ points to win back the cup. Jimmy interviews Karlsson: if I weren't watching live, I'd skip it.
15:57:04: Phailure hits the ball to three feet at the 15th. He must win out to extend the match. Naturally, with things tightening and the action really intense, we go to commercial.
16:00:14: Mahan, in a critical match, hits a bad shot to the 17th. Casey has 80 yards with his feet six inches above the ball. He hits a decent shot that rolls away just a bit. Call that hole a halve, and it'll come to the 18th with everything on the line.
16:01:13: Furyk goes to 2up through 11 with a ten-footer. KP loses the 14th to fall to 2up with four to play. Mickelson finally wins a hole, and is 3 down with three to play. Poulter holes another putt to go 4up at the turn over Steve Stricker. 10-8, remember, and 4-4-2.
16:03:46: Mahan bangs in his 45-footer at the 17th hole!! Casey is 25 feet away to match, still, and the caddies quiet the crowd. The Steelers game has started – I think I'll watch it later. 😉
16:05:18: Casey, to match Mahan at the 17th, completely fails. Mahan is dormie with the 18th to play. 10-8, 5-4-1.
16:06:45: Holmes rolls in a 25-footer for par at the 12th. Hansen pars as well from ten feet to keep the match square.
16:08:21: Mahan finds the water at the 18th! Absolutely terrible shot at a terrible time. The 18th continues to screw with the U.S. team. Casey has to follow, and still has driver. He splits the fairway and puts it deep. Mahan just gifted the Europeans half a point, a full-point swing. As pressure-packed as it was when Mahan defeated Jay Williamson at last year's Travelers, and as good as his play was then, this was 10x worse. He could have hit 3W and still made birdie, no? If the U.S. team doesn't win, that half point will prove critical.
16:11:30: KP, to get back to 3up through 15, goes dormie on Henrik Stenson. Cink, to win the hole at the 11th, squares his match up against Graeme McDowell. At 10, Lee Westwood stripes one onto the green to near-gimme range for eagle.
16:12:38: At the 12th, Furyk leaves a putt short to go 3up. He remains 2up on MAJ.
16:13:04: Mahan is in disagreement on the 18th over where his ball went into the water. Wilson chips from well right on 14, but Boo has ten feet for birdie (on Sergio's line) to win the match and the match. Boo as a cheerleader could be a big deal in some of the later close matches (particularly Westwood's :-D).
16:14:38: A big roar erupts as Boo lines up his birdie putt. NBC stays with Boo. Who knows what's happened at the nearby hole? Boo's putt misses left, but Wilson still has about eight feet to keep the match alive.
16:15:34: The roar was Justin Rose closing out Phailure, 3&2. Phil needed to produce this week, and yet it was mostly AK who pulled him through in team play, with Phil spraying the ball every other hole. Wilson holes his putt to fall to dormie. Matches are 10-9. Curtis loses to fall 2 down to Westwood. 5-2-2, but Mahan is part of that 5.
16:17:30: Playing his third from 229, finds the front bunker. Casey is an 80% chance of making birdie here, and Mahan probably only 50% to get up and down for par, so this match will be halved… especially after Casey finds the putting surface 20 feet below the cup. Mahan will need to hole out from the bunker, and he's not a great bunker player. 1% chance this hole will be halved. So now it's 10½-9½, 4-2-2.
16:21:31: Mahan gives it his all and, to his credit, makes par. The fourth from the bunker he had to hole stops a foot left of the cup. KP rolls a birdie putt to win the hole and the match, and puts it to a few inches. Campbell goes 2up through nine over Paddy.
16:24:47: KP closes out his match, 3&2 over Henrik Stenson, and avoids the 18th hole, on which he's played terribly. Currently 11½-9½, 3-2-2.
16:27:04: KP: "I said this was going to define my career, but it's made my career. I made seven birdies, four in a row, and my putter was magical." The matches are still close, Kenny, so get out there, cheer on the crowds, and get them chanting "USA!"
16:27:59: Furyk goes to 3up with five to play over MAJ with a six-footer for birdie. He's made a lot of putts and a lot of fist pumps. Cink misses a par to halve the hole at the 12th, falling 1 down to Grame McDowell. 11½-9½, 4-3. Holmes uses the bank at the 14th and goes 1up through 14.
16:29:28: Oliver Wilson, against Boo, rolls in a 25-foot birdie at the 15th. Boo, to halve the hole and win the match from 15 feet and moving right to left… pushes the ball right. Oliver Wilson stays alive to play the 16th. C'mon Boo – win it already and turn cheerleader!
16:35:01: Cink pulls the ball back to about eight feet, but McDowell puts it well inside of him at the 13th. There are still seven matches remaining, but we're still watching the blimp, commercials, network promos, and spending three minutes on one hole.
16:35:44: Hansen, one down to Holmes, stuffs it at the 15th. Stricker, to halve the 12th, fails to do so and falls to 4 down with six to play. Holmes, to match Hansen, does so. Both are four feet away. And we go to commercial break. No doubt the Lexus commercial this time.
16:36:12: Yep. I must say, over-exposure to a certain commercial has a negative effect on me: I'm now less likely to buy a Lexus.
16:39:51: Wilson misses the green and it rolls well off the false edge. Boo is 15 feet away and should close Wilson out. MAJ, at the 14th, uses the bank to get to five feet. He misses to go dormie down, 3 down to Furyk with three to play.
16:41:06: Holmes misses his birdie putt, and Hansen has a birdie putt to win that he'll make. McDowell makes a teeny birdie putt after Cink misses from five feet to go 2up with five to play. Hansen does, and squares his match against Holmes. 11½-9½, 3-3-1.
16:43:29: Wilson, playing a flop and needing to hole it, nearly does, hitting to three feet. Boo has two putts to win his match. Boo rolls his sixth birdie of the day in the hole, no bogeys, one eagle, to win 4&2. Score is now 12½-9½, 2-3-1. Boo's first comment to his wife: "We've gotta pull the rest of 'em through. Let's go…" …to commercial.
16:48:03: MAJ makes a long birdie putt at the 15th against Furyk. If Jim can't make from ten feet, he will climb to two down with three to play. Furyk rolls it in, going dormie in the process: 3up with three to play. Furyk has six birdies.
16:49:09: Holmes, on the 16th tee, yanks it way, way left. His ball rolls between legs, tree trunks, through the rough, and leaves him a pitching wedge from down close to the fairway. That wedge rolls to four feet, and Hansen is 30 feet away.
16:51:34: Hansen misses. Poulter rolls in a birdie at the 14th hole. Stricker answers to remain four down with five to play. That's a loss for the U.S. side. Holmes, back at the 16th, faces a putt just shorter than the one he missed on the 15th. Azinger and Floyd look on. His caddie steps away and he knocks it in, going 1up with two to play. 12½-9½, 3-2-1. Curtis has squared his match with Westwood, but NBC hasn't shown squat of that match for quite awhile. But hey, my 15½ to 12½ prediction is looking good.
16:55:06: Holmes bombs it off the 17th and rails it up the fairway. Dead center cut. Miller says his clubhead speed was "at least 130 MPH there." Intimidation? You bet. Hansen follows by bombing his drive down the fairway… 50 yards behind Holmes.
16:59:04: Furyk, from 210 at the 16th and dormie, pulls it into the bunker. Halving any of the final three holes will lock up his point. Westwood knocks it to five feet at the 13th, knocks it in, and goes 1up against Curtis.
17:00:56: Furyk's bunker shot rolls out to six feet for par. Hansen, from 116, goes well long into the chipping area. The biased crowd cheers, a bit inappropriately. If Holmes wins this hole, the match is over. He has 79 yards to the hole and 75 yards to carry. Holmes knocks it to inside of three feet. Holmes will have to putt it, but it will likely be to win his match, 2&1.
17:03:28: Furyk, at the 16th, to win the match. If he makes, Holmes can win the Cup with his putt. Furyk's putt… is pulled just left. MAJ has a tap-in to win the hole and extend the match. He calmly knocks it in. Kentucky boy J.B. will not win the Ryder Cup.
17:05:06: Hansen lips out from behind the green! What a great putt from well down in a hollow. Hansen is just outside of J.B. for par, but Holmes should win his point and get the U.S. to 13½. Furyk will play the 17th afterwards and will likely win the Cup there. The Holmes crowd will still be around to celebrate.
17:07:35: J.B. Holmes rams it in the back of the cup and wins the 13½th point for the U.S. squad, finishing birdie-birdie at the tough 16th and 17th. He wins 2&1, and with Furyk dormie, the U.S. has 14 points guaranteed. 13½-9½, 2-3.
17:12:22: MAJ is in the middle of the fairway at the 17th, 138 yards away. Furyk is in a divot 15 yards ahead. If Furyk ties this hole, the U.S. wins the Ryder Cup. MAJ leaves it out to the right and just a bit short, 20+ feet away. It wouldn't be a bad spot for furyk. He's in the front-right part of a sand-filled divot. He hits it safely out to the right, 35 feet away. Two putts could very well win the Ryder Cup for the U.S. team. NBC will probably go to commercial and show us the results on tape delay. 😛
17:14:59: Ben Curtis squares his match with Lee Westwood with four to play. 2-2-1, and Furyk is one of those matches on the left side. Campbell is one of the others. Curtis has the 1, and the Euro twos are Poulter and McDowell.
17:16:05: Furyk, looking to two-putt from 35 feet, likely to be good enough to win the Ryder Cup. His put is on the way and rolls to a stop two feet away. Hicks says it'll be conceded, but I think that's unlikely. It's a putt to win the Ryder Cup – you both make a guy make that putt as much as you let him make it (would you rather make a putt to win the Ryder Cup or just have it given to you, c'mon?).
17:17:56: MAJ is just right (and 20 feet shorter) than Mahan's putt. MAJ putts… his ball is on the way, and he misses right. Good putt, but it misses. MAJ concedes the putt to Furyk and the U.S. Team wins the Ryder Cup!!!!!!!!!!
17:22:21: Paul Azinger gets the ultimate win against his "one-way rival" Nick Faldo. The Euros have lost. Jim Furyk gets chokes up a bit as Dottie interviews him. Mark Rolfing interviews Nick Faldo, who has nothing but compliments for Azinger and talks about the "fractions" that decide the Ryder Cup.
17:24:51: 14½-9½, 2-2. The Europeans are 3up and 2up, but the U.S. has only 1up leads in the two matches they lead. McDowell, for birdie to win the match on the 16th, misses. Cink is dormie down with two to play.
17:25:57: Ben Curtis is shown winning the 15th hole with a 20-footer to go 1up with three to play. Westwood is one of the winless Europeans. Stricker, dormie down on the 16th, misses the green. Baby Poulter does as well, and walks dejectedly up the fairway. To his credit, and aside from missing a fairly short putt on the 18th green Friday morning, he did about all he could do to win the Cup.
17:31:24: Poulter knocks a difficult bunker shot to three feet. Stricker basically has to hole out to extend his match. He gives it a good run but it comes up a few feet short. He'll fall 3&2, putting the matches at 14½-10½, 2-1.
17:34:50: Campbell at the 15th hits it to four feet and should extend his lead. Cink, dormie down on the 17th, hits it to 40 feet. McDowell's ball is where Mahan's was. Paddy's second at the 15th finds the water.
17:39:25: Cink loses 2&1. The total is now 14½-10½ with the U.S. leading the remaining two matches. Curtis has a 15-foot birdie putt at the 16th to go dormie with two to play. His putt just misses left, and he'll be one up with two holes remaining. Can he too close out his match on the 17th?
17:46:27: Campbell misses the green to the right at the 16th in the chipping area, and Padraig finds the green 15 feet from the cup. Campbell is 2up with three to play.
17:49:42: Ben Curtis knocks it stiff at the 17th, one up. Lee Westwood's ball comes to a stop 20 feet from the cup. This should close out that match and put the 15½th point on the board for the U.S. team.
17:53:01: Ben Curtis stonewalls Lee Westwood, winning 2&1, and now putting the U.S. total at 15½. The Euros have 11½. Paddy three-putts to halve the hole in bogey and now Campbell is dormie with two to play. So much for my prediction (15½-12½) – I was close!
18:01:33: Campbell hits safely to the 17th green, but Harrington's not quite done yet and puts it to eight feet. Campbell's birdie putt gets to concession distance.
18:04:00: Padraig misses his short birdie putt and Chad Campbell wins his match, 2&1. The U.S. wins the Ryder Cup 16½-11½, the largest margin of victory for the U.S. since 1981 and their second victory in the last seven Ryder Cups. The U.S. took 7½ of the 12 available points today, leaving Europe with only 4½.