The 112th U.S. Open returns to The Olympic Club in San Francisco this week. The Olympic Club is America's oldest athletic and social club, established in 1860. With 5,000 active members competing in 19 sports, it is the home of many national and international champions.
Small, undulating greens, tight fairways, fairways that slope opposite of the hole's dogleg direction, severe elevation, and lengthened holes make The Olympic Club's Lake Course a brutal test for the golfers. Add deep rough, wind and possible fog and the players will be challenged from all sides.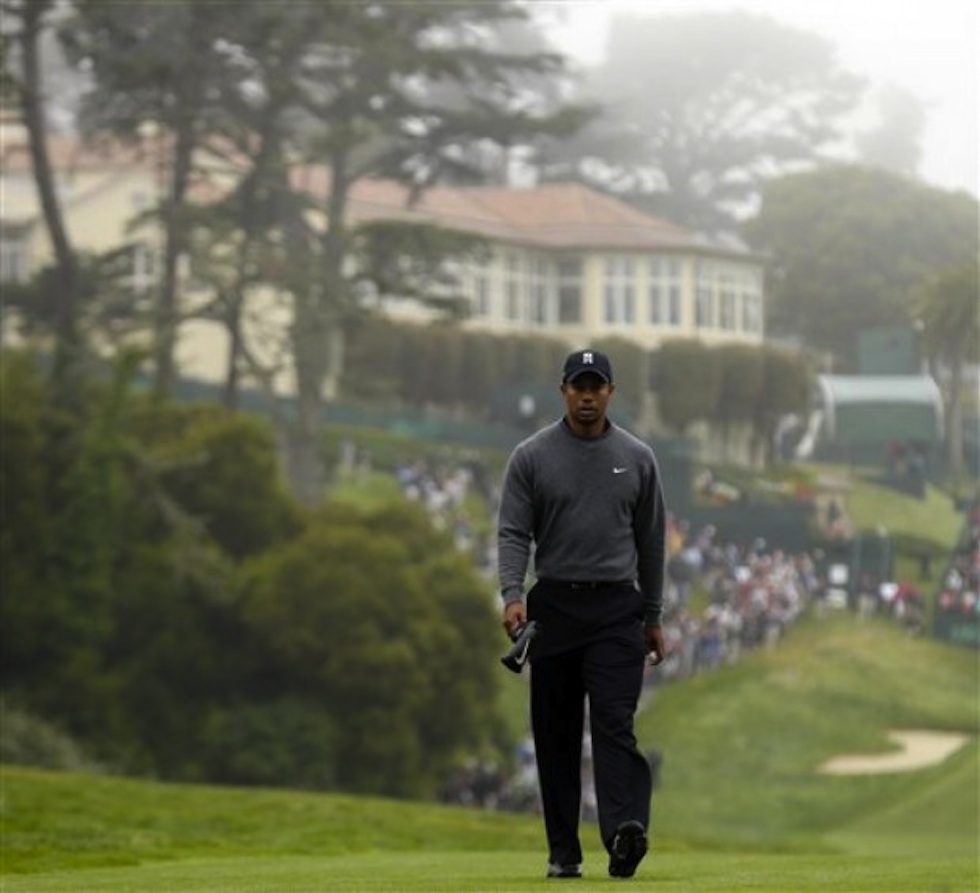 1. Location, Location
This is the fifth time that the U.S. Open will be played on the Lake Course at The Olympic Club. The site first held the tournament in 1955 and most recently hosted in 1998. The club will move into a tie with Pebble Beach as the most frequent California host of the U.S. Open.
2. History Lesson
In addition to The Olympic Club being the oldest athletic club in America the club sent 22 athletes to the 1924 Olympics in Paris, the same year that the Lake Course was originally constructed. Early members included Mark Twain, William Randolph Hearst, and Leland Stanford.
3. Casey Martin
In a recent thread I voted "No" for Casey Martin using a cart this year at the U.S. Open. After seeing and talking to him this week, I've changed my mind. Twelve years ago I played with Casey in a pro-am type of event and it's very noticeable that Casey's limp is more pronounced. He has to take frequent breaks, just after walking from one end of the range to the other, he needed to sit. He sat on the range calmly, saying hi to passing players and always had a witty comeback or observation to share. You begin to realize that it's not about the cart, it's about fighting off that pain to stand over a golf ball and find his balance in order to perform his swing, a swing that's really, really good. When he stands to talk with you he crosses his right foot over his left to take any weight off the leg. The pain comes from being just bone-on-bone in his right knee. The vascular deficiencies and lesions in his bones erode the cartilage in his knee.
After the first round he didn't take his cart up to the clubhouse, he decided to walk up the hill to the 18th green, coming into the fan's clear view, then getting an overwhelming ovation. His goal is to better his 23rd place finish at Olympic in '98, I'll be rooting for him.
4. Summer in San Francisco
You knew the USGA sets up courses to play firm, fast, and narrow but the elements at the Lake Course are going to add to the difficulty. The wind plays a bigger role than in '98. Olympic took out thousands of trees and that will invite the cool ocean breeze to blow throughout the course. Early weather reports say the winds could get up to 30 MPH. Not only will Olympic be playing extremely hard and fast, players won't be hitting it as far in the air as they're used to due to the cold, fog, and the course being at sea level. I saw players come up short repeatedly after hitting solid shots during the practice rounds.
5. Europeans Are Charismatic
Sure Tiger, Phil, and Rickie can attract a crowd but they definitely don't have as much fun as the Europeans. Fans love it when Jimenez lights up a cigar during every range session and holds court on the putting green. On the range Alvaro Quiros practices hitting balls through gaps in the tree and loves to bomb drives over the back fence into tents. Graeme McDowell and Rory Mcilroy walk and swing with a certain swagger. Very much a different vibe than the more stoic American players. The Europeans stand out because their exhibit their personality in everything they do.
6. Return of the 2-Iron
Making its way back from the grave is the 2-iron, or something close to it. Roger Cleveland from Callaway designed his new club, the Prototype X Utility, for this very tournament in mind. To gain more control on these firm fairways, players from Rory McIlroy, Dustin Johnson, Lee Westwood, Louis Oosthuizen, Charles Howell III, and Phil Mickelson have taken out the high-launching hybrid or 5-wood and put in an oversized long iron. Dustin had a RocketBallz 3 iron built to hit off the tee. These kind of clubs will help the players position the ball more effectively in the fairways.
7. Sacrifices Must be Made
Anyone that has ever played Olympic, knows there are two, well two and a half, courses called the Lake and the Ocean (the other one is a par-three course). If you had never been to The Olympic Club before this week, you might think there is only one course on the property. Because the U.S. Open is on the Lake coures, the Ocean course gets destroyed. Huge tents and walkways are built on top of holes that members regularly play. The media center is literally right on top of the third green. Gravel roads are installed on top of some really great back nine holes. The 18th green is the short game practice area and many of the back nine holes are used as a parking lot. It will be well worth it though, the money the club makes off the event will be put back into re-modeling the Ocean course.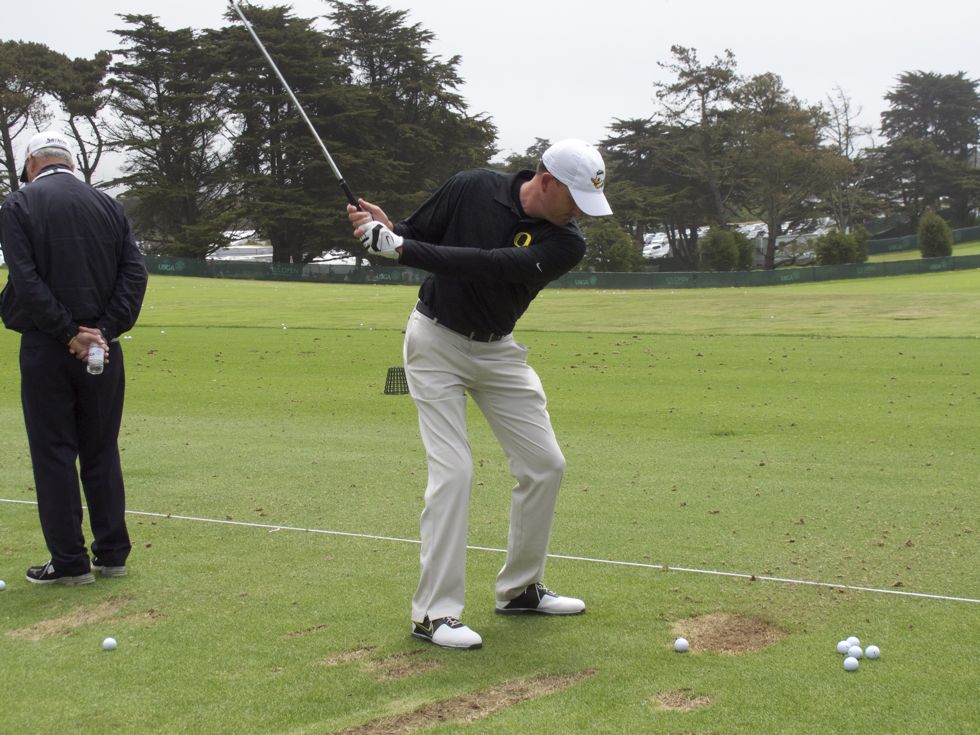 8. Tee it High, Let it Fly
Many players will be hitting fairway woods off the tees this week, which is no surprise due to the course conditions. What surprised me was how high most players were teeing the ball. At least an inch or two higher than you might expect. I think part of the reason is that the majority of players use deep-faced 3-woods and teeing the ball higher helps visually. It's also a technique that can help the players hit it a little longer, almost like a 2-wood, because the angle of attack will need to be less down to hit a good shot.
9. Quiet Please
I shared some pictures of myself inside the ropes and unlike other sports, you can get really close to the players. Fans will scream out player's names, calling them to come and sign a variety of things. After a young kid had been yelling for a minute to Lucas Glover for him to turn around, he answered back, "Okay, but be quiet." Everyone laughed and seeing that part of being a player is interesting.
10. The Tiger Stare
I'm not talking about the stare when Tiger's willing a putt to go in the hole, the stare he gives you when a camera is too loud on the range, or when he know you're trying record some high speed video. Thanks to Sean Foley, Tiger knows what Casios look like now. A photographer was taking some pictures of Tiger Monday morning and the snapping of the camera made Tiger's caddy, Joey LaCava, gave him a light smack on the side of the head and told him, "Your camera's too loud." Tiger then shoots him the a nasty stare to reiterate the point.
I'm not a huge fan of Tiger and this experience didn't really help change my opinion. I've gotten to watch Tiger twice on the range this week and he gives that stare to a lot of cameramen. I think it's to scare them so they don't spend much time filming or get too close. He seems to despise being filmed and because he is Tiger, he has his entourage stand behind him and off to the sides to cut off the best angles to film his swing.
11. Not a Walk in the Park
As I write this blog, it's nice to have a chance to sit down. The Olympic Club Lake course is not easy to walk. There are many holes that are uphill, side hill and both. The other issue is that the driving range, clubhouse, and entrance are on top of a hill and the course is below all three. The walk from 18 green back to the range is straight uphill for half a mile. This is a trip I've journeyed many, many times this week.
12. Golf is Hard
We've all hit bad shots; that's golf. Well, pros hit bad shots too, and not bad in the sense that the ball curved too much or the distance was off. I mean thin, clunky, slicing, ugly shots. I saw one play drop kick some fairway wood shots during a range session. Most of these players are obviously not doing this and can put on ball striking clinics on the range but every once in a while you see some wildly bad stuff.
13. Old Man Par
The first six holes are said to be the most difficult stretch, but I think the stretch of holes 9-14 will be a harder test. I choose this group of holes because players will be teeing off holes one and nine. The ninth hole acts almost like most tenth holes, starting close to the clubhouse and moving out the heart of the course. While each stretch is difficult with no par fives and no real birdie opportunities, holes 9-14 are longer and the playable areas on the greens are smaller. There is also a lot more spectator traffic since the holes are right close to one another. More noise and congestion can create problems with a player's mind.
14. Big Business
The amount of volunteers, USGA officials, hospitality people, police, and transportation needed to put an event like this together is just amazing. I haven't been to a tournament this big for some time and I forgot what a logistical nightmare it must be to organize just so some guys can go hit a white ball around a field. Members have to vacate the club the month before the tournament and the USGA takes over. The pro shop is closed and the people that work in the food shacks on the range and course (where the famous Olympic burgers are made) aren't here to work the event. The USGA is expecting to double the attendance from 20,000 in '98 to 40,000 this year. Just a few days ago, they officially sold out of tickets.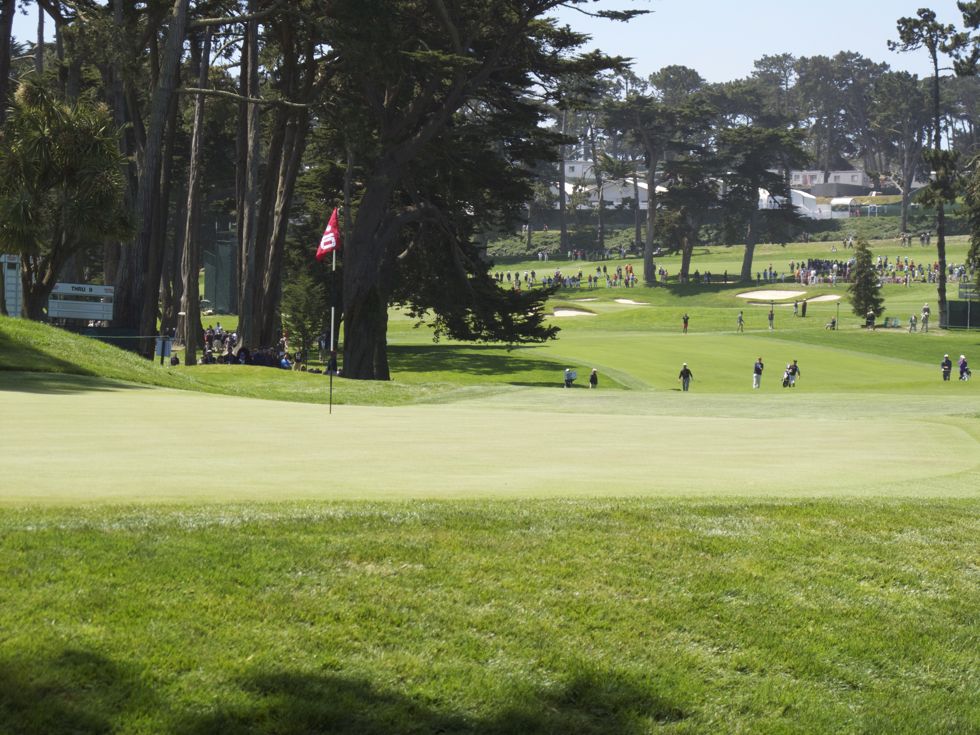 15. Steady Head
If there was one thing that stands out to me that almost every player does in their swings, it would be that players swing with very little side to side movement of their head on the backswing. From seeing almost a hundred golfers, the players that move it to the most are Vijay Singh and Angel Cabrera. Even the amount they translate their heads is very little by the time the back swing is complete. This makes sense for many reasons (I won't get into here) but if you were trying to copy what the best players in the world do in their swings, maintaining a stead head should be the first key on your list.
16. Range Etiquette
On Monday I was filming some player's swings in high speed. It can be somewhat of an awkward thing to do, especially when there aren't that many people around. When I set in behind a certain player (I won't mention his name, but his initials are KC), he turned to me with a disgusted look and said, "Dude, really? You know you have to ask before you do that." Taken aback I asked him and he almost reluctantly said yes. I wasn't sure if I did break an unspoken rule so I inquired about this from a few other coaches and caddies. The answer was there is no answer, it depends on the player and the situation. The thing is there are TV cameras everywhere I get they may not want everyone with an opinion to analyze their swings, but a golf swing is not intellectual property.
17. Ballstrikers
There were certain players that really stood out to me this week. I watched close to eighty different players on the range and even though they all hit it good, there are some select few that are really good. These players were Steve Stricker, Charlie Wi, and Casey Martin. What I liked in these players is that they own their pattern, ball flight was high, divot was shallow and the sound resonates with you after the shot. A pure explosion of urethane bliss shot after shot.
A lot of players hit it good, but I saw plenty of shots vary in trajectory and curve. I understand some of these shots may have been on purpose but after looking at the player's reaction, if the shot looked off, then where it was off. Like I said it's about owning a pattern and hitting it pure every time. Casey Martin said he hasn't cut a ball in five years, which makes sense for a player that physically can't "load" his right side. He one of the best ball strikers I've ever seen, high launching draws that fly forever.
18. From Poa to Bent
Bent greens are almost impossible to maintain in coastal climates but for the 2012 U.S. Open, the Olympic club spent the money to make the necessary changes. The Olympic Club ditched the rougher surface poa annua in favor of hybrid bent grass, resulting in some of the smoothest surfaces ever witnessed at a U.S. Open. The Olympics club also made changes to four of the greens on the Lake Course. The 18th green was flattened after the '98 U.S. Open and a slope of 4 to 4½ percent was created to make the finishing hole even more challenging.
As Steve Stricker said this week, "It doesn't even feel like we're in California with the greens that we're putting on. The greens are so good, so true, not an ounce of poa annua in them. So it's really a treat. The whole course is in great shape."