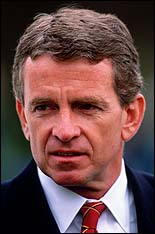 We've previously written about Ernie Els and his battle with the PGA Tour here and here. Turns out it really wasn't that big of a deal.
PGA Tour Commissioner Tim Finchem sees "no problem" with the amount of tournaments Ernie Els plays overseas. Said Finchem "he's playing enough to satisfy his membership requirements on the PGA Tour."
Finchem's comments defused a bomb that was set to explode at this week's Tour Championship. Els said last month that he planned to meet with Finchem at the tournament and was frustrated over having to play more tournaments to obtain overseas releases. "Don't start putting a padlock around me because that's not going to work," Els said during the HSBC in England.

Tour members are allowed three releases for every 15 tournaments they play on the PGA Tour: each additional release "costs" five more tournaments on the PGA Tour. The Tour has been flexible in the past, particularly with Els and other major champions. Els played in nine European Tour events this year as well as some World Golf Championships and won the Order of Merit for a second straight year.
"Would we like him to play more? Sure," Finchem said. "We encourage every top player to play more. But he's not in violation of our regulations in the amount of golf he's playing. There are no regulation issues here. None." In response to the letter Els is reported to have received from the PGA Tour, Finchem said "There were some options in terms of his situation from a conflicting event standpoint that had to do with one tournament, but it had nothing to do with how much golf he was playing. Somehow, it got garbled in transmission or somebody in the press got a hold of it. I don't know how it happened.
After a meeting Tuesday, Ernie said "I haven't got a problem with the tour anymore, and they don't have a problem with me. We're fine." Els will be playing for the 16th time on the PGA Tour this year at the Tour Championship. Ernie played 20 tournaments in 2000, his most to date on the PGA Tour in a year.