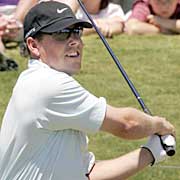 Hit it straight off the tee and hit a lot of greens. That is the key for Justin Leonard so far this week at the FedEx St. Jude Classic. He shot a five-under par round of 65 on Friday to push his lead to five strokes over a surging Fredrik Jacobson. Leonard is currently ninth in driving accuracy and tied for first on greens in regulation. Add that to the fact he is fourth in putting, and it's easy to see why the Texan is cruising so far in Memphis. Justin is halfway to his second win of 2005, also winning the Bob Hope Chrysler Classic in January. The fairways have dried out a little, and he is taking advantage of that to get a little more distance off the tee.

Leonard's round of 65 was only topped by one golfer on Friday. Fredrik Jacobson made an early charge on Friday morning en route to a wonderful 64. The Swede had three birdies on each side compared to zero bogeys. He is no stranger to playing well in Memphis either. In his last two appearances at the FedEx St. Jude Classic, Jacobson has finished in a tie for third in 2003 and a tie for fifth last year. He has yet to finish in the top 10 in 2005, and his best finish was a 16th place finish last week at Colonial.
As well as Jacobson played on Friday, Justin Leonard still put more distance between himself and the rest of the field. He led by only two shots after the opening round over Kirk Triplett, and he now finds himself a handful of strokes ahead of the next guy in line. Triplett limped to a sub-par round of 71 on "moving day" and is now eight shots behind the leader. Davis Love III also found himself in great position after the opening round but failed to take advantage of that on Friday. He shot an even-par round of 70 and once again finds himself struggling to stay consistent.
Paul Goydos finds himself in third place at -7. He made a charge late in the day to put himself in contention. Four players are in a tie for fourth including Matt Gogel, Heath Slocum, Tom Pernice Jr., and Roland Thatcher. These four currently sit at -6 and seven shots behind Justin Leonard. Rounding out the top ten are Love III, Triplett, and Richard S. Johnson. Johnson shot one of the best rounds of the day to move into the top ten on the leaderboard. He shot a 66 that included five birdies and only one bogey.
A couple other notables that are hanging around in the middle of the pack include Fred Funk, Nick Price, and David Toms. Toms, who has won the FedEx St. Jude Classic the last two years, had a one-over par round of 71 and dropped way down the leaderboard. Funk made a nice move with a 68 but still finds himself 10 shots off the lead. Price had 18 straight pars and didn't make any kind of move on Friday.
Perhaps the most shocking story of the week deals with last week's winner Kenny Perry. Perry completely ran away from the field at Colonial last week on his way to a record-tying finish in Ft. Worth. This week, all he did was shoot 73-74 to miss the cut by five shots. I picked Perry in my FedEx St. Jude Classic preview, and I guess I must have put a jink on him. When Perry is hot, he is hot! But when he is cold, he is very cold. And this week, he was ice-cold. He has been struggling with his eyesight, and the overhauled greens this week could have definitely taken him out of his element.
Other golfers that won't be seeing action on the weekend include Paul Azinger, Robert Allenby, and KJ Choi. It wasn't a good week for Ryder Cup captains either. 2004 Ryder Cup captain Hal Sutton missed the cut, as did 2006 Ryder Cup captain Tom Lehman. These two will get an early start to their Memorial Day weekend. Kip Henley, the winner of Big Break II definitely learned a good lesson in golf this week in Memphis. He learned that the PGA Tour is where the big boys play. He shot an opening-round 79 followed by an 80 today to finish up at +19.
The weather for the weekend is looking shaky to say the least. There isn't a very good chance for thunderstorms tomorrow, but there is a 60% chance for Sunday. The highs should be in the upper-70s to lower-80s if the rain does stay away. Hopefully the thunderstorms will stay off in the distance and out of Memphis until at least Monday.
Here is a look at the FedEx St. Jude Classic leaderboard after the second round:
Pos  Player             Tot    R1    R2    
1    Justin Leonard     -13    62    65    
2    Fredrik Jacobson    -8    68    64    
3    Paul Goydos         -7    67    66    
T4   Matt Gogel          -6    66    68    
T4   Heath Slocum        -6    68    66    
T4   Tom Pernice Jr.     -6    66    68    
T4   Roland Thatcher     -6    67    67    
T8   Kirk Triplett       -5    64    71
T8   Davis Love III      -5    65    70
T8   Richard S. Johnson  -5    69    66
Photo Credit: © Bill Haber, AP.