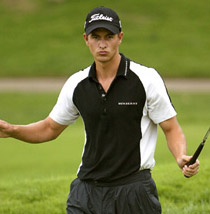 Players finally finished the second round of the Nissan Open and tournament officials are going to attempt to get a third round in on Monday, but the forecast isn't promising.
Adam Scott took advantage of the weather and fired a 5-under 66 to vault him into a tie for the 36-hole lead. Should the tournament end, Scott and Chad Campbell, who completed his second round on Friday and hasn't hit a shot since, would play off late Monday for the $836,000 first-place check. The win, unfortunately, would be unofficial. Tour officials still hope that 54 holes can be played – they have 12 hours of daylight and a field of 76 golfers after the cut – to make the tournament official.

PGA Tour events shortened to 36 holes have a special set of rules. One is that the two-year exemption and an official victory are not offered. The money is still good – and counts towards official earnings – but World Ranking points are shaved by 25%.
The point reduction in mind, Tiger went at the par-4 eighteenth, hoping to birdie to get to -8. His second round continued the horrible putting he displayed on day one, and instead of making birdie Woods double bogeyed the eigteenth to drop back into a tie for 13th. With 25% of the World Ranking points gone, Woods would need a solo third-place finish or a three-way tie for second to take over the top spot.
Adam Scott faced a 20-footer on his last hole today to get to -9 and rolled it into the center of the cup. "I did think this may be the last putt of the week here, soI better make it count," said Scott.
Several players began playing the third round late Sunday evening before the horn blew, signaling the end of play. Scott – and the other players – aren't hopeful, and all players were gunning for the -9 Campbell had set Friday. "The way the weather's been, the goal was to get to nine under and see what happens," Scott said. Darren Clarke and first-round leader Brian Davis shot 68 and 69 respectively to land one short of the goal at -8.
The scenarios for Monday's round are many. If more than half of the remaining field completes a third round, the tournament must be played over 54 holes even if that means finishing the tournament on Tuesday. If less than half of the remaining field completes the third round Monday, then the tournament will end at 36 holes and Adam Scott and Chad Campbell will have a sudden-death playoff on Tuesday.
The $7.5 million WGC-Accenture Match Play Championship begins on Wednesday at La Costa.
Pos   Player              R3     Total    R1     R2
T1    Chad Campbell       -       -9      68     65
T1    Adam Scott          -       -9      67     66
T3    Darren Clarke       -       -8      66     68
T3    Brian Davis         -       -8      65     69
T5    Colin Montgomerie   -       -7      71     64
T5    J.L. Lewis          -       -7      70     65
T7    Robert Allenby      -       -6      69     67
T7    Aaron Baddeley      -       -6      69     67
T7    Billy Mayfair       -       -6      70     66
T7    Bob Tway            -       -6      68     68
T7    Kevin Sutherland    -       -6      67     69
T7    Fred Funk           -       -6      69     67
T13   K.J. Choi           -2      -5      72     67
T13   Luke Donald         -       -5      66     71
T13   Stephen Leaney      -       -5      70     67
T13   Rocco Mediate       -       -5      70     67
T13   Jose Coceres        -       -5      67     70
T13   Rich Beem           -       -5      69     68
T13   Tiger Woods         -       -5      67     70
T13   Lee Janzen          -       -5      70     67
T13   Bo Van Pelt         -       -5      70     67
T13   D.A. Points         -       -5      69     68
The cut fell at even par. David Duval missed the cut by eight, but played on Sunday for the first time this year. His pro-am team finished second and he earned $1,600.
Photo Credit: © AP.