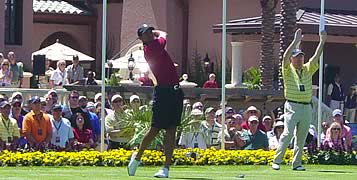 The Tavistock Cup went 21 holes and ended in a tie. The excitement was palpable as Tiger Woods and Lee Janzen, representing Isleworth, battled in extra holes against South Africans Ernie Els and Retief Goosen of Lake Nona. The 8½ to 8½ tie is the first in the short history of the event and follows Isleworth's 14½ – 9½ victory at Lake Nona last year.
Tiger Woods earned low medalist honors with a -6 (66) which included two sixes on the front-nine par fives but an incoming 31.

Lake Nona led much of the day, being up 14-3 at one point. The unique format – foursomes which pitted each player against two players in simple low medal play – was subject to fast changes as players could make up more than one stroke per hole, unlike in match play. Isleworth closed quickly, and were it not for a three-putt by Isleworth's John Cook or an Ernie Els teeshot at 17 that settled in bounds by about the depth of a dimple, Isleworth would have won the Cup for the second straight year. Instead, Tiger missed a 20-foot birdie putt on the last hole and Ernie Els holed a 10-foot par putt to force the extra holes.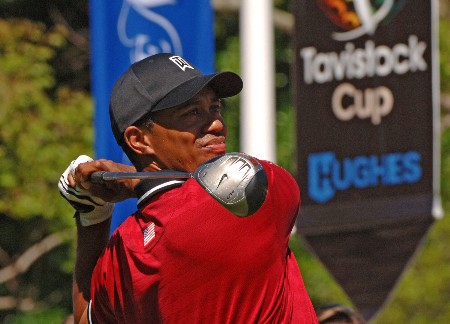 The team's low medalists – Tiger Woods (66) and Lee Janzen (70) squared off in sudden-death better-ball against Ernie Els (68) and Retief Goosen (67). On the first playoff hole, Retief blasted his ball into the water off the 464-yard 18th hole and Ernie played well to the left. Janzen hit into the fairway and Tiger joined Ernie to the left. Ernie punched to the back of the green, his ball squirreling between teammate Ian Poulter's legs. Tiger put his punch hook to 15 feet. Goose nearly chipped in for par, Janzen two-putted, and Tiger had a free run at it, but missed just left. Ernie poured his 10-foot par putt to force another hole.
Back to the tee, and Retief's drive found dry land. Els, Janzen, and Woods ducked left, but it was Goosen and Woods put themselves in position with birdie putts. After Janzen missed from 50 feet, Goosen's 30-footer found the center of the cup. Tiger had 15 feet to halve and force another hole, and his too found the center of the cup. Naturally.
The third playoff hole saw three balls in the fairway, a narrow strip 15 yards wide and tucked between bunkers and trees. Only Els missed left, and Tiger's drive was fully 40 yards past anyone else's. His wedge, however, was woefully short. Goosen and Els were both inside of Tiger's 30 foot birdie putt, which refused to fall. Fortunately for team Isleworth, Els and Goosen missed too.
Darkness coming on fast, team captains Mark O'Meara and Ernie Els decided to call it a draw. The Tavistock Cup will remain with Isleworth for six months before travelling 20 minutes down the road to Lake Nona. The competition will be played at Isleworth once again next year.
The main purse was split and each player will receive $87,500. Ernie Els earned his teammates an extra $10,000 for winning the long drive of the day by one yard, and Tiger Woods earned $100,000 as low medalist.
In the first group, Scott Hoch (IW) defeated Mark McNulty (LN) 72-77. The Golf Channel saw fit to show not a single shot from this match, but scorecards are available.
Robert Allenby and Craig Parry, both of Isleworth, played against Lake Nona's Trevor Immelman and Justin Rose. Immelman took 1½ points, shooting 71 to Allenby's 71 and Parry's 74. Rose, in the hunt for low medalist most of the day, took two points with a 68.
The third foursome featured Stuart Appleby and John Cook for Isleworth and Retief Goosen and Nick Faldo for Lake Nona. Goosen easily won two points, shooting 67 to finish one back of Tiger for low medalist, beating Appleby (73) by six and Cook (76) by nine. Faldo shot a 75, including a two-putt on the last hole to John Cook's rambunctious three-putt that, in effect, cost Isleworth the tournament.
Charles Howell III and Lee Janzen (Isleworth) were down early against Ian Poulter and Annika Sorenstam (Lake Nona), but both climbed back and were a combined six under through five holes on the back nine. Sorenstam was playing admirably well – and from the same tees as the men, a brutal test at 7,500 yards – until a bogey at the short par-4 sixteenth sent her in the wrong direction. Howell and Janzen carded 72 and 70, respectively, to take four points from Poulter (74) and Sorenstam (73).
In the final pairing, team captains Ernie Els and Mark O'Meara paired with Tiger Woods and Sergio Garcia. Els jumped to an early lead, birdieing the first three holes, but Tiger clawed his way back after a disappointing 35 on the front that included a pair of sixes on the par fives. Tiger birdied holes 10, 13, 15, 16, and 17 to shoot a back-nine 31, nipping Els by two strokes and Garcia by seven. O'Meara, who shot 77, was out of it early, shooting a front-nine 37.
John Cook may have three-putted on the last to lose the competition for Isleworth, but Ernie Els could have just as easily played the role of goat. His drive on the par-5 17th travelled so far left that a rope was used to determine whether his ball was in bounds or out. The rope fell across the inner edge of the ball, and the rules state that if any part of the ball is in bounds, the ball is in bounds. Els punched his over the green, chipped, and two-putted for a par. Woods two-putted for birdie after his 25-foot eagle putt missed left.
Sergio Garcia, celebrating the tie, was seen drinking a Budweiser. If that means nothing to you, well, okay…
Photo Credit: © TGC.