Bubba Watson just picked up the second win of his career, the second in as many years, and he seems to be one of the fastest improving players on Tour. Watson has always had loads of talent but only in the past few years has he begun to put it all together. Just like in baseball where a fire-balling thrower must eventually become a pitcher, Bubba Watson is a long-hitting bomber that is starting to become a golfer.
His appearance in the playoff that decided last year's PGA Championship introduced him to the casual golf fans, and his prominent usage of Twitter has made him as popular as any golfer. His free swing, huge distance, and Arnold Palmer-like follow through make him easy to watch, and lately he has been prominently featured on golf coverage. While he probably will never be a top-ranked golfer, Bubba Watson has quickly forged himself a career.

Hole One: Childhood
Gerry "Bubba" Watson was born on November 5th, 1978, in Bagdad, Florida. Bagdad is a small town of nearly 1,500 and measures only 4.2 square miles. Bagdad is not known for much, but was mentioned on an episode of the British car show Top Gear where the hosts, who were driving through Bagdad at the time, noted that irony of its name.
Unlike Phil Mickelson, who plays golf left-handed but is a righty the rest of the time, Bubba does everything with the wrong hand. Luckily, when he was growing up, the head pro at his local golf course was also a lefty. The pro gave Bubba a cut-down nine iron and a putter, and a promising golf career was born.
Watson is a self-taught golfer, who grew up whacking wiffle balls around his yard. Said Watson, "The house was probably an acre and a half yard with big trees, downtown Bagdad (FL). The house is sitting here, and I drew in the dirt driveway. I'd draw a big circle, and that would be my hole, a five-foot circle. I'd go around it to the left and then I'd go around it to the right. So I learned to cut it. If you know about wiffle balls or plastic balls, it's hard to cut. Then I learned to hook it the other way, hit it high over limbs, hit it low under limbs. I'd say non-stop every day from six to 12 years old. Instead of playing with trucks out in the yard, I'd play with a ball and a club."
Watson attended Milton (FL) High School, the same high school that produced Boo Weekley and Heath Slocum.
Hole Two: College
Bubba entered Faulkner State Community College, where he was a junior college All-American golfer. Bubba would later enroll at University of Georgia and became a member of the golf team. The Bulldogs won the Southeastern Conference in 2000, and that year Watson won the prestigious Chris Schenkel Intercollegiate Golf Tournament.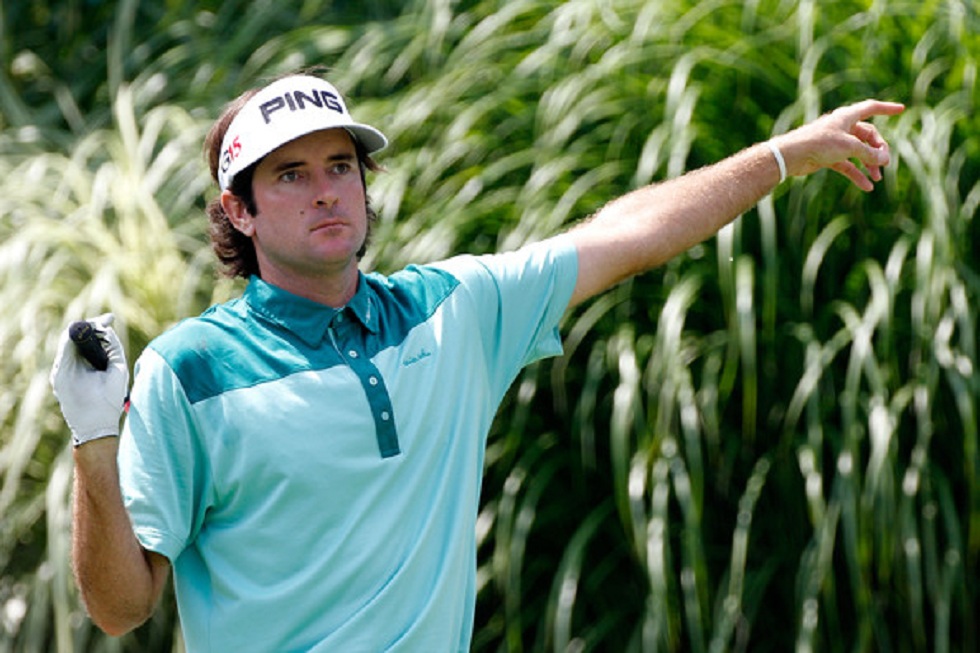 Hole Three: Nationwide Tour Days
Although he hadn't finished college, Watson turned pro in 2003. He joined the Nationwide Tour, where he would play through 2005. Before '02, Watson had played in two events on the Nationwide level, recording a T47 and a missed cut.
As a full-time member in 2003 Watson was incredibly inconsistent. He was unable to string strong tournaments together, but he did record a few high finishes. In 21 events, Watson missed just eight cuts, but he had only two top-tens and no top-fives. Watson made a living finishing between tenth and 40th, making $79,845 on the year.
Still a full-time member on the Nationwide in '04, Watson qualified for the U.S. Open at Shinnecock Hills. Unable to get much going, Bubba went 73-74, 7 over par, and missed the cut. Watson wouldn't play in another major until the U.S. Open in 2007, in which he fared much better. Although he missed the cut at Shinnecock, the rest of Watson's season wasn't so bad.
Bubba played in only 17 events in '04, four fewer than 2003, but he made twice the money. Bubba missed three of his first four cuts, but didn't miss a single cut the rest of the year and that early cut that he did make was a second place finish. After the early struggles Watson was basically a top-20 machine. Two second place finishes on the year and a T4 netted Bubba a hefty sum of money. Watson finished the year with $142,904.
Still on the Nationwide Tour, Bubba upped his schedule for 2005. Watson missed just five cuts in 24 events, and he recorded five top-tens. Watson netted a second and a third, and he finished with $202,437 on the year, nearly three times as much as in 2003. That put Bubba at 21st on the money list, good enough to get him onto the PGA Tour for 2006.
Hole Four: Early PGA Tour Years
Bubba started his PGA Tour career just about as well as you can, with a fourth place finish at the Sony Open in Hawaii. Just over a month later, Bubba recorded a T3 at the Chrysler Classic at Tuscon and it appeared he was well on a roll. Bubba cooled off through the middle part of the season though, missing nine of 14 cuts. In fact, he didn't crack the top 15 in an event until a T6 at The INTERNATIONAL, a stableford event, in August. Watson finished the season off strong, and he concluded the year with $1,019,264. That was good for 90th on the money list, which enabled Bubba to keep his Tour card for 2007.
Bubba Watson's 2007 season was a roller coaster ride of a year. One week he would crack the top ten, and the next he would miss a cut badly. Bubba had a T4 at Torrey Pines in the Buick, and a T8 at TPC Scottsdale in the FBR a week later. In April, Bubba recorded a T2 at the Shell Houston Open, and a T5 at the Zurich Classic. Those two strong finishes were sandwiched around a missed cut at the Verizon Heritage, and Bubba followed them up with a WD at the Wachovia and a missed cut at the Players.
Bubba's month of June was a representative microcosm of his year as a whole. After the aforementioned missed cut at the Players, Bubba recorded a solid T23 at the Memorial, which he followed up with a missed cut at the St. Jude Championship. That led Bubba to the U.S. Open at Oakmont, only the second major of his career. After a very good first-round 70, Bubba was just two strokes back, at even par, and in a tie for third place. In the second round, when the scoring average was a preposterous 76.933, Bubba came in with another solid score, this time at 71. This put Bubba in second place, trailing only Angel Cabrera. On Saturday, when an even-par round of 70 would have landed him in first place, Bubba shot a 74, which left him in a tie for third. Aaron Baddeley, after recording his second straight even-par round, was in first place, while Tiger Woods snuck his way into second. Tiger hit his first 17 greens in regulation, and his 69 was one of the best scores of the day. After another score of 74 on Sunday, Bubba Watson finished the tournament at +9, in a tie for fifth. Aaron Baddley fell apart, shooting an 80, and Angel Cabrera came from four shots back to win after a final-round 69. Tiger Woods was two-over on the day, and finished in a tie for second with Jim Furyk. Keeping with the pattern of the year, Bubba missed the cut in his next tournament, the AT&T National, and the next major, the PGA Championship.
Watson ended up finishing the year with 14 made cuts in 24 events, with five top-tens. Bubba made $1,654,807, good enough to keep his Tour card for '08.
In 2008, Bubba continued his streak of increasing monetary earnings, but he didn't have as many top finishes as in 2007. Bubba's only top-tens came at the Arnold Palmer Invitational in March, as well as the Travelers Championship and the Buick Open in June. Thanks to his high finish in 2007's U.S. Open, Bubba was granted entry to the Masters, the U.S. Open, and the PGA Championship in 2008. Bubba recorded a T20 at Augusta, a missed cut at the U.S. Open at Torrey Pines, and he finished in 70th place in the PGA at Southern Hills. Watson finished the year with 19 made cuts in 29 events, and made $1,533,523, putting him at 58th place on the money list.
2009 was a slight regression for Bubba. With only two top-tens, Watson made less money than the year before for the second straight season. Still, $1,430,244 isn't chump change, and at 60th on the money list, Watson still easily kept his card for 2010. Bubba's only top-tens were at the Buick Invitational at Torrey Pines, and at the Quail Hollow Championship in May. Bubba didn't fare well in the majors either, with a 42nd place finish in the Masters, a T18 in the U.S. Open at Bethpage, and missed cuts in his first British, at Turnberry, and the PGA at Hazeltine.
Hole Five: 2010-A Breakout Season and On to the Future
Bubba again got off to a strong-if not wildly inconsistent-start. After a T46 at the Sony Open, Watson played his way to a T2 at the Bob Hope. He missed his next two cuts but came in third at the Transitions Championship just a few weeks later. A few missed cuts and a bunch of decent finishes later, Bubba scored his first win in a playoff in the Travelers Championship. In the largest comeback since Paddy Harrington at the 2007 British Open, Watson shot a 66, coming from 6 strokes back at the beginning of the day to force a playoff. After 2 holes of sudden-death golf with Scott Verplank and Corey Pavin, Watson came out the victor. After being cut at the Players and the British (Bubba did not play the Masters or the U.S. Open), Bubba's track record in big events was not strong. Sure the T5 in the 2007 U.S. Open was nice, but Bubba went into the 2010 PGA Championship having missed the cut in six of the ten majors that he had played in.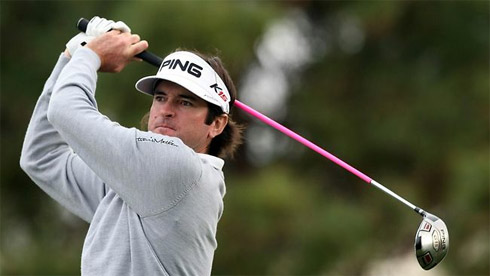 Bubba got off to a strong start on day one, shooting a 68 to put himself into a tie for second, behind only Matt Kuchar. His Friday wasn't quite as great, with a one-under par 71, but he was still in a tie for fifth, just three back. Another strictly decent day on Saturday knocked Bubba off the leaderboard, but he was posed to come back on day four. Bubba came back with another strong 68 to put himself in a tie for the lead with Martin Kaymer, partially thanks to Dustin Johnson's collapse. Bubba and Martin played the 10th, 17th, and 18th holes, and when the dust had settled Kaymer came away with the victory. Still, Bubba was clearly on the upside of his career, and a strong finish in a major put him on the map among even the most casual of golf fans.
Bubba made easily the most money of his career in 2010, $3,198,998. After two straight years in the 50s, Bubba also finished 8th in the FedExCup.
Bubba came into 2011 on a high, and it has shown early. After a poor T25 (out of 30) at the Hyundai and a missed cut at the Sony Open, Bubba shot -16 through four rounds of play to win the Farmers Insurance Open at Torrey Pines, besting Phil Mickelson. 2011 looks like it could be an even better year for Bubba Watson.
Hole Six: Bubba the Bomber
Bubba Watson is the prototypical "bomb and gouge" golfer. Watson is perennially among the leaders in driving distance, having lead the PGA Tour three times. That's really most of what Bubba has going for him. In 2010, his best year, he was a pedestrian 55th on Tour in greens in regulation, a terrible 176th in driving accuracy, a poor 147th in scrambling, and a decently good 46th in putting average. Nevertheless, all of the mediocre parts of his game seem to come together on the scorecard, as Watson was 17th in scoring average.
Despite his prodigious length, Watson isn't a tough guy, not even close. In fact, he's kind of a softie (in a good way). Said Watson, "When I go to church on Sunday, I cry at church. I couldn't get the 'Yes' out of 'I do' at my wedding. The pastor said, 'You got to say it. You can't just nod. You can't nod.' Everybody has issues. My family had some issues. My dad is battling cancer. My wife last year thought she had a tumor in her brain. We got lucky with that one, and now, we're battling with my dad. It's emotional." Honoring his father, Gerry, who was a lieutenant in the Green Beret Special Forces, and who passed away in October of 2010, Bubba hosted the PGA Tour's Birdies for the Brave program with the U.S. Armed Forces.
Watson is a self-professed "feel player" as he demonstrated in this Golf Magazine article.
Although he didn't finish college the first time around, Bubba went back and completed the requirements to graduate from the University of Georgia in the summer of 2008. He did it in secret and didn't even tell his friends of family until graduation.
Hole Seven: Social Media Master
A lot of people know Bubba Watson because of his Twitter account, and his many YouTube videos. I've included a few of my favorites.
Hole Eight: Bubba's Swing
Here are a few videos of Bubba's swing. Pardon the analyses by Johnny Miller and Peter Kostis, but there are surprisingly few good videos of Bubba's swing out there. In fact, I actually found a much better swing video of Bubba's wife, a 6'4″ former basketball player.
Hole Nine: What's in the Bag?
Bubba Watson is a Ping staffer, and is most well known for the pink Grafalloy Bi-Matrix shaft in his driver and the bucket-style hats that he occasionally wears.
According to Golf.com, as of the Farmer's Insurance Open Bubba bag included: a 7.5 degree Ping G15 driver with a pink Grafalloy Bi-Martix shaft, a 17 degree Ping G15 fairway wood with a Project X 8A1 shaft, Ping S59 3 iron to PW with True Temper Dynamic Golf shafts, 52, 56, and 60 degree Ping Tour-W wedges with True Temper Dynamic Gold shafts, and a Ping Redwood Anser putter. Bubba plays Titleist ProV1x golf balls. This is the same setup he used for his win at the Travelers last year and his playoff loss at the PGA.
Photo Credits: © A. Lyons, © S. Greenwood, © M. Cohen.