Dustin Johnson is one of the brightest stars on the PGA Tour today. Although he hasn't been around that long, his roller-coaster of a year in 2010 got him noticed. It left us amazed, disappointed, surprised, and possibly with a better sense of the rules. Johnson, also known as "DJ," is currently ranked 14th in the world and had one of the best records in major tournaments last year. Since his historic breakdown in the U.S. Open and his final-hole rules debacle at the PGA Championship, Johnson has become a fan favorite, and has established himself as one of the best young Americans. To add to that, now that Sergio Garcia and Colin Montgomery are basically out of the picture, Johnson is battling for the title of Best Never to Have Won an Major. Along with Lee Westwood, Steve Striker, and Rory McIlroy, for DJ escaping that title seems to be much more a matter of "when," not "if."

Johnson is also admired for his ridiculous length off the tee. With a mammoth shoulder turn and a bowed left wrist at the top, Johnson whips the club around his body, producing seemingly effortless power that leaves most Tour players in his dust. Averaging 308.5 yards, Johnson was 3rd on Tour last year in driving distance. Proving that those longest off the tee aren't always lost around the green, Johnson is also an above average putter.
DJ starts 2011 looking to prove that he can indeed finish the deal in majors, and he will be one of the favorites to win each time he plays. So here are nine holes with DJ, one of the PGA Tour's best young players.
Hole One: Childhood
Dustin Hunter Johnson was born June 22nd, 1984, in Columbia, South Carolina. Columbia, the capital of South Carolina, is also home to athletes Richard Seymour and Jermaine O'Neal, comedian Aziz Ansari, and singer Rob Thomas. An athletic 6'4″ and 190 lbs., DJ attended Coastal Carolina University and now lives in Myrtle Beach, SC. I sense a trend.
Hole Two: The College Years
At Coastal Carolina, Johnson was one of the most accomplished players in the nation. He won the Big South Conference player of the year award 3 times, and won the Big South player of the week award 14 times. Johnson won 7 times throughout his college career, is the all-time scoring-average leader in Coastal Carolina history, and was a two-time first-team all-American. Though it has been reported that he has worked with other teachers, his coach at CCU, Allen Terrell, remains his official swing coach.
Hole Three: As an Amateur
In addition to his impressive college golf career, Johnson has also amassed a notable amateur career. In 2007, he won the Northeast Amateur, a tournament also won by Anthony Kim, Luke Donald, Jonathon Byrd, David Duval, and current PGA Tour rookie Joseph Bramlett. That year Johnson also won the Monroe Invitational and was on the winning Walker and Palmer Cup teams. Later in the year, Johnson turned pro and took his chances at Q-School. DJ finished 14th in the finals, and earned his PGA Tour for the '08 season.
Hole Four: 2008 Turning Stone- First PGA Tour Win
DJ started his rookie season off pretty strong, with two top 10s in his first four tournaments. He hit a rut during the middle of the season though, and at one point he missed seven of nine cuts. Heading into the Fall Series, Johnson was fighting for his Tour card for the 2009 season, and, at 128th on the money list, he needed a strong final few months to get it. Going into the final round of the Turning Stone Resort Championship, Johnson was one of nine players within two strokes off the lead of Tag Ridings and Charles Howell III. At 7,482 yards, Atunyote Golf Club played right into the hands of the longer hitters, such as Dustin and Robert Garrigus, who finished in a tie for third. After a combative day with a packed leaderboard, Johnson entered the 18th hole tied for the lead. A clutch eight-foot birdie putt on the 72nd gave DJ the first win of his career, a hefty $1.08 million check, and another season on Tour.
Hole Five: Pebble Beach – Parts One, Two, and Three
Fresh off his late-season win at Turning Stone, Johnson entered 2009 as a young player with a lot of potential, and started to show up on the radars of golf fans. Johnson began his week at the AT&T Pebble Beach National Pro-Am with a seven-under 65 at Pebble Beach. He followed that up with a 69 at Spyglass Hill, and he entered the weekend hanging around the lead. Johnson birdied every single par five on Saturday, and his 67 at Poppy Hills gave him the lead. When rain overtook the course on Sunday and Monday, Johnson was awarded the trophy after 54 holes of play. Johnson became the youngest winner at Pebble Beach since Tiger in 2000, and was, at the time, one of just two players under 25 with two Tour wins (Anthony Kim being the other).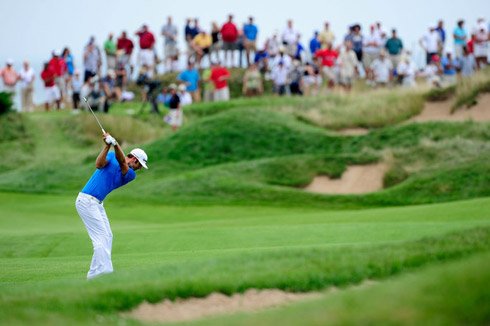 As the defending champ, Johnson went into the 2010 AT&T Pebble Beach National Pro-Am as one of the favorites. Because the U.S. Open would be held there in just a few months, the winner of the Pebble Beach Pro-Am would have a bit of an advantage. In the fourth round, Johnson was in a shootout with J.B. Holmes and a resurgent David Duval. Johnson was one up with two holes to go, but made bogey after finding the bunker off the tee at the par-three 17th. He entered the 72nd hole of the tournament in a three-way tie with Holmes and Duval. After Holmes missed a 13-footer for birdie on the 18th, Johnson put his second shot on the par-five into the front bunker. After wedging out to four feet, Johnson drained his birdie putt to become just one of three players in their 20s to have 3 wins on Tour. Johnson also joined the likes of Sam Snead, Cary Middlecoff, Jack Nicklaus, Tom Watson, and Mark O'Meara as the only back-to-back winners at Pebble Beach.
Now the two-time defending Pebble Beach champion, Johnson was again among those whom the "experts" thought had a chance to win the U.S. Open. After starting off the tournament with a 71 and a 70, Johnson's third-round 66 gave him a three-stroke lead over Graeme McDowell, and a five-shot lead over Tiger Woods. Johnson famously shot a final-round 82 to succumb the lead to McDowell. Although he lost, Johnson surely took many positives out of his first real chance at a major title.
Hole Six: Close Shave at the PGA
After his T8 in the U.S. Open, and a solid T14 in the Open Championship, Johnson was hot going into the PGA. After a first round 71, Johnson was left off the leaderboard. Matt Kuchar jumped out to a lead, and he maintained it through day two. A second-round 68 put Johnson in contention, and a Saturday 68 landed him in second place, three shots behind Nick Watney. Watney fell apart, shooting an 81 on Sunday, while Johnson surged into the finish line. With birdies on 16 and 17, DJ had a one-shot lead going into the last hole. While it appeared that Johnson's final-hole bogey would drop him into a playoff with Martin Kaymer and Bubba Watson, it was pointed out that Johnson grounded his club in a bunker before his second shot, and he was assessed a two-stroke penalty that dropped him into a tie for fifth. Kaymer would go on to win the playoff, and he was awarded his first major championship.
Hole Seven: Late Season Rebound- BMW Win and Ryder Cup
After the PGA Championship, Johnson had little time to rest before the impending FedExCup. With a solid T9 at the Barclays and a decent T57 at the Deutsche Bank, Johnson entered the BMW on a bit of a hot streak. Johnson played in a final group on a Sunday for the fifth time in 2010, and a clutch wedge on 17 to three feet gave him the lead with a birdie. After a closing par to seal the deal, Johnson had earned a redeeming win, and his second of the year. Johnson moved to second in the FedExCup standings, which would assure him a win if he were to be victorious at the Tour Championship. Johnson didn't pull it off though, as a T22 (in of a 30 man field) failed to give him the Cup.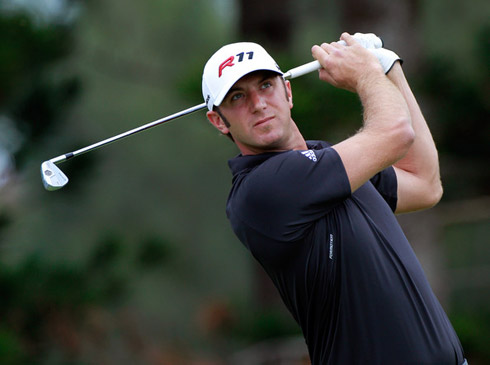 Surprisingly, Johnson's strong play did not quite carry over to the Ryder Cup. In the first session (four-ball), DJ and Phil Mickelson were beaten 3 & 2 by Lee Westwood and Martin Kaymer. In the second-session foursomes, Johnson and Mickelson were handed the same defeat, this time by Padraig Harrington and Ross Fisher. DJ was teamed with Jim Furyk in the session-three four-ball, but Paddy and Fisher handed them a 2 & 1 defeat. Johnson finally came back in the fourth session, destroying Martin Kaymer 6 & 4 in singles play. It would not be quite enough though, as the European team took the cup back after their 2008 defeat.
Hole Eight: Dustin and Natalie- Or not?
On the Sunday during the final round of the Hyundai Tournament of Champions, it was reported that Dustin Johnson and Natalie Gulbis were dating. Golf.com ran it as their top story, and this article spent several days on Yahoo!'s front page. Gulbis reportedly told Golf.com that she and Johnson were dating, but that she would "let Dustin handle [their] PR."
On Monday the 10th, Johnson withdrew from the next week's Sony Open, saying that he had to "Take care of some things at home," because "Something came up." That set the story on fire, and many speculated that Johnson's ex-girlfriend, who lived with Johnson for several years, was upset with him, and he was going home to repair their relationship. Johnson later denied not only that his visit to South Carolina had anything to do with his ex-girlfriend, but that he was dating Gulbis at all.
Hole Nine: What's in the Bag?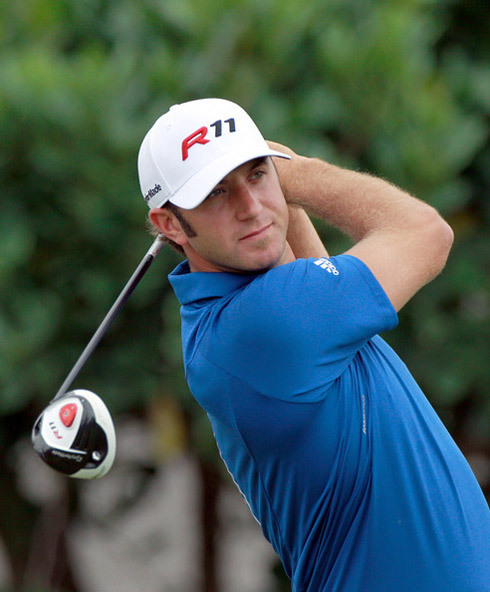 According to Golf.com, as of September 12th, 2010, Johnson bag consisted of the following: 10.5 degree Taylor Made R9 driver with a Fujikura Motore F1 shaft, 15 and 19 degree Taylor Made R9 fairway woods with Aldila RIP 90 shafts, Taylor Made R9 TP 3 through 9 irons with True Temper Dynamic Golf shafts, 48, 54, and 60 degree Taylor Made xFT wedges with True Temper Dynamic Golf shafts, and a Scotty Cameron for Titleist Newport 2 prototype putter. Johnson uses Taylor Made's Penta TP golf balls
Johnson has since made several changes to his bag, and it has been confirmed that he now carries Taylor Made's new Tour Preferred Forged MB irons and R11 driver. This is evidenced by several of the pictures that I have included above.
Photo Credits: © Sam Greenwood/Getty, © Stuart Franklin/Getty.