Martin Kaymer, your 2010 PGA Champion, is on the fast track to the number one ranking. With five wins in the last 12 months, Kaymer has ascended to the top of the golfing world. While other high ranked players such as Steve Stricker and Lee Westwood have yet to win any top tournaments, Kaymer has won a major and is as capable as anyone at catching fire. Kaymer had more wins on the PGA and European Tours than anyone in the world last year.
When you look at Kaymer's game, nothing really stands out. He doesn't have Phil's short game, Stricker's putting, or Dustin's distance. He's a solid ballstriker, has pretty good distance, get up and down well, and he knows how to putt. While he is a bit above average in all of those categories, Kaymer just seems to put it all together, and he is perennially among the best scorers on the PGA and European Tours. Although Kaymer has a slightly funky backswing, his downswing is a thing of beauty. On that note, here are nine holes with Martin Kaymer.

Hole One: Childhood
Martin Kaymer was born on December 28th, 1984, in Düsseldorf, Germany. Düsseldorf is the capital of the German state of North Rhine-Westphalia and is the seventh most populous city in Germany.
Hole Two: Early Pro Days on the EPD and Challenge Tours
Kaymer did not go to college, but instead turned professional in 2005, at the age of 20. He picked up his first professional win at the Central German Classic, which is on the European Professional Developmental (EPD) Tour. The EPD Tour is the third-tier tour in Europe, behind the European Tour and the second-tier Challenge Tour. Kaymer and Marcel Siem are two notable graduates of the EPD Tour, which is run by the PGA of Germany.
In 2006, Kaymer spent seven months from February to August on the EPD Tour and picked up an amazing five wins in just 14 events. Kaymer won the EPD Tour Order of Merit, earning €26,664. That June, in the second round of the Habsburg Classic, Kaymer shot a 59, scoring 12 birdies, one eagle, and a bogey.
After August Kaymer advanced to the Challenge Tour, where he played the rest of the year. Kaymer won the first Challenge Tour event he played in, the Vodafone Challenge, and from August to October he won two of the eight tournaments that he entered. In those eight tournaments, Kaymer finished in the top-five six times, and never finished worse than 13th. Even though he played just eight events, Kaymer was fourth on the Challenge Tour Order of Merit, earning €93,631.
Hole Three: 2007- Martin the Rookie
Martin Kaymer advanced to the European Tour in 2007, though his start to the year wasn't as white-hot as his 2006 season was. Kaymer missed his first five cuts, and missed six of his first seven. Kaymer was able to find a silver lining in the fact that all seven tournaments were played outside of Europe (as is life on the European Tour in the colder months), and that he would soon be returning to his home continent. His first event in Europe was the Madeira Island Open, in which he finished 13th. The next week, at the Portuguese Open, Kaymer finished third, and that launched him on a solid streak of seven straight made cuts. During that time, Kaymer's worst finish was a T35.
In the middle of summer however, Kaymer lost his game. Though he recorded a T7 at the Open de France ALSTOM (as it was then called) and a T2 at the Scandinavian Masters, those were Kaymer's only two made cuts out of nine tournaments played. Starting in September, Kaymer played in six events and made all six cuts, which included a T7 at the Portugal Masters and a T6 at the Volvo Masters. In Portugal, Kaymer shot a first-round 61, which was the lowest round on the European Tour that year and set the course record. At the Volvo, which perennially lays claim to one of the strongest fields of the year, Kaymer earned €140,000, more than he made on the course in all of 2006. Martin Kaymer finished the year as the highest rookie on the Order of Merit, in 41st place, and for that he won the Sir Henry Cotton Rookie of the Year Award. Kaymer earned €754,691 in total in 2007.
Hole Four: Two Breakthrough Years
To begin 2008, Kaymer won the Abu Dhabi Golf Championships after leading all four rounds. Two weeks later in the Dubai Desert Classic, Kaymer finished second only to Tiger Woods Kaymer was four under for his last three holes, but still lost to Woods by a stroke. Unlike 2007, when he struggled mightily away from Europe, Kaymer tore up the Middle East in '08.
Later in the year, Kaymer won the BMW International Open. After leading by six going into Sunday, Kaymer shot a disappointing three over to drop into a playoff with Andres Hansen. A first-hole birdie sealed the win. To finish off the year, Kaymer recorded a T2 at the Alfred Dunhill Links Championship and a second place at the Volvo Masters. Kaymer finished an impressive eighth on the European Tour Order of Merit, but narrowly missed being selected for the Ryder Cup.
Kaymer again got off to a hot start in '09, finishing second in Abu Dhabi and fourth in Dubai. After a few months of decent play, Kaymer picked up his third career win, this time at the Open de France ALSTOM after beating Lee Westwood in a playoff. Proving that he has the capacity to get hot like few others, Kaymer won the next week at the Barclays Scottish Open. Kaymer had a good showing in the 2009 PGA Championship, finishing sixth, but a go-kart accident put him out for September and October. Kaymer came back at the end of the year to finish third in the Race to Dubai.
Hole Five: Major Champion
With an early win in Abu Dhabi, Kaymer was again off to a hot start. Although he missed the cut at the Masters in April, Kaymer recorded a T8 at the U.S. Open and a T7 in the Open Championship. Thanks to several good years and a strong record in the majors, Kaymer was among the favorites to win the PGA Championship.
Although did win at Whistling Straits, Kaymer hasn't really gotten much press for his win at the PGA Championship. Dustin Johnson has gotten press for his club-grounding in the bunker, Nick Watney was noticed for his epic collapse on Sunday, Bubba Watson was noteworthy because not a lot of people thought he could compete for majors, and even Matt Kuchar was in the news for his early lead. But Kaymer has been sort of under the radar, which is unfortunate because that win has launched him into the highest of echelons in the golf world. Kaymer went 72-68-67-70, to finish 11 under and in a playoff with Watson. After three holes of playoff golf, Kaymer finished the extra holes at even par, while Bubba was one over.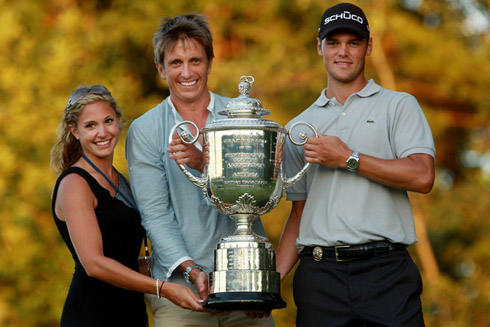 At the Ryder Cup, Kaymer was a strong member of the victorious European side. Kaymer and Lee Westwood beat Phil Mickelson and Dustin Johnson 2&1 in a first-session four-ball match. In the second session, Kaymer and Westwood halved Jim Furyk and Rickie Fowler in foursomes. Kaymer, this time paired with Ian Poulter, beat Phil and Rickie 2&1 in four-ball, but Kaymer was trounced in him fourth-session singles match with Dustin Johnson.
Capping off a spectacular year, Kaymer won the Alfred Dunhill Links Championship a week after the Ryder Cup and wrapped up first place in the Race to Dubai. Propelling himself into 2011, Kaymer won his third title at the Abu Dhabi Golf Championships in January, and overtook Tiger Woods for #2 in the world.
Hole Six: Kaymer Go-Karts and Loves Beamers
One August 29th, 2009, Kaymer was in a go-karting accident in his current home state of Arizona. At the time, Kaymer was first in the Race to Dubai standings, but he was forced to miss about two months.
Thanks to his partnership with BMW though, it appears most of Kaymer's driving from now on will be done in a more powerful vehicle.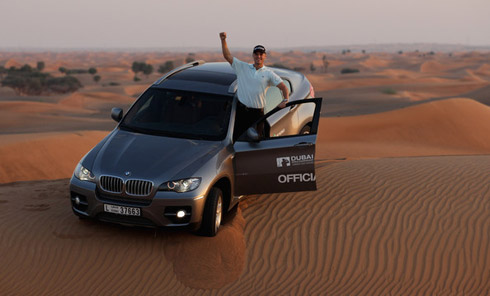 Hole Seven: Kaymer's Golfing Girlfriend
In December of 2010, Kaymer withdrew from Tiger's Chevron World Challenge. Kaymer, who carries a European Tour membership for the 2011 season, decided instead to caddy for his girlfriend in Ladies European Tour Q-School Pre-Qualifying. His girlfriend, Allison Micheletti, who is an amateur but played college golf at Furman University, shot an 89 in the first round, and followed up with a 76 but did not qualify.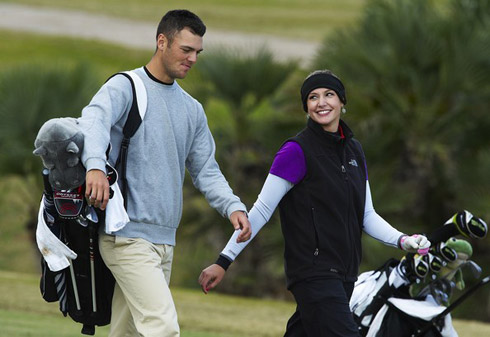 Hole Eight: Kaymer's Swing
Here is a great video with a bunch of views of several different swings by Kaymer.
Hole Nine: What's in the Bag?
Martin Kaymer has yet to change to any of Taylor Made's new releases, so his bag is the same as it was at the PGA Championship. He currently plays: an 8.5 degree Taylor Made R9 SuperTri with a Mitsubishi Rayon Fubuki 70 Alpha shaft, a 13 degree Taylor Made R9 fairway wood with a Mitsubishi Rayon Fubuki Tour shaft, a 17.5 degree Taylor Made Burner fairway wood with a Mitsubishi Rayon Fubuki Tour shaft, Taylor Made RAC TP 3 through 9 irons with True Temper Dynamic Gold Tour Issue shafts, a 54 degree Taylor Made RAC wedge with a True Temper Dynamic Gold Tour Issue shaft, a 58 degree Taylor Made xFT wedge with a True Temper Dynamic Gold Tour Issue shaft, and a Ping Karsten Anser 2 putter. Kaymer plays the Taylor Made Penta TP golf balls.
Photo Credits: © Manuel Queimadelos Alonso/Getty, © Chris Graythen, © Andrew Redington/Getty, © Andrew Redington/Getty.