When you ask most golfers about Mizuno irons the general feedback is that they make fantastic irons for professionals and low handicap golfers. Mizuno has a long history stretching from the 1980's of making forged blades that had an almost cult like following. Mizuno has not had much of a reputation for making game improvement clubs for mid and high handicappers, although they have made irons targeting this group they have not been overwhelming popular as the better player clubs have been.
Of course Mizuno has a great reputation not only with good players but also with the PGA Tour as well. Much of the MP line of irons are designed with the tour players input. However with some new offerings specifically the JPX line, Mizuno seems to be trying to take their great reputation into the game improvement arena. For mid-handicappers Mizuno is now offering the JPX-825 Pro irons which are targeted at six to eighteen handicappers. These irons give the forgiveness of game improvement irons but the feel and playability that the lower handicap golfers prefer. In addition to these irons Mizuno now offers the JPX-825 irons targeted for golfers with a handicap from ten to twenty eight.
For this review I was given a set (4-PW) of JPX-825 irons with True Temper Dynalite Gold XP S300.

Technology
The engineers at Mizuno had one goal in mind when creating the JPX-825 irons, to make they the longest and most forgiving iron that Mizuno has ever created. To do this they designed the irons to deliver exceptional ball speed and explosive distance. The goal was to create an extremely thin and hot face that was able to utilize what Mizuno calls MAX COR technology. The Coefficient of Restitution (COR) is the trampoline effect made popular by drivers to help golfers launch the the ball farther, this technology is now being brought into iron designs to help golfers get more distance from their irons.
The MAX COR is what gives these irons the largest sweet spot ever designed into a Mizuno iron. The MAX COR Ultra Pocket design is what gives the four thru seven iron a thin multi-thickness face to achieve the highest allowable ball speed for maximum distance. The MAX COR technology also provides a solid feel and easy effortless distance. The four thru seven are designed to have what Mizuno calls a Massive Sweet Spot Area for maximum forgiveness. They also include a low and deep Center of Gravity (COG) for easy launch.
The eight thru pitching wedge (PW) are designed to have a Deep Pocket Cavity design which is designed to provide the golfer with increased accuracy while still providing a extremely large sweet spot and continuing to provide a low and deep COG for easy launch.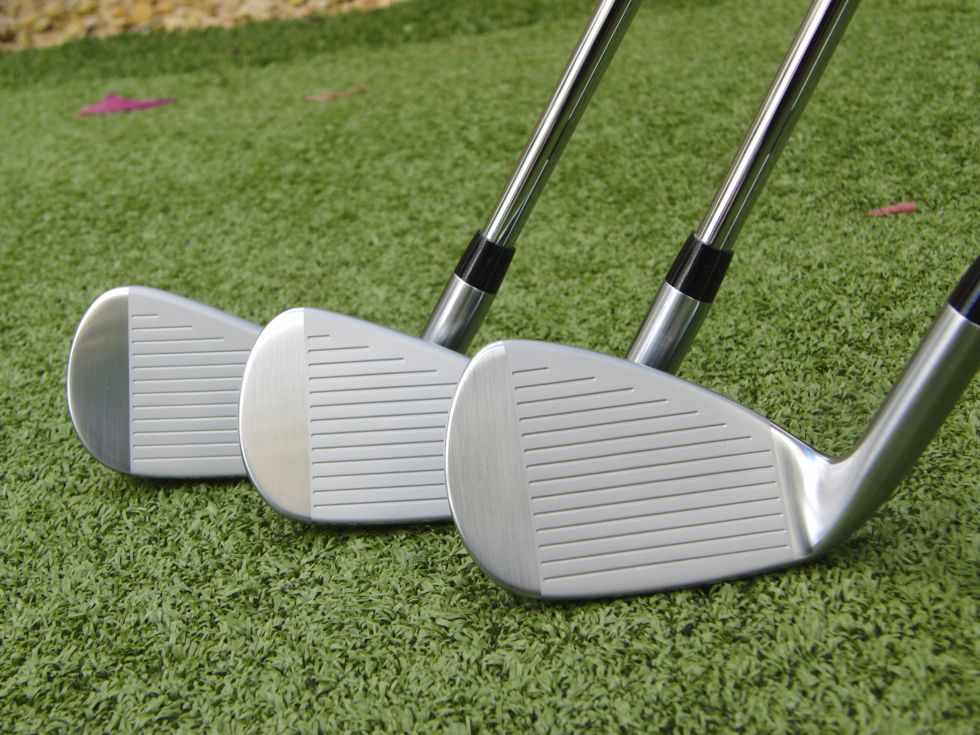 The Gap Wedge (GW) which was not included in the set I tested is designed with Solid Power Bar Design to enhance solid feel with increased control and a large sweet spot for maximum forgiveness.
Another piece of technology which I found extremely interesting was the scientifically designed Harmonic Impact Technology which helps to provide solid sound and feel at impact. I have read studies that show that sound is instrumental in our ability to perceive how the golf club feels. Mizuno doesn't provide much in the way of details of how this technology works, but the main comment I hear from golfers who play Mizuno clubs is that they always say how great they feel. The comment I hear this most is, "they feel like butter." The Harmonic Impact Technology may be a big reason for that.
The irons also have a triple cut sole design which is found on all of the Mizuno irons, including the MP line, which is designed to have ideal turf interaction from any lie on the golf course. Mizuno is also on the cutting edge with their high performance fitting system which can help you identify the right shaft for your golf swing. The JPX-825 irons are also available in left handed models.
Esthetics
One thing that is always consistent with Mizuno irons is how the esthetics of the clubs are always top notch, the JPX-825 are no different. The colors are rarely overly bright and they generally look quite good when sitting in your bag. The first thing you will notice about the JPX-825 design is the two tone nickel chrome plating. The bottom of the club is done in a shiny finish, while back side of the club, more specifically the outer ring is done in a brushed nicked to give the club the two toned affect. The hosel of the club is done in the shiny finish.
The face of the club is very standard and the top line at address is larger than I prefer, but not so big that it is distracting. The grooves do not have any paint fill inside and give the club a very traditional feel. As with most game improvement irons the JPX-825 have a decent amount of offset built in. It is not an exaggerated amount, but one can certainly detect it.
When you look at the back of the club head the first thing your eyes are drawn to is the electroform badge that is done in blue and fills most of the cavity of the club head. The badge is done in Mizuno blue and has the club name inside the badge. The rest of the cavity area is filled by the badge but had a black and silver mechanical netting with the logo in the toe of the cavity. The rest of the cavity is painted black. This is a very subdued and classical look, but done to look futuristic and not quite as traditional as the blade designs. In the brushed nickel part of the cavity the Mizuno logo is engraved into the club head.
The numbering of the bottom club is large and painted in with black paint fill. The ferrel of the club is a traditional black ferrel and the steel shafts that come with the club are also not unusual. The grip is Mizuno specific Golf Pride M-31 58 Round grip, and they are black.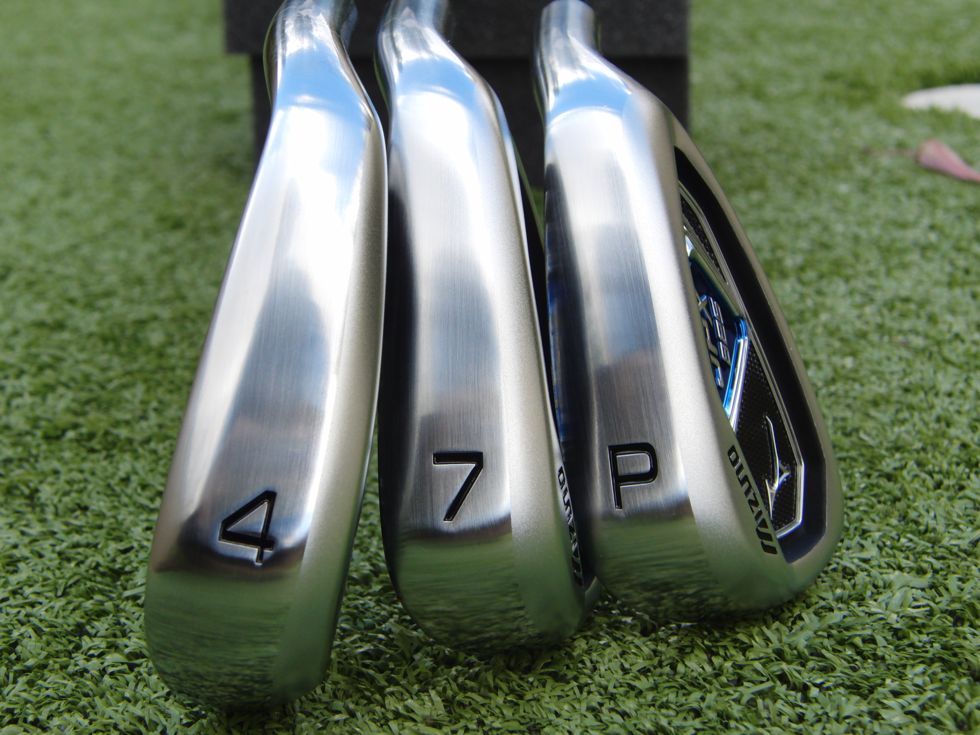 At address the 4 and 5 iron the back of the MAX COR Ultra Pocket can be seen just behind the top line. To some golfers this can be a distraction, but with most golfers now playing hybrids that may no longer be the case. The Pocket Cavity of the 4 iron is so large that the golfer may think that is looks very similar to a hybrid design. I did not find this a distraction while I was using the irons.
Playability and Feel
When I first un-boxed these irons and grabbed them to see how they felt, the first thing I noticed that for game improvement irons they were the heaviest that have used. Many of the irons that I have reviewed that were game improvement irons were much lighter than these Mizuno irons. This is a nice feature if you like to feel where the club head is during the swing. There is certainly a trend of lighter clubs but Mizuno seems not be going in that direction.
Without question these are the longest irons that I have ever played. I can easily confirm that there is no contest, these are definitely the longest. When I look though at the lofts of the clubs it is not a huge surprise that they are so long. Take the seven iron for example, it has thirty-two degrees of loft, that is the standard loft for a six iron. To be fair to Mizuno there has be a trend amongst all the club manufacturers to reduce the loft of the clubs, so there is less of a standard than ever before, but they are consistently lower than most of the other clubs on the market.
Even with all of that I was still very impressed with these irons because they are a nice combination of distance, accuracy and feel. The challenge for me in using them during the period I reviewed them was to understand how far I was going to hit each club. During the first few rounds I would launch the ball WAY over greens. After a few rounds I was able to better dial in my distances, but I would still have the odd booming shot from time to time. They are very forgiving as advertised, however, they are not the most forgiving I have tried. On a scale of one to ten the are a solid nine, so they still rate extremely high in the forgiveness category.
I think the feel of these clubs is really solid. Mizuno of course has a great reputation there and these do not disappoint. When I am talking feel here I am referring to more to how solid the club feels when it hits the ball. They are not really great for giving a golfer feedback on where they hit the ball on the face of the club, but that seems to be standard for most all of the game improvement irons I have tried in the past. I am not sure if I am ready to say they feel like butter, but I am comfortable saying they are very solid.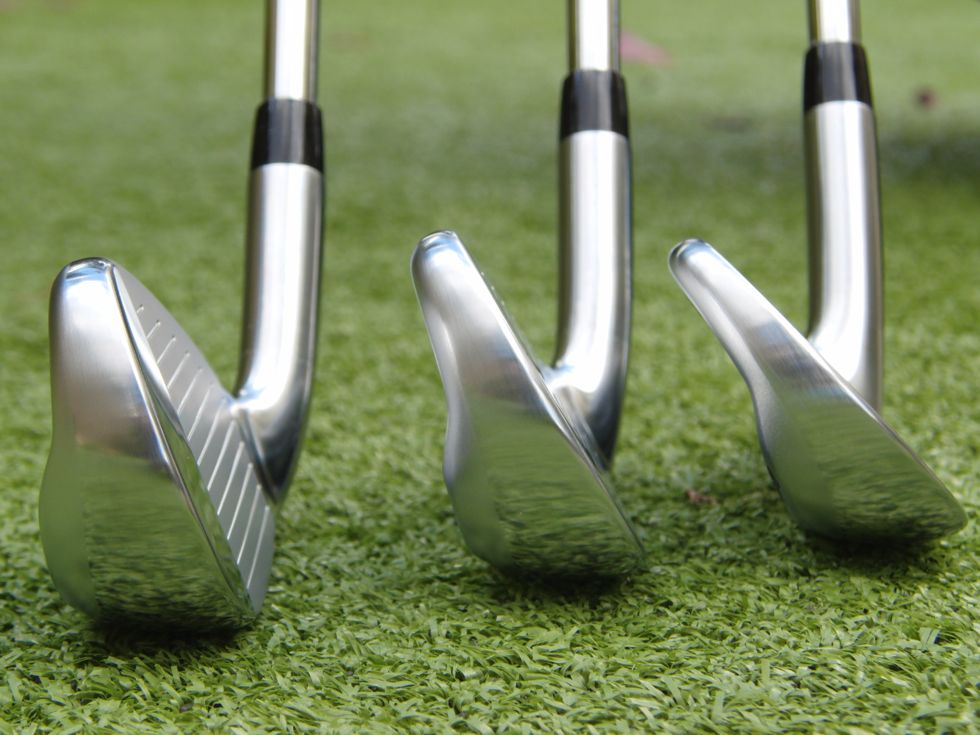 As with most other game improvement irons I would not rank them particularly high with respect to workability. I was able to draw and fade the ball, but I would not recommend you get these clubs if you are wanting to work the ball. They do hold the green about as well as most other clubs so they are middle of the pack there.
If you were to create a equation whereby you included distance, feel, and forgiveness these irons would rate extremely high, probably number one of all the clubs I have tried. Many times when I play game improvement irons I feel as though I can get 2 of these parameters mainly distance and forgiveness, but I am forced to give up feel. These JPX-825 irons do a really nice job of marrying those three ingredients to provide a very high performance set of irons.
Specifications
Club    Loft    Length    Lie    Bounce
----    ----    ------    ---    ------------
 4I     22°     38.25"    60.0°       -1.5°
 5I     25°     37.75"    60.5°       -0.5°
 6I     28°     37.25"    61.0°       0°
 7I     32°     36.75"    61.5°       1°
 8I     36°     36.25"    62.0°       2°
 9I     40°     35.75"    62.5°       3°
 PW     45°     35.5"     63.0°       4°
Conclusion
In conclusion Mizuno has created a set of game improvement irons that do a great job balancing distance, feel and forgiveness for higher handicap and even mid handicap golfers. The irons stay true to the simple Mizuno design of not being overly flashy but still adding as much technology as they can to help the golfer play better.
I do think that Mizuno has a good offering for game improvement irons but I feel they will struggle against competition in this space from Adams and TaylorMade because they have not integrated any hybrids into this set. I believe golfers looking for a complete set of irons will want a 3 hybrid to be included and many of Mizuno's competitors in this space are willing to offer this. This set is better designed for a golfer who would rather customize their bag with hybrid or a 5 wood.
In my overall opinion I would highly rank these clubs to most golfers who are looking to graduate from their first set of irons into more a players iron. So in essence their first serious set of irons. These irons will make the transition easier for golfers who are wanting to switch from game improvement irons to a low handicap golfers set of irons. I also will say that if you like bragging to your friends about how far you hit your seven iron these clubs are outstanding for this. I am a half club to a full club longer with these irons so they can easily do some ego boosting when standing on par three tees with your golfing buddies.