Let me start off by saying I have never been a great golfer. Heck, I don't know if you could say I have even really been a good golfer. At my best I had a 9 handicap index and that was at a time that I was practicing a lot and playing two to three times a week. When you get the opportunity to play that much, it isn't too difficult to consistently shoot rounds in the low 80s with the occasional 78 or 79. Throughout this time, I probably had a higher opinion of my game and my ability level than was true and I found myself playing clubs that weren't really the best for me. I played a number of different player's type clubs and because I was playing a lot, I kind of got away with it.
Recent life events have changed things. A change in job has made it impossible to play the amount I had previously. Add in the fact that my wife and I welcomed our first child into the world, and the free time has dropped significantly. There is nothing more frustrating in golf than getting to the point where you feel you are starting to put things together only to see it all go away. Due to this, I decided that I needed to face reality so to speak and not play clubs meant for players better than me. I know that I am not going to be playing as often as I like, so I need to make sure that the clubs in my bag are helping me and not hurting me.
Having the opportunity to review the new PING G irons has given me the chance to see how big of a difference Game Improvement irons could help my game. Read on to find out if the irons have lived up to their promise.

Specs
For the purpose of this review, I received a set of the PING G irons (4-PW) with the stock AWT steel stiff shaft and midsize Golf Pride Tour Wrap grips in place of the stock grips. I find the shaft to be a good fit for me as it seems to be one of the softer stiff shafts available and gives me the trajectory that I am looking for.
Technology
The new PING G irons are packed with technology aimed at helping the average golfer gain more distance and hit the ball with more consistency. The first of these technologies is what the company calls COR-Eye. This technology provides four times the amount of face flexing for consistently faster balls speeds across the hotter face. The reason behind this is that any gain in ball speed and shot height will lead to more distance and steeper landing angles which will help keep the ball on the green, even with longer irons.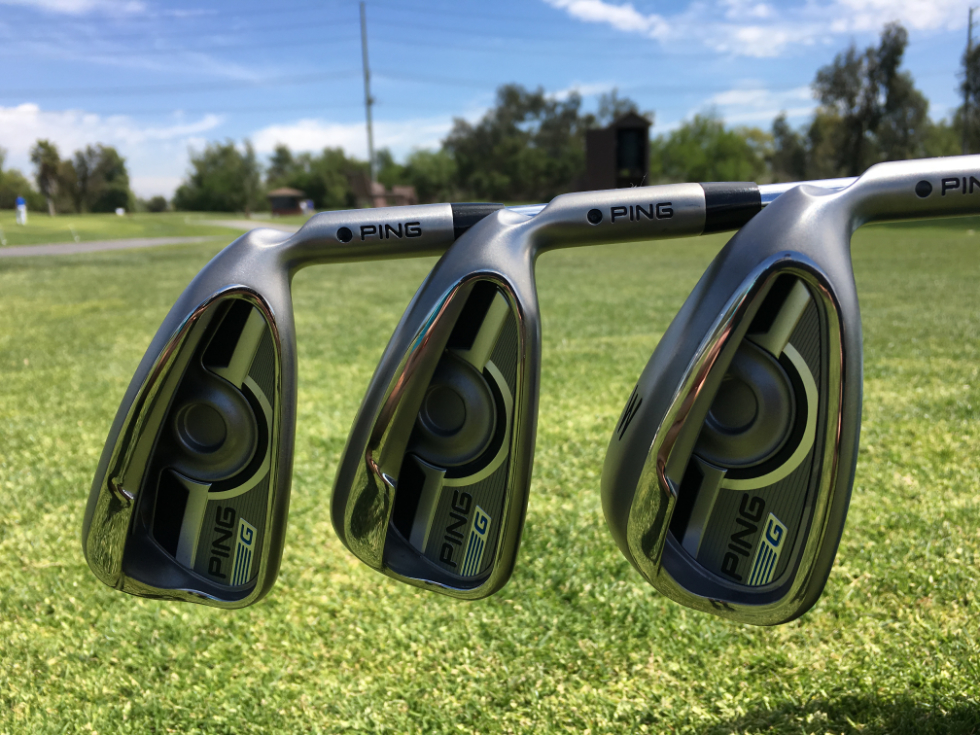 PING knows that even hacks like to have a club that feels and sounds good. To accomplish this, PING uses a multi-material damping badge in the cavity, which, with the COR-Eye Technology provides exceptional sound and feel. Having such a thin face on the club saved significant amounts of weight which was then reallocated to the the low toe and perimeter of the club. This creates a high MOI for increased forgiveness. The company further enhanced the forgiveness of the club by connecting the Custom Tuning Port to the sole to create a deeper center of gravity.
The final big piece of technology is actually with the stock steel shaft, PING's proprietary AWT 2.0. The Ascending Weight Technology shafts help to improve the performance of the clubs by having heavier shafts in the shorter irons and lighter shafts in the longer irons. With the longer irons, this assists the golfer with squaring the clubface at impact and achieving higher swing speeds while the heavier shafts in the short irons improve the trajectory and feel.
Esthetics
Without question, the number one reason I've avoided playing Game Improvement clubs to this point is the look. I've never been a fan of looking down at the club and seeing a big, clunky, thick club. On top of that, there is often some sort of design in the cavity that is off-putting to me as I much prefer the sleek look of a nice players iron.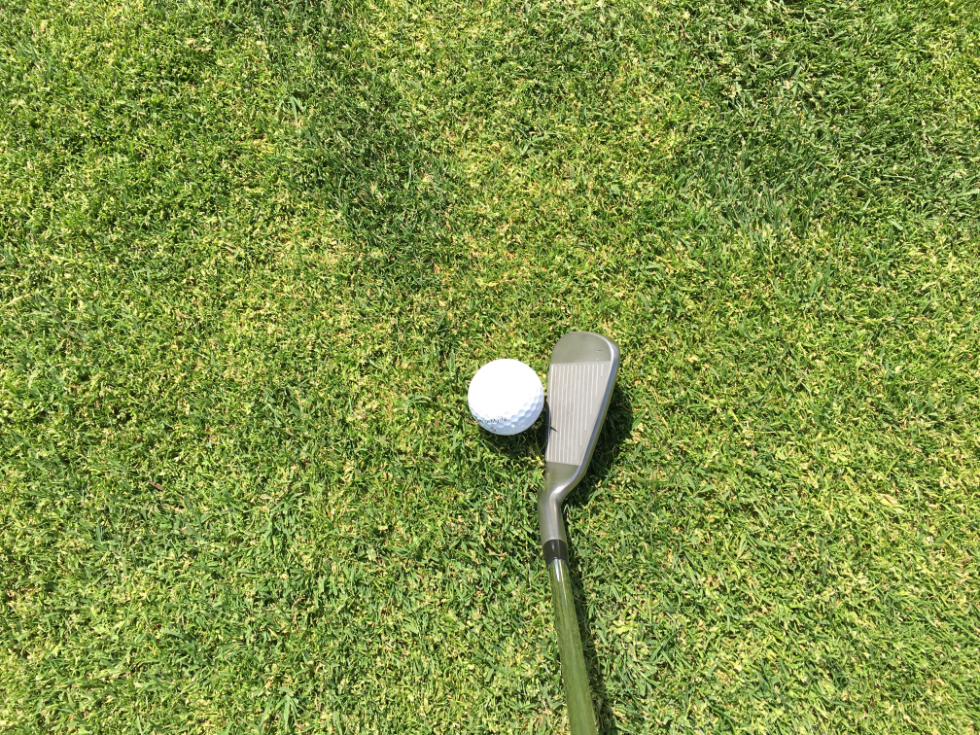 At some point, however, you have to play the club that fits your game best, and for a GI iron, these actually look pretty good. At address, the top line isn't much thicker than the i25s that I had in the bag last year, and they only have a fraction more offset. While there is decoration in the cavity of the club, I believe that they've done a good job of not going over the top and have kept things pretty minimalistic. It's hard to keep things minimum with GI clubs because of the large cavity, sole, etc., but I think that they've really done a great job.
I'm also a big fan of the finish of the clubs. While shiny chrome is nice to look at, especially when brand new, it easily gets dings and dents, and on a sunny day it can be blinding. Often times companies go the complete other direction going with the dark gunmetal finish as seen on the prior clubs in the G series. While popular with many, it's never been my preference, so I was happy to see a matte stainless steel finish. It's a finish that I believe that will hold up well over the years and it reduces glare on a sunny day.
Performance
Looks aside, the thing that always matters most is how the club actually performs. Part of me wishes that I could say that they are no better than the i25 or s55 irons that I had because then I could just go back to playing those, since I do like the look of those clubs better. But that's not the case. Not only do these clubs perform better for me, they perform A LOT better.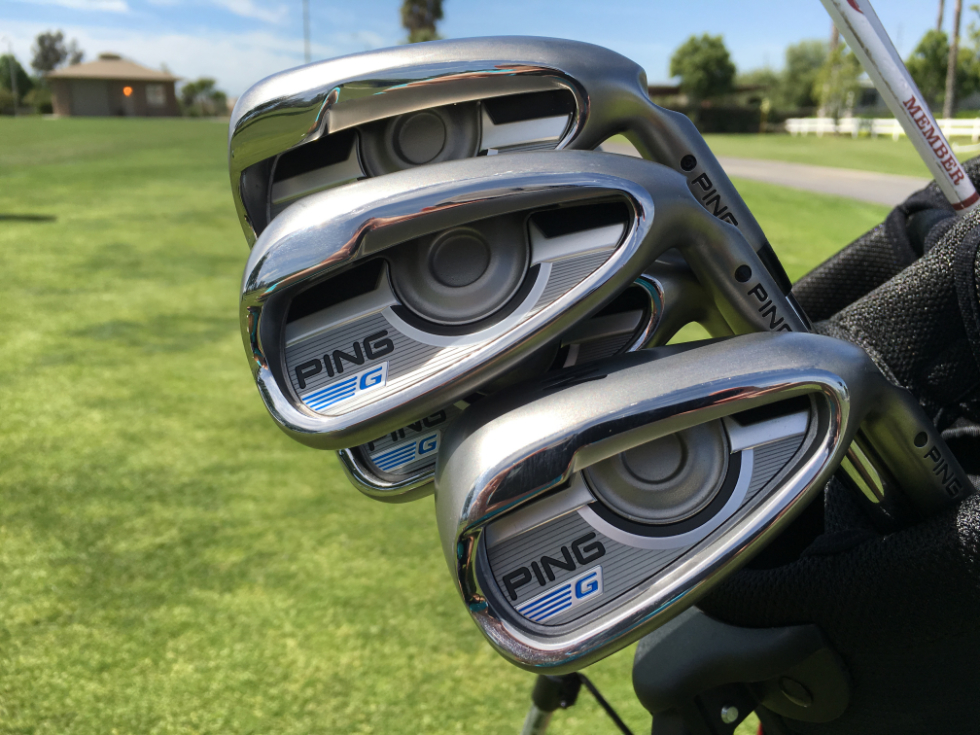 These clubs set themselves apart for me in two significant areas. The most important of these is distance. Compared to my previous clubs, I am two clubs longer with these. My seven iron used to be my go to 150 yard club, and I'd have to hit it on the screws for that; seven iron now gets pulled on a 170 yard shot. Obviously a large part of that is the fact that they have stronger lofts than the clubs I normally play, but that's not the entire reason. It's not that the 7 iron is actually a 5 iron with a "7" stamped on the bottom of it.
The other area where these really stand out to me is in their consistency. I know that I've talked before in other reviews about certain clubs not being too punishing on mis-hits, but these are very forgiving and the clubs are very predictable. Over the last handful of months I've seen my number of rounds significantly decrease as a new job and an 11 month old are currently dominating my time, however, when I get out and play I feel like I haven't lost a whole lot and a large part of that is due to these clubs.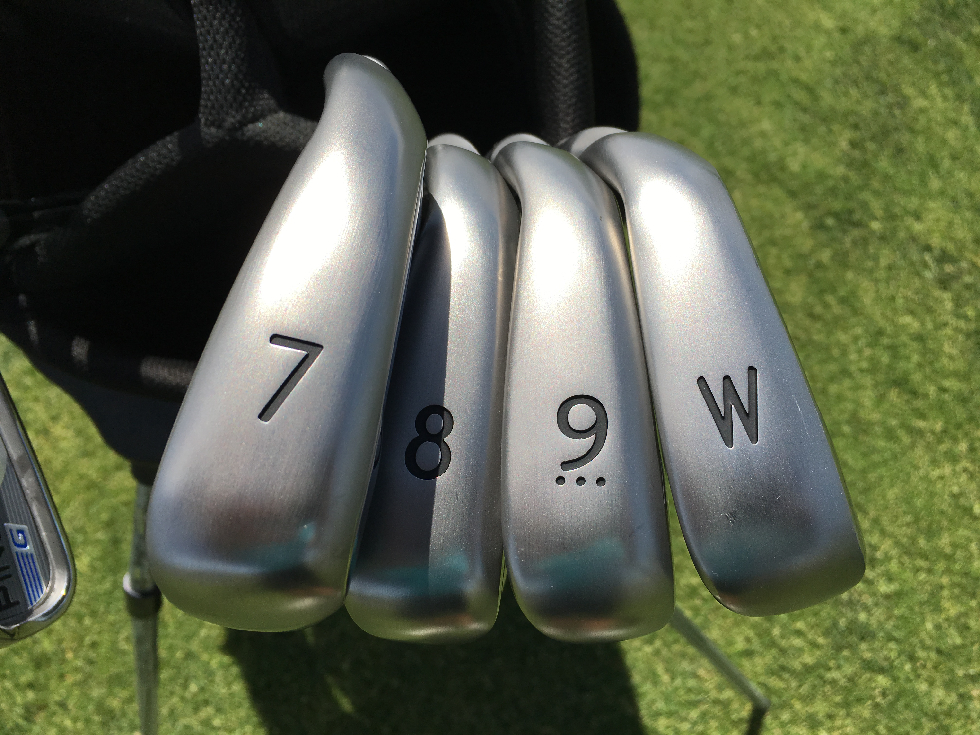 The trajectory on these clubs is also a plus for me. I have no problem getting the ball airborne with these, even with longer irons. This means that I am able to hold greens on longer approaches and still give myself opportunities at birdies and pars (not that I always convert them).
One thing that I did notice when I made the switch to these is that my shot shape changed. I have a tendency to hit these a lot further left than before. I'm sure that some of that is due to the fact that they are designed to help individuals to stop slicing. As I've put more rounds under my belt with them, however, I've gotten use to this and have adjusted my aim accordingly.
Conclusion
One common theme on The Sand Trap is not conning yourself. For a long time, I lied to myself about how good I really was and played clubs that weren't well suited for my game. As I said in the intro, I got away with it because of how much I was able to play and practice, but at this stage in my golfing life, I need a club that is going to help me, not hurt me. The PING G irons are those clubs.
The main thing that people probably want to know from one of these reviews is whether or not the clubs are worth the money. In this case, I absolutely have to say yes. Life can get in the way of golf, and when that's the case it is important to have clubs that will make the rounds you do get to play more enjoyable. That is what these clubs have done for me; even though I play far less, I'm hitting the ball further and with more consistency and am actually playing pretty decent golf with all things considered.
If I could go back to playing multiple times per week, would I go back to a player's iron? I probably would, but that would also probably be a mistake. In general, golfers need all the help that they can get and these clubs offer it. My suggestion is if you're not a mid to low single digit right now, you should consider adding these clubs to your bag.