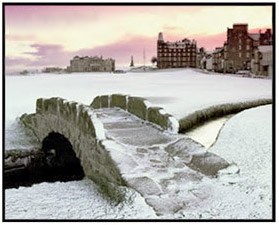 The Sand Trap wants to take this opportunity to thank you for stopping by. Everyone here at The Sand Trap wishes you nothing but the happiest of holidays and plenty of birdies in 2009.
Though this portion of our site will be "closed" until the new year (January 12, to be precise), we still invite everyone to join our forum (it's free). Share with us what you want – or what you get – for Christmas!
We'll be back soon, and when we return, we've got three reviews we know you've been waiting for: the Titleist 909 drivers, fairway woods, and hybrids. Until then, can anyone recommend a large-headed shovel with the latest in graphite shaft technology? I've looked everywhere at the online golf retailers and can't find anything!