The 2008 Newport Cup begins tomorrow, but staff members and competitors will arrive today. We'll have a cookout, the guys will get settled in, we may play some Tiger Woods on the Wii or Xbox 360 (or watch coverage, if there is any, of the BMW Championship), and in general unwind after what will be a trying day for many aboard our nation's airlines.
I along with other members of the staff will likely report on the Newport Cup – including the results – next week, but right now I'd like to take the opportunity to thank the sponsors of our event this year. FootJoy, Titleist, Leupold, Frogger, Zero Friction, and Crocs have all come through to provide our staff with a pretty nice goodie bag. All of the goodies were selected by me as "best-in-class," so their sponsorship of this event can also be taken as an endorsement of their products.
So once again, and not for the last time, thank you to our sponsors. This year's event is shaping up to be a great one, and we have you to thank.

FootJoy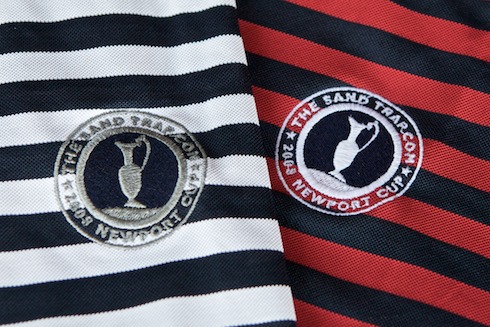 FootJoy has provided us plenty of shirts, all with the Newport Cup 2008 logo on them, from their new line of shirts. You may not know, but FootJoy is now about much more than shoes, gloves, and rain gear. They also offer what I believe are the best golf socks on the market, and starting now, some pretty incredible short-sleeved golf shirts.
Titleist
Titleist has long been a sponsor of this site, and we're perpetually grateful. For this year's Newport Cup, we've got USA Hats in navy and red (which I had personalized locally), Pro V1 and Pro V1x balls with the Newport Cup logo, and Players Tech gloves.
Leupold
Earlier this year, long-time rifle scope maker Leupold (& Stevens) released their GX-I and GX-II rangefinders, which we reviewed here quite favorably. The GX-I is, I still feel, the smallest, fastest, easiest to use range finder on the market, and at a price that's often $50 or more below the competition.
Frogger
No doubt this year's teams will appreciate the ability to keep their clubs sparkle dazzle clean, thanks to the Frogger BrushPro. If there's a better brush out there than these, I haven't seen it. Read more in our review.
Zero Friction
Tees? Lowly little tees? You bet – in red and blue, too! The folks at Zero Friction, knowing and understanding my passion for their tees, kindly sent several packs of 2¾" tees in blue and red. Though I don't quite buy the whole "five more yards" thing, I love them simply because they don't break or mark up your club. We've even got some 1¾ tees – perfect for fairway woods and hybrids.
Crocs
I'll post an image when the shoes arrive, but we're happy to give the Crocs golf shoes a try at this year's Newport Cup. Look forward to our review in the coming weeks as we give these undoubtably comfortable and certainly unique golf shoes a thorough test.