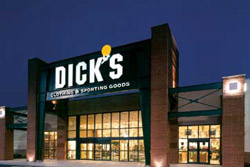 Dick's Sporting Goods, Inc. and Golf Galaxy, Inc. have entered into a definitive agreement and plan of merger whereby Dick's will acquire Golf Galaxy. Under the terms of the agreement, each outstanding share of Golf Galaxy common stock will be converted into the right to receive $18.82 per share in cash, without interest. The Merger Agreement also provides for the assumption of outstanding employee stock options and warrants of Golf Galaxy, except that, the holders of vested in-the-money options and warrants will be permitted to elect to cash out such options and warrants. The Merger Agreement contains a provision related to limited solicitation of third-party proposals and a customary fiduciary out for unsolicited proposals.

Dick's offer represents a premium of 19% over Golf Galaxy's closing stock price as of November 10, 2006. Based on approximately 11.7 million outstanding Golf Galaxy shares, the transaction would be valued at approximately $225 million. The transaction will be financed using Dick's existing credit facility.
Completion of the transaction is contingent upon various conditions, which are more fully set forth in the merger agreement, and includes, among other things, approval of the transaction by Golf Galaxy's shareholders. The merger transaction is anticipated to be completed not before February 6, 2007, subject to Hart-Scott-Rodino approval under United States antitrust laws and customary closing conditions.
Certain holders of Golf Galaxy's common stock have entered into a voting agreement with Dick's where they have agreed to vote 19.9% of the outstanding common stock in favor of the merger at the special shareholders meeting. In addition, Dick's has agreed to the terms and conditions of management agreements with certain key executives of Golf Galaxy which will be executed upon closing of the merger. Golf Galaxy's management team is expected to remain in place following the closing of the merger.
Golf Galaxy currently operates 61 stores in 24 states, ecommerce websites and catalog operations, and generated $250 million in sales during the last 12 months ended August 26, 2006.
Dick's management anticipates that the acquisition will be accretive in fiscal 2007. Earnings guidance will be provided with Dick's year end earnings release in March in connection with Dick's standard practice.
"Golf Galaxy is a rapidly growing, profitable company which we believe is the best in the specialty golf category. The passion with which Dick's Sporting Goods and Golf Galaxy associates serve the enthusiast golfer make this transaction a big win for shareholders and golf enthusiasts alike," said Edward W. Stack, Chairman and CEO of Dick's Sporting Goods.
"We are excited to join forces with Dick's Sporting Goods, who we believe is the premiere full-line sporting goods retailer in the industry," said Randy Zanatta, Chairman, President and CEO of Golf Galaxy, Inc. "We look forward to having access to the resources and support of the Dick's Sporting Goods organization which will strengthen our position as the best golf specialty retailer in the industry."
Peter J. Solomon Securities Company Limited provided financial advisory services to Dick's Sporting Goods in connection with the transaction. Piper, Jaffray & Co. has provided financial advisory services to Golf Galaxy in connection with the transaction.
Forward-Looking Statements Involving Known and Unknown Risks and Uncertainties
Except for historical information contained herein, the statements in this release are forward-looking and made pursuant to the safe harbor provisions of the Private Securities Litigation Reform Act of 1995. You can identify these statements by forward-looking words such as "may," "will," "expect," "anticipate," "believe," "guidance," "estimate," "intend," "predict," and "continue" or similar words. Forward-looking statements involve known and unknown risks and uncertainties, which may cause Dick's actual results in future periods to differ materially from forecasted results. Those risks and uncertainties are more fully described in Dick's Annual Report on Form 10-K for the year ended January 28, 2006 as filed with the Securities and Exchange Commission on March 23, 2006. Dick's and Golf Galaxy disclaims any obligation and does not intend to update any forward-looking statements except as may be required by the securities laws.
About Dick's Sporting Goods, Inc.
Pittsburgh-based Dick's Sporting Goods, Inc. is an authentic full-line sporting goods retailer offering a broad assortment of brand name sporting goods equipment, apparel, and footwear in a specialty store environment. As of October 28, 2006, the Company operated 294 stores in 34 states primarily throughout the Eastern half of the U.S.
Dick's Sporting Goods, Inc. news releases are available at http://dickssportinggoods.com/ (click on the Investor Relations link at the bottom of the home page).
About Golf Galaxy
Golf Galaxy, Inc., based in Eden Prairie, Minn., is a multi-channel golf specialty retailer. The company currently operates 61 stores in 24 states, ecommerce websites and catalog operations. The company's Everything for the Game(R) merchandising strategy offers a comprehensive selection of competitively priced brand name golf equipment, accessories, apparel, golf services, and golf instruction by on-staff certified PGA professionals in a unique interactive store environment. The GolfWorks, a leading brand for golf club components, clubmaking tools and technical information, is a wholly owned subsidiary of Golf Galaxy. For more information, visit www.GolfGalaxy.com and www.GolfWorks.com.