This year the U.S. Open comes just up the 280 freeway from me to the Olympic Club Lake Course. After the debacle at the 18th hole in 1998, the Olympic Club redid all 18 greens in order to get the USGA to come back and play the U.S. Open on Johnny Miller's boyhood course. I went out a few months ago and rolled some balls on the 18th green and it is not nearly as bad as it was in 1998. The greens are actually not the typical poa annua found here on the west coast. This means they will be very fast and not as bumpy as everyone will be expecting.
The weather now does not look bad, the traditional San Francisco fog might clear out early and we should have some nice warm days with not a great deal of wind. This type of weather is not traditional for San Francisco this time of year. Let's see what the rest of the Sand Trap staff expect for this year's U.S. Open.

1. Who is your winner, what is their score, and why do you think they will win? As a bonus who is your runner up and why?
Tristan Hilton
I see Tiger winning it this year. I said the same thing for the Masters but it's hard to bet against the guy after the Memorial, even with his recent history. Olympic is going to play tough, just like the majority of U.S. Opens, but not to the point where the guys are getting killed out there like they did at Oakmont or Winged Foot. All that said, I don't see a real low score winning it like last year, so I'll say Tiger's winning score is two under. Runner up is Rory at even.
Danny Ottmann
Geez do I go with Tiger again? He sort of let me down after I picked him for the Masters (although I did pick Bubba as my dark horse). I have to do it though, Tiger looked so in control of his game at the Memorial how can you bet against him? I see the winning score around -5. Runner-up, lets go with Hunter Mahan, He has two wins , three top 10s, and eight top 25s in 12 events this year. Let's look for him to make a run in a Major.
Jamieson Weiss
Tiger Woods, -3. We haven't seen one of those traditional, grind-it-out around-par wins by Tiger since the 2008 U.S. Open, but I think this is when he breaks through in earnest. The winner at Olympic in 1998 was Lee Janzen at even par, and after Rory McIlroy's -16 score last year, the USGA might feel the need to trick up the course a little. That benefits Tiger, and the case I made during our Masters picks (he's still first in total driving!) remains valid.
Ron Varrial
Olympic Club has hosted some great underdog stories so I'm going a bit far afield and picking Kevin Na at -5. Supreme driving accuracy isn't as important at the open as it was a few years ago, but it still matters and Na is in the top 10 in that category and my gut says he put some demons behind him after his problems at the Players. He's never made a U.S. Open cut but that will only add to the drama when he takes down Lee Westwood, who scores another major near-miss.
Dave Koster
This is a hard one for me to pick for some reason. I'll have to go with Luke Donald. I've picked him to win his first major many times. One of these days I'll be right. I think the runner up will be Tiger. It will either be feast or famine for him though. I think he'll be on this week but the putter will leave him on too many 10-12 footers.
Mike McLoughlin
I think Lee Westwood has a great shot at winning. He's the best ball striker in the world, which will be a big advantage because there is going to be very little room for error at Olympic. No one is going to out play this course, it's all about survival. Lee can tend to miss short putts down the stretch but so will everyone else when those greens get crunchy Sunday afternoon. Lee wins with a score +3.
Michael C. Hepp
I am going way off the reservation and picking Ernie Els. Many of you will write my prediction off, but remember there was a time that Ernie was at the top of everyone's list come U.S. Open time. I think he is good driver of the ball and has had a very good start to the season when he was trying to get into the Masters. I think he will win at -1. My runner up is Matt Kuchar. Matt played well here in 1998 and has been on form.
Erik J. Barzeski
I'm taking Jonathan Byrd at two over par (+2). I think the guys will struggle a bit with the course, and I think Jonathan has the game to play here. The course seems to give us dark horses by rule, and Tiger's still too hit or miss to be considered a true favorite (even at his peak he won 7 of 11 majors, and he's coming off his worst finish at Augusta). So when I look at the list of players with the game to contend at Olympic, Byrd pops out at me, and he shouldn't need a playoff hole-in-one to do it. Tiger finishes second at +4.
2. Last year's winner Rory McIlroy has been struggling coming into this year's U.S. Open. What do you expect from him this year?
Tristan Hilton
I think that Rory is going to play really well at this year's Open and will stay in contention through the final day. After the blow up at last year's Masters he seems to be able to handle pressure a bit better and there will be plenty of it at Olympic.
Danny Ottmann
Rory, like most kids his age, has found that there is more to life than golf and has let his outside interests get in the way of his game. I say good for him, as a young guy he should enjoy himself! That being said I don't think he will contend this year but I do see him making the cut and finishing in the middle of the pack. Too many big numbers will put an end to his chances of winning.
Jamieson Weiss
With three straight missed cuts in three big events (The Players, the BMW PGA Championships, and the Memorial), it's no secret that Rory McIlroy hasn't been playing particularly well since his torrid start that included a win at the Honda, second-place finishes at Abu Dhabi, the WGC Accenture Match Play, and the Wells Fargo Championship, and a third-place at Doral. In the U.S. Open I expect McIlroy to play well, but not spectacularly. I think a non-contending finish in the top 20 sounds about right.
Ron Varrial
Rory is too talented to play the way he has lately for much longer. He had the chance to work with his coach and correct a few things, so I expect him to put on a good show. I'm not convinced he is a prototypical U.S. Open contender though, so if Olympic Club plays truer to Open form, we will see Rory on the weekend but not in the picture late Sunday.
Dave Koster
At least Rory played well last week so there seems to be a bit of hope. I think he'll do well and have a solid top 10 but he won't repeat.
Mike McLoughlin
I think Rory will make the cut but not seriously contend. He likes classic golf courses but I think having a swing instructor and working on new things will take some time to get used to.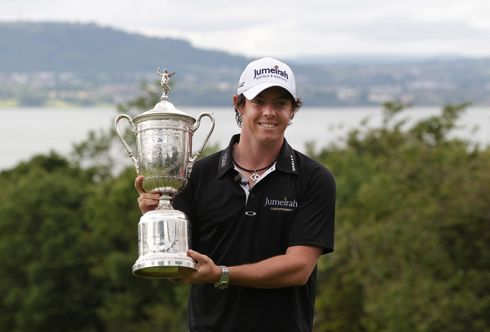 Michael C. Hepp
I don't see Rory playing well at Olympic. I think he is not hitting the driver very well during this poor stretch of golf and the narrow chutes that the tee boxes give you will give him fits. A couple of overdraws will likely do him in.
Erik J. Barzeski
He misses the cut by four. I think he's struggling a bit – his play in Memphis notwithstanding, where you can hit loose shots and still make pars or better – and that will cost him. It's a fine line, but I don't know that his talent can make up for some of the "non-plodder" type shots he'll hit. His win last year was a bit of a fluke – his game isn't perfectly suited for the U.S. Open – and he took advantage of a track that played more like a regular PGA Tour event.
3. Which is your favorite hole at the Olympic Club Lake Course and why?
Tristan Hilton
To be honest, I'm not to familiar with the Olympic Club Lake course, but after a quick look, I like 18. It's only 355 yards but the green is well protected and looks like it could produce some good moments down the stretch.
Danny Ottmann
I know very little about this course, but number 16 looks interesting. At 670 yards it's the longest hole in Open history. Grip it and rip it boys!
Jamieson Weiss
I wasn't a golf fan back in 1998 for the last U.S. Open at Olympic, but from what I have read in books and on the internet, the 18th is the most famous at Olympic. Unfortunately it is not quite drivable, but the short par four and the reconfigured green should provide for an interesting finish.
Ron Varrial
I admit that Olympic Club isn'y burned into my memory the way some other venues are. But I'm very intrigued by such a short 18th hole and hope it breeds excitement down the stretch. Will it be a hole that brings everything from birdie to "other" into play? I hope so.
Dave Koster
I really can't pick one but when you finish with two par fives and a short par four there is bound to be some changes on the leaderboard. I'm excited to see what Sunday afternoon brings with those last few holes.
Mike McLoughlin
There are so many good holes to choose from. My favorite hole is #14, it's a dogleg left par four. You can't even see the green from the tee but the trees and contour of the fairway really fit my eye for hitting a good tee shot. The approach shot can be played from 140 to 180 yards depending on how much you want to challenge the left side. Like most approach shots, it's an uneven lie with the ball above your feet. The way the bunkers protect the green gives that shot a cool look. For whatever reason I've always played that hole well.
Michael C. Hepp
I have seen a number of the holes in person and my favorite is first hole which is going to be a monster. It is a monster for me as a par five! I think you will see a ton of golfers miss the green to the right and if they play it at 520 look out I bet it plays as one of the toughest. I also really like the eighth hole because it plays back up to the clubhouse and is a pretty approach from the tee.
Erik J. Barzeski
I hate conformity so I don't want to pick 18, which I think many will. As such, I'm picking 17, because I think we'll see some exciting scores here, particularly as it follows the brutish 16th (which will play as a par three given that everyone should be laying up).
4. The 1955 U.S. Open was won by Jack Fleck who was the darkest of all dark horses, which dark horse do you expect to do well this year and why?
Tristan Hilton
I like Jason Dufner as the dark horse to win… He has played exceptionally well, even in majors but seems to break down when it counts the most. If he can hold it together all the way through he'll have a real shot.
Danny Ottmann
How about Jason Dufner for my dark horse? Although, with the way that guy is playing can you really call him a dark horse? He has been really good as of late, and drives the ball very straight, which is a must at the Olympic Club.
Jamieson Weiss
If I am going to take a dark horse, it has to be someone who played the course back in 1998. A few of today's players finished high that year (Stricker, Westwood, Phil, Kuchar, Furyk), but they're not exactly dark horses.
No, I'mm taking the current 82nd-ranked player in the world, Vijay Singh. I don't think he can win, but a top 10 seems possible. Two other solid finishers from 1998 include Paddy Harrington and Casey Martin, both of whom are exempt this year.
Ron Varrial
Robert Rock's wild journey to Congressional last year was well chronicled. His top 30 finish (including a pretty sloppy weekend when the trip finally caught up with him) wasn't. The guy has guts, as he's shown this year beating Tiger Woods down the stretch in Abu Dhabi. Keep an eye for the hatless wonder.
Dave Koster
Patrick Cantlay. The kid has the temperament to play in a U.S. Open and proved it with his T-21 last year. Anything darker than an amateur winning the U.S. Open?
Mike McLoughlin
Looking at the history of winners, dark horses seem to be the favorites. Even when the Tour Championship was held at Olympic Club in '93 and '94, dark horses like Mark McCumber and Jim Gallagher were the champions . My dark horse pick this year is Bill Lunde, good ball striker, has won once and is a tough competitor.
Michael C. Hepp
My dark horse does not really count as a dark horse, but likely nobody will be talking about him in the run up so he is my pick, that is Justin Rose. He has a win already this year and is about due for a run in a major.
Erik J. Barzeski
My predicted winner is my dark horse. 🙂 Jonathan Byrd takes out Tiger in a Sunday showdown.
5.The U.S. Open is one of the toughest tests in golf. Do you enjoy the type of golf that the U.S. Open provides where par is the score that is typically expected to win, or do you prefer loads of birdies like in the PGA Championship?
Tristan Hilton
I don't like seeing the guys getting killed out there where +5 wins or when good shots are still being punished, but it's nice to see them have a real challenge. I think that the U.S. Open is best when even par to a couple under will win the tournament; it's something that makes it unique from the other majors.
Danny Ottmann
I like when U.S. Opens are tough but not ridiculous. A winning score of around -4 is a good test of golf without turning it into the walk of the dead where everyone is just trying to finish. When the courses are set up that way I love the U.S. Open. Loads of birdies gets boring as we see it almost every week. Watching the best in the world grinding it out is good stuff as long as it's not over the top.
Jamieson Weiss
I like the fact that once a year, the best golfers in the world tee it up on an extremely tough, borderline-unfair golf course, and fight it out. One time every season I enjoy watching the players struggle with long rough, firm and fast greens, and tight fairways, where par is a great score. That would be overkill if it was more than an event or two, but once a year, it's great.
Ron Varrial
I love the challenge, especially now that the USGA is a touch less penalizing. It's one week a year that grinding it out and being both talented and mentally tough adds up to crown out national champion.
Dave Koster
The best U.S. Opens, in my opinion, are the ones that finish a couple shots under par. I don't want to turn on the TV an see nothing but tragedy and impossible shots bounding off the green. I love to see guys playing for par on most holes and occasionally going after a birdie on a few. That's why the last few holes excite me because, I'm hoping, we'll see a lot of solid play on the first part of the course and then some guys turn it loose on the last few. It could make for an exciting Open
Mike McLoughlin
I think it's good to have at least one tournament a year that is ridiculously difficult. Too much of one thing can get boring. I'm sure the players are happy it's only one week a year.
Michael C. Hepp
I like that the players are challenged with a golf course that does not allow the bomb and gouge type golf to prevail. The winner must be steady, patient, and have nerves of steel. It is my favorite major.
Erik J. Barzeski
It's not so much the score that bugs me, it's the rough being SO penal that you almost have to hack it out. There's no graduated rough this year, so I don't know that I like that. I think the graduated rough was fair.
I like tournaments where par is a good score. When the winning score of a regular PGA Tour event is well under par, you often get goofy winners. When it's closer to par you tend to get more of the cream of the crop. I think the U.S. Open walks the line – it remains to be seen which side of it Olympic Club's setup falls on this year.
Photo credits: © Getty Images – Peter Macdiarmid.