The U.S. Open is my favorite major to watch. With the exception of the disaster of a few years ago at Congressional, it is the best major to watch. I like watching every minute of the tournament. There is nothing better than the back nine on Sunday at the Masters, but the rest of the holes, while great to watch, don't have the potential for disaster that you'll find on every U.S. Open hole. Triple bogey lurks everywhere.
For 2014, the USGA has spiced it up by having the women play the course the week after the men play. This will be the first time in history this will occur. It is a bold move and only after both events are over will we know if it was a wise decision. Bringing the U.S. Open back to Pinehurst brings back memories of the win by Payne Stewart and the tragic events that followed. There are many headlines to watch during the event.
Until recently, 2014 has been such a strange year for winners on the PGA Tour. Golf fans have had to learn about a number of golfers who we have not heard of before, or made appearances after appearing to be lost like Martin Kaymer. The 2014 Open looks to be tons of fun, so let's see what the staff expects from the event.

1. Who are you picking to win at Pinehurst, why are you picking them, what is their winning score?
Mike McLoughlin
The last three U.S. Open winners have been ranked 13th or better, but I think this major will be a little different so I'm looking a bit outside the top 13 and going with Jason Dufner shooting -1 to win. Duff is known for his tee to green game and to play to well on this course the champion is going to have a great ball striking week. His good play at Colonial shows he's rounding into form. I also think it's a good sign that he's playing with his buddy Keegan Bradley in the first two rounds.
George Promenschenkel
Jason Day at -5, 275. He is going to win a major sooner rather than later. He has four top-3 finishes at the Masters and U.S. Open in the last three years. Despite missing much of the year due to a thumb injury, he has a win (WGC Accenture Match Play Championship) and two top 10s in five starts. If the thumb is 100%, this might be Day's tournament.
Tristan Hilton
Jordan Speith at 3 under. I picked him to win the Masters, and while he lost that one down the stretch, I think that will benefit him in the sense that he now knows what it feels like to be contending in a major on Sunday. We saw Rory give away the Masters a couple of years ago only to come back and take the U.S. Open, and I see no reason Speith can't do the same this year.
Jamieson Weiss
Rickie Fowler, E. I picked him for The Masters, and he played pretty well, but not great. Golf needs some star power, this year more than ever, and Fowler is one of the few players who can provide some. (Which makes this a pick of hope rather than expectation, but oh well.)
Dave Koster
Matt Kuchar (-1). I think it's finally his time. He does everything well and should be able to navigate #2 just fine. I've always felt like he has the temperament to win a U.S. Open as he doesn't get rattled easily and takes what is given him on the course
Michael C Hepp
Pinehurst gave us Payne Stewart and Michael Campbell so it does not seem to favor a certain type of golfer. From that list you do not need to be a long hitter but certainly you must play precision golf. I am going to with Jim Furyk. He just missed out at Olympic a few years ago and the course layout should favor a precision golfer like him.
Erik J. Barzeski
Zach Johnson at -2 is my pick. I've never gotten these right, and I'm not going to start now. I think driving it accurately will be important, and so too will be placing your approach shots to the greens. Zach's 35th in GIR this year so far, and is a decent putter with an adequate if unspectacular short game.
2. Pinehurst #2 has undergone a number of changes from the course that hosted the event in 2005, most notably the more natural looking design features. Do you like the changes and how much do you expect it to affect the outcome?
Mike McLoughlin
I think the winning score will still be around even par but the changes to the course will give the players more options when they miss the fairway. In previous U.S. Opens the one option was to hack it back out onto the fairway and go from there. With this year's set-up, if a player hits it in the native areas, they can get lucky and have an opportunity to advance it close or on to the greens.
George Promenschenkel
It's the U.S. Open. That means six-inch primary rough and lightning fast greens, right? Not so much. Pinehurst will have none of the thick Bermuda rough that has tortured players in the last couple Opens there; but for players who miss the generally ample fairways, trouble still awaits. Someone will slip on pine needles, someone will play a key shot from a footprint in a waste area, and someone will get a gnarly lie against a tuft of wiregrass. I love the new design.
While it will take a variety of shots to negotiate the trouble, the course also provides opportunities from the fairways to set up successful approaches to very tough greens. Although I think the scores will be a little lower this year, the greens will still steal the show and the course changes will be well received.
Tristan Hilton
I really like the changes they have made. The course is a lot different than the one that was played in 2005. Merion showed us last year that a U.S. Open course doesn't have to be super long to protect par and this year we'll see that you don't need the typical U.S. Open type rough either. While it is a bit of a departure from a typical U.S. Open course, I think scores will be similar; something around par is going to win.
Jamieson Weiss
I guess we'll see how the changes look in real life come the start of the tournament, but I certainly like the idea of the course alterations. They look great, and I think the big differences from normal U.S. Open courses (no real rough, longer fairways, etc.) will make for a more interesting tournament. Should be fun.
Dave Koster
I think I'll like the changes… just to see something different than years past. I'll be down there for a couple of the rounds so I will probably form a stronger opinion when I see it first-hand. I saw hole #18 when I was down there in January, and it looked much different than I was expecting. I don't think it will change the outcome much as the waste/natural areas can present some problems just as much or even mores than the thick bermuda can. The winner will have to catch a few breaks when they get off the fairway.
Michael C Hepp
I played #2 in 1997, the features that made the course were the greens. They were every bit as great as advertised. They require a great imagination but I remember thinking that the rest of the course was not as evenly matched to how great the greens were. After looking of photos and videos of the redesign I feel they have tried to better match how the course looks. I am looking forward to seeing more of the course and how the redesign takes hold.
Erik J. Barzeski
I love the changes. I think we should start to see more golf courses designed like this – less turf, less watering, more "natural areas" that don't require much maintenance. I'm really looking forward to this year, next year (Chambers Bay), and the year after (Oakmont). Such a great three-year stretch.
3. Last year's winner, Justin Rose, has been absent for the early part of 2014. What do you expect from him at this year's event?
Mike McLoughlin
Yes he does seem a bit lost this year. A repeat seems unlikely and even though he's posted three top 10s on Southeastern courses this spring I'm still not expecting much from him, I think he'll miss the cut.
George Promenschenkel
His driver has been killing him. He's 142nd in driving accuracy on Tour and 71st in greens in regulation. His 70.72 scoring average is 50th on tour. Not terrible, but he's not quite firing on all cylinders, either. He could get a tip and turn it on at Pinehurst, but I don't expect it.
Tristan Hilton
I wouldn't be surprised to see Rose play really well at Pinehurst. The best golfers tend to find a way to play their best when it matters the most, and I count him among the games best.
Jamieson Weiss
He's certainly got a chance. Great ballstriking and a solid all-around game is always a good thing for the U.S. Open. He'll make the cut, I'm reasonably sure of that, but I definitely don't think we'll se a repeat performance.
Dave Koster
Rose will contend because he'll have the confidence that he can win. He may not be on top form but I still think he has one of the best swings on tour and could fine tune things a bit to get into his best form. I'm not predicting he'll win but it wouldn't be a shocker to see him in the top 10.
Michael C Hepp
Last year's win was a well-deserved culmination of Justin's career to this point. I do think he will win more majors in his career, just not this U.S. Open. I think he had such a great 2013 that he might have just rested enough mentally to lose his edge. I expect him to hover around the cut line and probably just miss it.
Erik J. Barzeski
He'll be a non-factor. I think he makes the cut, but doesn't show up on the first three pages of the leaderboard all weekend.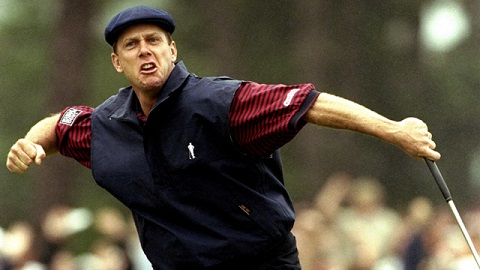 4. The favorites at this year's event have just started heating up: Adam Scott, Bubba Watson, Jordan Spieth, etc. are all looking in top form. But… who among the unknowns do you expect to play well?
Mike McLoughlin
I think Kevin Stadler will have a good week, he hits it far, accurate and is 15th in GIR this year.
George Promenschenkel
Does Billy Horschel count? He's not unknown, but he hasn't done much so far this year. His game is starting to show life again, just in time for the U.S. Open. If not, I'll take a flyer on Thongchai Jaidee. An unsung Euro-Tour player almost always makes a run, and Jaidee has one of the most interesting names in the field, and he recently won the Masters… the Nordea Masters, that is.
Tristan Hilton
This is always such a hard type of question. You always expect the big names to be in contention and inevitably one or two aren't, but there are also one or two names that seem to come out of nowhere and make things pretty interesting. Add that to the fact that this seems to be the season of no-name winners, and we could be in for a real shocker. I guess if I had to pick a name, I'd go with Ryan Moore, if only because I like his shoes.
Jamieson Weiss
With the way the season has gone so far, I wouldn't be surprised if we see a total no-name at least come close. Guys like Shiv Kapur, Joost Luiten, and Victor Dubuisson might have a shot, and I wouldn't put it past Martin Kaymer to play well in another big event. My hope, obviously, is for a more established player to win, but I'll take exciting golf however i can get it.
Dave Koster
Does Billy Horschel qualify as an unknown? I don't see his name being bantered about but he was tied for the lead after 36 holes last year with Phil. He's got the overall game to compete. Perhaps a bigger unknown… playing the first two days with Horschel is another Billy. The Navy man, Billy Hurley III. Could he do it In his first start in the Open?
Michael C Hepp
I normally study looking around for the diamond in the rough, but this year has been so strange with unknown golfers winning all over the place. My pick is Kevin Na. He is far from a unknown but he is certainly not on anyone's radar for the event.
Erik J. Barzeski
Did Roy McAvoy qualify?
5. Pinehurst holds the unique distinction this year of hosting both the men's and women's U.S. Opens. How different do you expect the set-ups to be for both events and what do you think the winning scores of each will be?
Mike McLoughlin
Well obviously the course will be much shorter for the women, greens will be softer and a little slower but I would guess the winning score would be about the same. A major, especially a U.S. Open, usually beats the hell out of a course. They allow the greens to dry out in order to make them firm and fast. The greens can only go so long without water before the grass dies and they become unplayable. I guess softening the greens for the women would stop that from happening.
With dealing with divots from the previous week the USGA has said the positioning of the tee boxes means the women won't be landing their drives – and thus, hitting their approaches – from the same areas as the men. Seems like that should cut down on the chance that they'll deal with divots left over from the week before but the women will still have to contend with collection areas that got a lot of traffic the week before.
George Promenschenkel
Pin positions will be similar. Greens speeds maybe not so much. Other than that, just the yardage… about 1,000 yards shorter for the women (still about 200 yards longer than the typical LPGA event).
Assuming that the USGA and Pinehurst plan to keep the greens alive through the summer, the women should have slightly more receptive greens to deal with. I'm no agronomist, but after the four days of stress for the men's Open I think they'll have to give the greens a little more love during week two. I expect the men's greens to be north of 12 on the stimp meter all week and a little higher on the weekend. For the women, I think the greens will max close to 12 on Sunday. Weather, of course, could change these dynamics dramatically.
I think because the fairways will offer more approach options and because the greens won't be quite as fast as they have in the past, men will come in at about -5. Owing primarily to hitting longer irons into these greens, the women will finish at par, possibly a little higher depending on yardage they actually set up.
Tristan Hilton
From what I've heard, they're setting up the course so that the men and women will be hitting similar clubs on each hole; so if for example, most guys hit driver, 7-iron on a particular hole, they'll set it up so the women will have the same. This is probably a good idea as it'll provide some different landing areas so the course isn't so beat up for the women. I also think that we'll see slower, more receptive greens for the women just because there is no way that the greens can withstand that kind of punishment for two straight weeks. Having both opens at the same course is going to end up being one of the best or one of the worst decisions that the USGA has made.
Jamieson Weiss
I imagine the setup changes are what you'd expect: shorter tees, slower greens, stuff like that. Normally I'd say shorter rough, but there isn't any. Unless they place the pins in more receptive areas, I'd expect the women to score a bit higher relative to par than the men.
Dave Koster
I think the setups will be slightly softer around the greens for the women but I don't expect the rest of the course to play any different. Firm and fast. There is a chance of rain every day this week at Pinehurst so I don't think we will see the crazy firm greens for the men's tournament. If that is the case, the setups could be nearly identical. I think a under par will win for the men since the conditions will soften just a bit with some rain. For the women, I would expect something very similar. Around one or two under par.
Michael C Hepp
I think this is a fabulous idea the USGA has constructed. I have no idea if it will work but I like the idea. I think the winner of the men's event will be at a lower score than the women. I think the men will be -2 or -3 and the women will be E to +1. Although I will say that the women scores tend to be lower, but I think the condition of the course will be rough for the women leaving a tougher course for the ladies.
Erik J. Barzeski
The men will shoot better scores than the women. They fly the ball higher and have more spin, and their short games and even putting is better. Unless they take pity on the gals and really soften things up to accept their 6-hybrid approach shots that come in like a fighter jet landing on an aircraft carrier, the women will score higher.
I'm picking Michelle Wie to win her first major at Pinehurst. She's high in GIR and scoring, and keeps finishing in the top 16 week after week. Her length will be an advantage, even if it just means she can hit stinger 3-woods all week and leave herself short irons that she can control into the greens.
I just hope the weather works out and the men don't have a playoff, because that wouldn't be terribly fair to the women.
Photo credits: © Getty Images.