I present to you my list of three golfers whom I enjoyed watching this year. Not included are any of the major winners or Tiger Woods. As they year winds down into the manufactured drama of the FedExCup, and the majority of PGA Tour pros have been sent packing, these guys stand out in my mind for reasons which are not entirely clear.
I feel obligated here, too, to extend an honorable mention to Jeff Klauk who earned $1,036,524.50 this year as a rookie. Must be a tough life being the 77th highest paid golfer on the PGA Tour in 2009. Well done, Mr. Klauk. Also, Marc Leishman, who bettered Klauk on the money list and is yet to be eliminated from the FedExCup. Seeing their success inspires me to search the couch cushions for the $20,000 it costs to head to Q School. I'm not sure my 4.2 index would travel though…

Steve Stricker
18 of 20 cuts, over six million dollars in winnings, a scoring average under 70, second in the FedExCup and a dead ringer for Ralph Fiennes, I've really enjoyed watching Steve Stricker this year. True, he seems to be a bit bland and likes to wear a lot of oversized beige clothing, but I rather like the guy.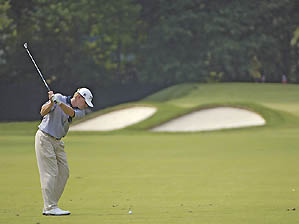 It wasn't five years ago that it looked like Stricker was going to fade into oblivion, quietly going the route of the journeymen pro. He's gone from comeback player of the year in 2006 and 2007 to number two player in the world. While I don't think he's going to challenge Tiger Woods for the FedExCup, his year has been compelling. It's strange to me that he didn't do better than a tie for sixth (at The Masters) in the majors.
With a golf swing built on lower body stability and keeping the back foot down, well, forever, Stricker is as solid as anyone tee to green. He's twelfth in putts per round this year at 28.27, as well. My point being, although he may not be profoundly entertaining or invigorating to watch, he's an excellent ball striker with a great all around game that is worthy of respect.
Well-liked on Tour and an all-around nice guy, Stricker is also, clearly, a fierce competitor. He says the right things in interviews. For example, he knew better than to proclaim himself a rival to Tiger when being questioned this past week. I enjoy watching the man play. I expect him to finish second in the Cup and I hope he'll contend for a major next year, which I think he should, as he seems more comfortable at premier events.
Retief Goosen
First of all, this guy lives the life. He may be the professional golfer whom I would be most likely to want to trade lives with. Think about it. He's a member on three major tours, plays all over the world, makes wine, designs courses and spends the winter in South Africa with his family. He almost certainly has a lifetime supply of Grey Goose headed his way and radiates a truly placid demeanor. His swing is poetry and he's a multiple major winner. Never mind the bad hair, I wouldn't mind being Mr. Goosen for a day.
He won once this year and has finished in the top ten in almost 30% of his starts on the PGA Tour. Beyond this, though, I just like watching this guy hit the ball. He is the poster child for keeping a steady head throughout the swing and the guy just pures it, time after time.
I really would have liked to have seen him win the playoff at the RBC Canadian Open, but I think he's put together a compelling year, regardless. He won't ever play as well on the PGA Tour as he could, since he's traveling all over the world to compete. Goosen turned 40 this year and as he is moderately dedicated to fitness, I think he'll be a stalwart of the international golf scene for at least another five years before he begins to devote more time to his entrepreneurial ventures. I'll be interested to see what he does, both on and off the course.
Sean O'Hair
With respect to Mr. O'Hair, it seems that with any mention of the golfer, his father comes along. Although Sean has reportedly not spoken with his dad in years, the story of his uber-disciplined upbringing and his father selling his share in the family business to turn O'Hair into a touring pro hover about like a ghost in the room.
It's clear that Marc O'Hair went too far. However, I am not entirely sure just "how far" too far he went. The story is always relayed as some sort of abject horror where the evil nature of the elder Mr. O'Hair's acts are taken for granted. I am sure he was a drill sergeant, I am not sure he was a slave master, though. Regardless, it seems he robbed Sean of a childhood and, clearly, the negative father-son relationship is something O'Hair has had to overcome.
It's hard not to root for a guy who tried to make it through Q School five times and had the aforementioned parental issues to deal with. I was pleased to see him win this year at Quail Hollow. As he has finished in the top ten of nearly half of his events, it really seems that O'Hair is blossoming and not thinking himself out of tournaments. I hope the trend continues.
The End
Well, there you have it, three golfers whom I found compelling in 2009 and whom I expect to play well in the years ahead.
Photo Credits: © Wire, © The Sand Trap .com, © The Sand Trap .com.