Tiger Woods made his 2007 debut this past weekend at The Buick Invitational and won his seventh consecutive PGA Tour event. Wow, what a surprise! In all seriousness, it's good to see Tiger again. There is no doubt the buzz around the PGA Tour is a lot higher when Mr. Woods tees it up.
Tiger's win at Torrey Pines wasn't as dominant as some in the past, but a win is a win. He intimidated and broke down a handful of youngsters along the way. The list of young golfers included the new FedEx Cup points leader, Charles Howell III. Chuckie may not ever win another tournament, but he has mastered the art of coming in second. It was actually refreshing to see CHIII have a solid final round compared to the usual choke job.

Other than Woods and Howell III, the other top contenders at The Buick Invitational were 2006 Nationwide Tour graduates. These youngsters had trouble holding Tiger off just like the rest of the world's best, but it was nice to see so many of them in contention early in the season.
The list of recent Nationwide Tour graduates making early noise includes Jeff Quinney, Brandt Snedeker, Andrew Buckle, Craig Kanada, Doug LaBelle II, and Cliff Kresge. All six of these golfers are currently inside the top 30 on the PGA Tour money list. It will be interesting to see which of these golfers continue to play solid and which ones start to struggle.
The Real Deal
Jeff Quinney is the real deal. As I predicted in my Nationwide Tour Watch List article last season, Quinney will have a great PGA Tour career. He had some early success in winning the 2000 U.S. Amateur, but he wasn't a complete player at that time. Fast forward to 2007, and Jeff Quinney is starting to live up to the hype. He has made three out of three cuts so far, including a tie for fourth and a tie for seventh. The Oregon native is 11th on the money list and 10th in the FedEx Cup standings.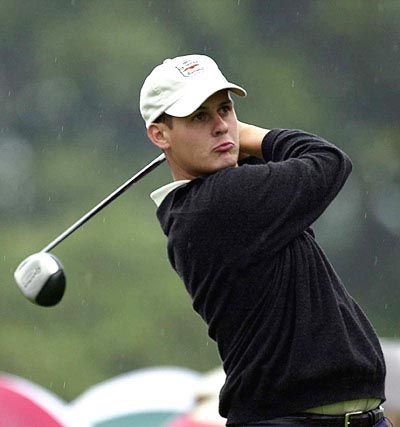 I have no idea if Jeff Quinney is a rookie or not because that system confuses me. I didn't think Trevor Immelman was a rookie last year, but obviously he was. If Quinney is considered a rookie, he has a very good shot at winning the 2007 rookie of the year award. If not, he is still going to win a lot of money this season. Keep an eye on this guy because he could be the first 2007 Nationwide Tour graduate to win a PGA Tour event this year. Quinney didn't handle the Tiger pressure very well this past weekend at Torrey Pines, but he will get used to being in contention.
Andrew Buckle was leading The Buick Invitational after the 11th hole on Sunday, but he buckled (hardy har) under the pressure. Nonetheless, it was still a very impressive performance by the young Aussie. I've heard a lot of good things about Buckle over the past year or so, and it looks like everyone was right. He definitely has what it takes to be a consistent PGA Tour professional.
In three tournaments this season, Buckle has finished in a tie for 28th, a tie for 18th, and a tie for fourth. Not only is he making the cut every week, he is also winning a lot of money in the process. The Aussie is currently 17th on the money list and 16th in the FedEx Cup standings. After dropping out of the lead last Sunday, Buckle could have collapsed completely and fallen out of the top 10. Instead, he grinded his way to a top-five finish and will only get better as a result.
Craig Kanada finished the 2006 Nationwide Tour in style by winning the Tour Championship and earning his PGA Tour card. Kanada hasn't slowed down a bit since and has gotten off to a very solid start to the 2007 PGA Tour season. He hasn't really put himself in serious contention yet, but he has easily made the cut in all three tournaments he has played.
Kanada has finished in the top 27 in all three events so far, including a tie for 10th at The Sony Open. This guy isn't flashy, but he is consistent. Consistency on the PGA Tour obviously goes a long way in winning enough money to maintain playing privileges every season. Right now, Kanada is in 26th on the money list, and we will see his name on a lot of leaderboards in 2007.
Hit or Miss List
Brandt Snedeker was the talk of Torrey Pines after his opening-round 61 last Thursday. The Golf Channel was hyping Snedeker as the next big thing, and he paid for that when all was said and done. Don't get me wrong, a third-place finish behind Tiger Woods and Charles Howell III is a great accomplishment for any golfer. However, there are a lot of inconsistencies in this youngster's game.
A quick look at the stats had me wondering how Snedeker finished third last weekend. He is 119th in driving distance, 144th in driving accuracy, and 138th in greens in regulation. He got off to the blazing start in the opening round, but he limped in after that. If it weren't for his scrappy short game, things would have gotten ugly for him. To go along with his third-place finish at Torrey Pines, Snedeker has a missed cut and a tie for 60th. I could be wrong here, but I don't see this guy having very much success in 2007.
Doug Labelle II finished in a tie for fourth at The Sony Open a couple weeks ago, but things have gone from good to bad since then. Labelle II missed the cut at The Bob Hope Chrysler Classic and finished in a tie for 64th last weekend at The Buick Invitational. I'm happy he started off the season on a good note, but like Snedeker, Labelle II won't be consistent enough to do any serious damage this season.
Watch Out for These Guys
Johnson Wagner and Michael Putnam are two guys to keep an eye on going forward. I mentioned both guys in article last season, and I'm standing by my words. Neither golfer has started off the season on fire, but both guys have been pretty consistent so far.
Wagner has made the cut in all three starts in 2007, and he has finished in the top 34 each week (including a tie for 13th at The Bob Hope Chrysler Classic). Putnam has only played in two events this season, but he has also made the cut both times. His best finish was a tie for 16th this past weekend at Torrey Pines. Neither guy has played as well as Jeff Quinney or the other Nationwide Tour graduates inside top 30 on the money list, but they will continue to rise as the year progresses.
The Final Say
It's tough to tell which young guys will become mainstays on the PGA Tour and which ones will struggle to keep their card. It's still very early in the 2007 season, but we have already seen great things from several 2006 Nationwide Tour graduates. I can't remember a year where so many of them started this well, and it will be fun to see which ones continue to climb the money list and FedEx Cup standings.
Only time will tell if my predictions are accurate. I see a recipe for success in guys like Jeff Quinney, Andrew Buckle, and Johnson Wagner. Brandt Snedeker is very talented as well, and I truly hope he continues his solid play from this past weekend. However, his game worries me more than the others in this week's article. Hopefully all these guys win a lot of money and maintain their cards, but that's highly doubtful. It's just the nature of the golfing beast.
It's time for you to tell me what you think of this week's article. Are you surprised to see so many 2006 Nationwide Tour graduates at the top of leaderboards this early in the season? Also, which of these golfers have what it takes to stare down the world's best and win some tournaments in the near future? Finally, which other Nationwide Tour graduates do you think will make a splash in the coming months? If you have anything to add, please leave a comment below or discuss it in the forum. It's always a pleasure to see what the readers think. Thanks for reading this week's Thrash Talk and have a great week!
Photo Credits: © Golf Investors.com.