The Nationwide Tour has seemingly changed its name more times over the past decade than Vijay Singh has changed putters in recent years. My first memories of the tour was Steve Flesch winning the 1997 Nike Tour Championship to earn his PGA Tour card. Flesch hasn't ever dominated on the PGA Tour, but he has had a solid career nonetheless.
Troy Matteson was an unknown in the golf world about a month ago. Matteson finished first on last year's Nationwide Tour money list to earn his PGA Tour card in convincing fashion. However, he found out early in 2006 how much tougher the PGA Tour is.

Matteson was ranked 172nd on the PGA Tour money list after the Valero Texas Open in late September. Four top-eight finishes (including a victory) later, the young Floridian is on his way to becoming a household name to golf fans everywhere. In the last month, Matteson has gone from 172nd on the money list to 42nd!
Camilo Villegas and Nathan Green, both ranked inside the top 40 on the PGA Tour money list, earned their card this season by playing the Nationwide Tour in 2005. Both Villegas and Green have been in contention to win big tournaments in 2006, proving once again how great a stepping stone the Nationwide Tour truly is.
This brings me to my question this week: which current Nationwide Tour golfers will be the next to have success on the PGA Tour? I don't watch every Nationwide Tour event, but I do check out the highlights and keep up with who is winning on a weekly basis. I've had my eye on a few guys this season who have a great shot at making an impact on the PGA Tour in 2007.
Johnson Wagner
With every list, it's imperative to start near the top. Johnson Wagner turned professional in 2002 and has been fighting to earn his PGA Tour card ever since. Wagner, 26 years old, tried his hand at Q-School in 2002 and 2003, but the attempts were unsuccessful.
The young Texas kept moving forward, however, and finished 42nd and 36th on the Nationwide Tour money list in 2004 and 2005, respectively. Wagner hasn't left anything on the table so far in 2006. He is currently second on the money list and will be making his PGA Tour debut in 2007.
Wagner's improvement over the past few years is what impresses me the most. He has also tasted victory on two separate occasions this season and will undoubtedly use that momentum going into his rookie campaign on the PGA Tour. Wagner may not be a star at the next level, but he has all the tools to be a mainstay for years to come.
Jeff Quinney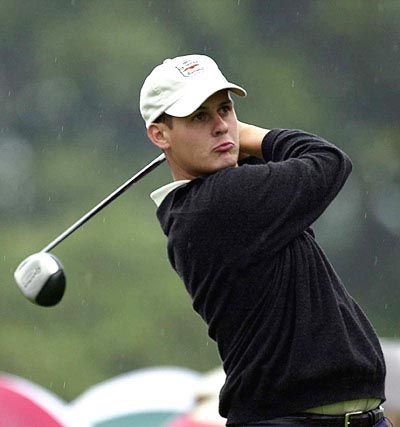 I always have a soft spot for past U.S. Amateur champions. Jeff Quinney won the 2000 U.S. Amateur but has yet to make it to the next level in golf. Like Wagner, Quinney has tried Q-School a few times, only to be unsuccessful in the end. The Oregon native won a Nationwide Tour event close to home (Oregon Classic) in 2004, but that was really all he did well that season.
Quinney's 2004 season wasn't all that kind, but 2005 was downright cruel. He only had one top-10 for the year and finished 90th on the season-ending money list. After struggling for several years to find his identity, it looks like Quinney has done just that in 2006.
Jeff Quinney has enjoyed a great deal of success during the 2006 Nationwide Tour season. He has made 19 out of 25 cuts and has eight top-10 finishes, including two seconds and two thirds. Quinney is fourth on the Nationwide Tour money list and will also be making his way to the PGA Tour in 2007. I'll be pulling for him to do well, and it doesn't look like he will be coming back to the minor leagues any time soon.
Michael Putnam
Michael Putnam's road hasn't been as long as Wagner's or Quinney's. Putnam was a 2004-2005 college golf All-American at Pepperdine and hasn't been a professional very long. He played in five events on the PGA Tour after graduating from college and made three cuts. His best finish was an impressive tie for fourth at the 2005 Buick Championship.
After an unsuccessful attempt at Q-School, Putnam headed to the Nationwide Tour in 2006. Right now, he is 12th on the money list and is well on his way to becoming a 2007 PGA Tour rookie. In his first season on the Nationwide Tour, Putnam has made 19 out of 24 cuts and has five top-10 finishes.
The future is very bright for Michael Putnam at the next level. Putnam has already shown he can hang with the big boys on any given week, and he has tasted quite a bit of success on the Nationwide Tour as well. At 23 years old, maybe he will be the next United States golfer to step up and challenge the young guns from around the world. Out of all the guys graduating from the Nationwide Tour this season, Putnam has a great chance to be the most successful on the PGA Tour.
The Final Say
You may be wondering why Kevin Stadler wasn't on my list. Stadler has a ton of talent and has already won a big-time European Tour event (Johnnie Walker Classic). The next Walrus has played the PGA Tour already, and it wasn't very kind to him at times. Stadler will get another shot at the big time in 2007 because he is currently ranked seventh on the Nationwide Tour money list, but I have doubts about his long-term consistency. The three I mentioned above will all be mainstays for years to come.
One of my golf goals for 2007 is to watch more of the Nationwide Tour. It's amazing to see how many guys have gone from the Nationwide Tour to the PGA Tour in recent years and made an impact. Since 2003, the list includes Zach Johnson, Vaughn Taylor, Lucas Glover, Brett Wetterich, and Jason Gore. Just keep in mind you never know which star you might be watching in the process.
Now it's your turn to tell me what you think. Do you ever watch the Nationwide Tour? If so, which guys on my list do you agree or disagree with? Also, which guys aren't on the list but should be? If you have anything to add, feel free to comment below or discuss it in the forum. Thanks for reading this week's Thrash Talk!
Photo Credits: © Golf Investors.com.