Although I, like many, am neither a Wie-maniac nor a committed Wie-watcher, I was pleased with Michelle's performance at the Solheim Cup this past weekend. The Michelle Wie Story will always be one of failure to meet the ludicrous expectations which surrounded her. It is, of course, a wholly fruitless endeavor to speculate as to the exact genesis of said expectations, but the recipe is surely some part B.J. Wie, some part mass sports media hysteria of the Tiger Woods variety.
What do we make of Michelle's 3-0-1 record at this year's event?

Was it validation? To some degree, although, as stated previously, she will always be, in some sense, a failure and a disappointment. Acceptance by her peers? Perhaps more so, as she seems "one of the girls," more so than at any other point.
With respect to the aforementioned, Michelle has been becoming more integrated with her contemporaries for some time. I won't share the specifics of a discussion I overhead at the Corning Classic this year between Christina Kim, but it involved plans for a trip north of the border to indulge in things a 19-year-old is, well, not legally allowed to do here in the States.
If Wie is now a legitimate LPGA standout and capable contender, what should our expectations be? It certainly seems at this point that the myth of "The Girl who Could Compete with the Boys" is dead (and, really, it was absurd to begin with). The narrative was of no great service to Wie personally, rubbed a lot of people the wrong way and amounted to an entirely unnecessary raising of the bar.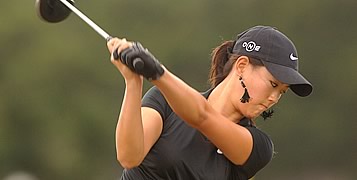 Assuming we have our wits about us and our passions contained, it's worthwhile to ask: "Where should the bar be set for Michelle Wie?"
The pendulum has settled a bit, for the moment. The massive swings between outrageous expectation and abysmal performance have given way to a sort of steadiness. Wie hasn't missed a cut this year, has cracked the top ten with some regularity, and has lowered her scoring average by two strokes from 2008. It's clear she isn't going to beat Tiger, but is she capable of being the Tiger of her own tour?
Perhaps.
Enter Dave Stockton
Michelle Wie has recently begun working with Dave Stockon, who formerly consulted with Annika Sorenstam regarding her short game and putting. It is my understanding that Stockton's methods focus more on mental approach (visualizing the putt, etc.) than actual stroke mechanics, which have surely been drilled into Michelle's head by now.
If anything, Wie is overcoached. In order to take the next step in her career, she needs to be able to separate the wheat from the chaff and approach every round/shot with confidence and a series of positive visualizations.
It was clear throughout the Solheim Cup that Michelle Wie expected to make putts. I have never seen her looking that way before. Further, it was the first time that I had the feeling that she would, after a great approach shot, make her birdie attempt. Something was different, on the level of expectation and self belief, as well as with respect to her putting routine–not making practice strokes on shorter putts, a signature Stockton maneuver.
Insert Pia Nilsson, or Bob Rotella, or…?
I am sure Wie works with a sports psychologist; she needs to do more. Wie has displayed a lackluster short game, from time to time, as well as suffering from an impudent putter. However, assuming that these things are on their way to being remedied (thanks to the intercession of Dave Stockton), what is holding Michelle back is the combination of her mental approach to the game as well as her course management.
Wie deals with a lot of distractions, not the least of which are her omnipresent parents, who need to learn to support their daughter without, say, following her from the putting green to the range. Travel with your daughter, to be sure, but stop coaching her; begin to fade into the background. It's no surprise to me that Michelle played well with her parents banished from the locker room this past week. She needs professional, non-parental assistance, managing the chaos if she's to win consistently.
To quote the great decaying Al Davis, Wie needs to learn how to "just win baby." What is winning, in essence, in professional golf? It's putting yourself in position, time and again, minimizing mistakes and making important putts, that's all. With Dave Stockton, Michelle seems, at this early stage, to be taking care of the third part of the aforementioned. The first two parts are more about management than mechanics, more about preparation than play. This is another reason, then, that she ought to consult with someone who will help her with strategy and the mental aspect, beyond what David Leadbetter is capable of.
I am a champion of a new, more reasonable, set of expectations for Michelle Wie. History may show that her performance at this year's Solheim Cup was the first step towards the golfer winning consistently on the LPGA Tour, which is what we should really expect of her. Here's to hoping she doesn't fall short.
Photo Credit: © The Golf Channel.