For the past few months, EA Sports has been slowly rolling out its list of new features for this year's edition of Tiger Woods PGA Tour. Starting with the fan voting that put Ricky Fowler on the cover of the U.S. version and Rory McIlroy on the international version, it has been a busy year for the developers.
After adapting the game to the Nintendo Wii and, more recently, the Playstation Move, this year EA is bringing the game to the Xbox 360 Kinect, which requires no controller at all and relies on cameras to track your body's movement. Also new this year are Tiger Legacy, which lets you play as Tiger Woods as a kid, online country clubs, Total Swing Control, as well as a crop of new players and courses.
With EA Sports' recent release of the newest edition of Tiger Woods PGA Tour, here are five of the most important new features you can expect to see in Tiger Woods PGA Tour Tour 13.

Number Five: Tiger Legacy
In the new Tiger Legacy Challenge mode you get to play as Tiger Woods through the years. You start out as toddler Tiger, between the ages of two and six. You appear on the Mike Douglas Show, and you play in tiny Tiger's backyard. Next you play the early years, during Tiger's first tournaments at the Junior World Championships. The junior years continue that play, and a virtual Earl Woods will attempt to audibly distract you during your swing. Luckily, you have the mute button on your side.
During the amateur years, you play as 18- to 20-year-old Tiger, when he competed in the U.S. Amateur and played in his first Masters. You then advance to the rookie years, which simulate Tiger's first two years on Tour. The Tiger Slam years are next, and among the shots you get to replay include Tiger's "better than most" putt at the 2001 Players Championship.
You then move to the pro years (basically the Haney swing era), when Tiger won a large chunk of his majors. The present years are next and feature Tiger's new Foley swing, while the future years include events such as the 2014 U.S. Open at Valhalla and the 2015 British at St. Andrews. Finally, you get a chance to challenge Jack's record of 19 majors, even if real Tiger never does. Upon completion of Tiger Legacy Challenge, you will also unlock a toddler version of Rory McIlroy.
Number Four: Kinect Support
Microsoft launched the Kinect in November of 2010, and while EA didn't have time to adapt last year's game to the controller-less platform, they've had ample time to do it this year. The Kinect attachment features two 3D depth sensors, a camera, and a multi-array microphone, and is able to track your motion in real time. The software for Kinect was built by Microsoft-owned Rare, which is known for their development of some of the greatest Nintendo 64 games, including GoldenEye 007, Banjo Kazooie (and its sequel), Donkey Kong 64, and Perfect Dark.
What does this mean for golf? For starters, it's the first golf simulation game to take advantage of the controller-free interface. Rather than just knowing the movement of your hands, the Kinect tracks over 1000 points on your body, and identifies the subtle intricacies of your swing mechanics. Kinect is also voice-enabled, so in addition to navigating menus with hand gestures, you can also get your way around by speaking to the device.
Number Three: Total Swing Control
Total Swing Control is EA's way of cleaning house when it comes to all of the different ways they've determined how a shot is going to turn out. Gone is Club Tuner (remember when that was introduced, along with Hank Haney's teaching in Tiger 09?), out is mashing a button for extra distance, and say goodbye to focus and confidence. Where the shot lands is completely up to you and how you swing, and that allows for greater control and shot selection.
Tempo and swing plane are really the name of the game this year. As you swing, a plane line will trace your motion, and the more true you stay to that plane the better the result. Tempo and backswing length primarily determine distance, and can also be used to adjust how softly the ball comes into the green.
The caddy feature from last years game, which was loved by many but despised by some of the game's more traditional fans, is now optional. That's nice to know, even if the caddy is not very likely to go Stevie Williams on you.
Number Two: Online Country Clubs
If you've played any of the Tiger Woods games in the last few years, you know that online play has been pushed heavily, and the developers have clearly spent a lot of time making it the best it can be. Prior to this year though, finding matches was a bit of a crapshoot. Sure, you could find a friend or a group and put together a match or you could have the game find some random people, but it wasn't particularly organized.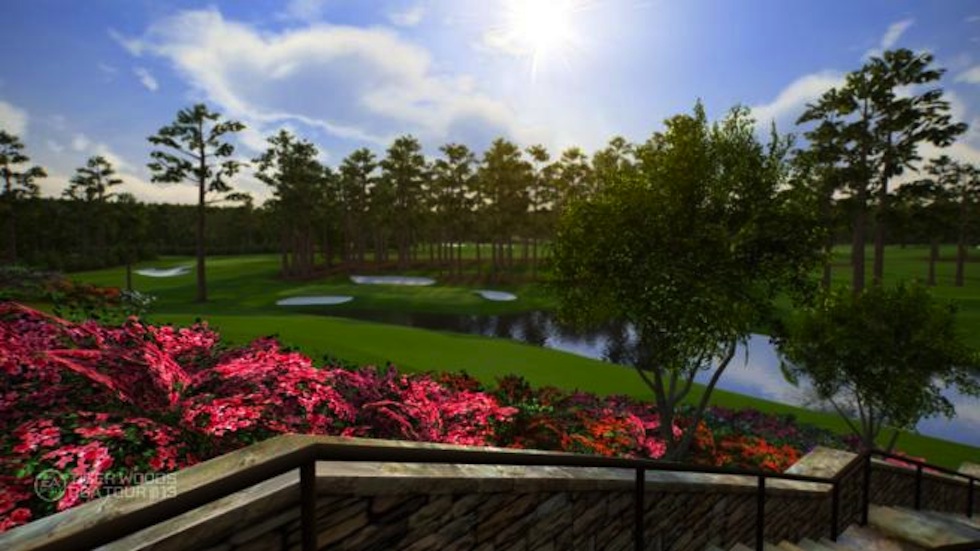 This year, online country clubs give you the option of bringing together large groups of people for virtual golf matches. When you create your own country club, you assign it a name, a logo, and a description to fully customize it. Members of a country club can earn status points that boost your ranking within the club, and your earned status points give you a chance to win the weekly club championship. The winner is then invited to the Club Champion Tournament, where they can compete against other club champs from around the world.
Online country clubs also have a section for tracking your in-game accomplishments and scores, and compare them against fellow members or as a whole country club. The online country club feature has a web component, and I've already created a club named "The Sand Trap CC" for our readers and members to interact and play some golf.
Number One: New Courses and Players
In addition to old standbys like Tiger Woods, Jim Furyk, Ian Poulter, Paula Creamer, and Natalie Gulbis, Tiger Woods PGA Tour 13 adds several new golfers to the mix. 2010 U.S. Open champ Graeme McDowell makes his first appearance, as does fellow European Ross Fisher. "Golf Boys" stars Hunter Mahan and Ben Crane also debut, with Dustin Johnson joining them. Numerous other professional athletes are also available if you pre-order through certain outlets. Specifically, pre-ordering through Amazon gets you Jeremy Roenik, Marshall Faulk, Dwight Howard, and Sugar Ray Leonard, and pre-ordering through Blockbuster gets you Wayne Rooney, James Milner, Petr Cech, and Theo Walcott. There are some golfers that have been dropped since last year, including Camilo Villegas, Suzann Pettersen, Henrick Stenson, Nick Dougherty, Francesco Molinari, Anthony Kim, and Chris DiMarco.
There are also a number of new courses, namely Crooked Stick, Kiawah Island (host of this year's PGA Championship), Royal Birkdale, PGA National (only on the Collector's Edition), Valhalla, and Royal County Down. Of course, last year's big edition Augusta National is still in the game, as are courses like Bethpage Black, Oakmont, Pebble Beach, and TPC Sawgrass. Additional courses are available via pre-order and as downloadable content, including several fantasy courses.
Closing and Your Thoughts?
Because they release the game annually, EA Sports is always under pressure to improve Tiger Woods PGA Tour to justify its price. And while some years the game is hardly different from the previous edition, this year it seems like we're truly getting a great product. Tiger Legacy looks expansive and it is something never really seen in sports games before, and Kinect support should bring playability to a whole new level. While many games (especially sports games) have complicated and antiquated online services, the new online country clubs feature looks to bring social game play to a whole new level. And, of course, there are always a bunch of new players and courses included.
My copy is en route as we speak, and the delivery date can't come soon enough. Are you guys looking forward to this year's game as much as I am?
Photo Credits: © EA Sports.