The 2010 PGA Tour season was certainly a wild one. After Tiger's Thanksgiving escapades of late 2009 revealed a lot of dirty laundry, Phil Mickelson and John Daly got a different kind of groovy. Phil started his season well, by winning the Masters, as did Dustin Johnson, who won the AT&T Pebble Beach National Pro-Am. DJ subsequently choked away two majors but won a Playoff event to finish on a high note. Johnson was unable to take home the big trophies though, as Jim Furyk won the FedExCup and the European team capped off a strong year with a win in the Ryder Cup. Finally, adding to the international resurgence, Lee Westwood is now the number one ranked golfer in the world.

Number Five: Goydos and Appleby Go Low, 20 Year Old Wedges Cause Controversy, and Europe Wins the Cup
Not since David Duval shot a final-round 59 to win the 1999 Bob Hope Classic had a PGA Tour pro broken 60 in competition. This year it happened twice. In July, Paul Goydos torched TPC Deere Run in the first round of the John Deere Classic with a 59, carding 12 birdies and no bogeys. Goydos failed to win though, thanks to Steve Stricker's 60-66-62 start, which set the all time 54-hole scoring record. Later that month, Stuart Appleby shot a final-round 59 in the inaugural Greenbrier Classic, winning by one stroke just as Duval had done. Though some like the historically low scoring, many maintain that it has gone too far.
By limiting groove depth and angle, the USGA is effectively making it harder for pros to spin the ball out of the rough, which would not only put a higher premium on accuracy, but would cause players to put softer (and shorter) golf balls into play. In the season's second event, the Sony Open in Hawaii, Dean Wilson and John Daly decided to use Ping Eye 2 wedges, which had the older, better grooves. Thanks to an old out-of-court settlement years ago, these specific Ping wedges were grandfathered in for play, and that settlement had remained in place in spite of the new groove rollback. In his first tournament of the year, the Farmer's Insurance Open at Torrey Pines, Phil Mickelson also put some Ping Eye 2s into play. Scott McCarron took exception to this, saying:
I'm appalled Phil has put [the grandfathered wedge] into play… As one of our premier players [Mickelson] should be one of the guys who steps up and says this is wrong.

Scott McCarron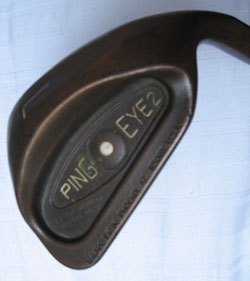 McCarron later apologized, but in March, the PGA Tour and Ping finally reached an agreement, banning the Ping Eye 2 wedges once and for all.
To some, 2010 will be known as the year of the international players. It started in May at the Wells Fargo Championship, when Rory McIlroy held off a strong field of the world's best players to take home the trophy with a final-round 62. His fellow countryman, Graeme McDowell, won the U.S. Open in June, becoming the first European golfer to win the U.S. Open since 1970. In July, South African Louis Oosthuizen took home the Claret jug with a seven-stroke victory, then in August, German Martin Kaymer won the PGA Championship in a playoff over American Bubba Watson. In October, to cap it all off, the European team won the Ryder Cup and Lee Westwood took over the top ranking.
Number Four: Furyk's Late Resurgence
Jim Furyk, whose swing was once compared to an "octopus falling out of a tree," had been winless since 2007, and appeared to be in the twilight of his career. Late last year he turned a corner though, scoring a silly-season victory in Tiger Woods' Chevron World Challenge. Furyk started 2010 where he left off, winning the Transitions Championship in his fifth event of the year and the Verizon Heritage at Harbour Town the week after missing the cut in the Masters. Although he did win those two events and was having a great year, heading into the Playoffs Furyk had not exactly played steadily. With only two other top-10s, and two missed cuts in majors, Furyk's game had been up and down all year. Luckily, in October, he still found himself in the hunt for the FedExCup.
In a move that would lead to the Tour's institution of the "Furyk Rule," Jim overslept and was disqualified from the Barclays, which was especially painful because of the extra points that come with Playoff events. After a T37 and a T15 in the next two events, Furyk capped off a career-restoring 2010 with a victory in the Tour Championship and a win of the season long FedEx Cup. By all accounts, Furyk is a good guy, so hopefully his strong play continues into 2011.
Number Three: Phil's One and Done
The first round of the 2010 Masters was dominated not by the eventual champion, but by a 50-year-old and a 60-year-old. While Fred Couples shot -6 to lead after the first day, Tom Watson's -5 showed that 2009's British Open was no fluke. Speaking of the Brits, the second round saw the top two spots captured by Ian Poulter and Lee Westwood, but neither of them would go on to win. No, that was reserved for fan favorite Phil Mickelson, who was (and is) still dealing with the ailments of his mother and wife. Wearing a pink ribbon on the side of his hat to support them both, he seized control of the tournament on Sunday's back nine. Although Anthony Kim went on his annual Augusta birdie binge, shooting a final-round 65, Phil was able to play some miraculous golf just when he needed too.
After he won his third Masters the world's eyes shifted entirely onto Phil. While Tiger's T4 showed that his game was not totally lost, public opinion of Woods was at an all-time low. Phil seemed ready to steal the spotlight, the top ranking, and the hearts and affection of the world. One problem: he didn't win again. He came in second in his next tournament, the Wells Fargo Championship, but he only had three top-10s the entire rest of the season. To top it all off, his poor Ryder Cup showing and subsequent slipping to fourth in the Official World Golf Ranking showed Phil failing on the biggest stage. While part of it was undoubtedly the arthritis that Phil battled throughout the year, Phil never did quite live up to all of the unattainable expectations that were set for him after his exciting Masters victory.
Number Two: Tiger's Poor Play and Subsequent Loss of the Top Ranking
Whether or not you like Tiger Woods, you have to admit that very few people thought that he would go winless in 2010. Poor play is one thing, but not many thought that he would fail to win entirely. His 2009 included six PGA Tour wins, several near-misses in majors, and consistent top-ten play throughout. When he started off 2010 with T4s in the first two majors, it seemed like his personal life's meltdown would have limited effect. At that point, most people were thinking he would maybe get a couple of wins, no majors, but contend for another FedExCup. Then the Playoffs came around and still, no wins. He didn't even make it to East Lake. And, to top it all off, he lost the top spot to Lee Westwood.
Number One: Dustin Johnson's Early Win and Subsequent Collapses
A month after Geoff Ogilvy's second straight victory in the SBS Championship (which will now bear a new name, the Hyundai Tournament of Champions), Dustin Johnson started off 2010 the same way- by repeating the AT&T Pebble Beach National Pro-Am. When the US Open, also held at Pebble, rolled around, some thought that his success on the Monterey Peninsula would bode well for Johnson, while others thought that the difficult Open setup would take away any advantage. He started off the first few days at a relatively pedestrian pace, but his 66 in the third round shot him to the top of the leader board. Some came into the final round thinking that his three shot lead would hold, while others thought that he would be unable to hold off the strong leaderboard that consisted of Graeme McDowell, Tiger Woods, Ernie Els, and Phil Mickelson. Johnson not only relinquished the lead, but he did it in historic fashion, shooting a final round 82 to finish T8. McDowell would eventually win the tournament, while little-known Frenchman Gregory Havret was the runner up.
After a solid T14 finish in the Open Championship, Johnson went to the PGA Championship at Whistling Straits looking poised to make another run at a major. His first three solid rounds put him three shots back of overnight leader Nick Watney, and Johnson seemed ready to challenge for his first major. After Watney did what shall from now on be known as "pulling a Dustin" by shooting an 81 in the final round, Johnson's birdies on 16 and 17 gave him a one up lead going into 18. After flaring his drive to the right, he made what appeared to be a bogey that would have put him into a 3 way playoff with Martin Kaymer and Bubba Watson. Upon holing out, it was deemed that Johnson grounded his club in the fairway bunker, which cost him a two stroke penalty and a spot in the playoff. Kaymer would go on to defeat Watson in that playoff, giving Dustin Johnson his second major loss in a three month span.
Closing and Your Thoughts?
The 2010 PGA Tour season was definitely a whirlwind. From sex scandals to some of the most thrilling majors in recent memory, it will certainly go down in the history books.
So, what do you think? What were you favorite stories of the season, and what do you think will do down in 2011?
Photo Credits: © unknown, © Erik J. Barzeski/The Sand Trap.