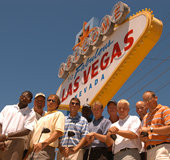 The Golf Channel's original production The Big Break II begins its season tonight at 9pm on – duh – The Golf Channel.
The stakes for a chance to play big-time professional golf just got higher. The Golf Channel's hit reality show – The Big Break – is back and heading for the bright lights and hot golf of Las Vegas for a new 11-week season.
The Big Break II pits 10 players against each other in challenges that test their golf skills and mental toughness. The last man standing wins an invitation to play four Nationwide Tour events in 2005, a 2005 Ford Five Hundred luxury sedan, and $10,000 from Nationwide.
My only real thought is this: couldn't they just give the guy a Nationwide Tour card? Seriously. Four events? What would it really hurt? Anyway, the Big Break II is on in… about an hour. Don't miss it. 🙂