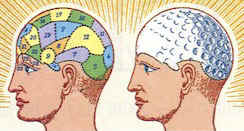 The next ten "Tip of the Day"s are being taken from an article by Dr. Bob Rotella for Golf Digest, titled "Inside the Golfer's Mind." We're paraphrasing, changing the language a little, and condensing his typical three to four paragraphs into one or two. This is tip five of ten: play in the now.
Really, this tip is very much like some of the others available in this same series of articles. Dr. Bob needed ten tips, bydoggit, and he was gonna get 'em, even if meant repeating the same thing five or six times. What useful tidbits can we glean from this rehashing?
Don't let play dictate your attitude. Go with the flow when it's going well, but control yourself when you're playing poorly.
"I came to the 16th thinking 'this is a birdie hole'" is an example of getting ahead of yourself. Hit your tee shot first, then your approach, and then worry about making a putt.
Hit it and find it. Repeat as necessary.
Improving your mind game can instantly take 5-10 strokes off of your average score.
Don't keep a running tally of your score. It makes you think of things outside of the "now," the "present," and "the next shot."
When you run out of holes, you run out of holes. Hit it and find it. When Dr. Bob runs out of ideas, well, he copies other ones, but that's ok. Tomorrow's tip is different. Kinda. Okay, barely.