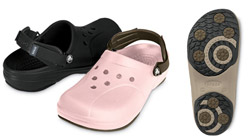 I know what you are thinking: golf Crocs? When I was first introduced to the concept of a Croc golf shoe I had more than a few reservations. I have never been a big fan of Crocs. Sure, I saw more than a few people wearing them around town, and my daughter is a die-hard fan who refuses to wear anything else, but I was not sold. And, I certainly did not see them as a type of shoe that could be used for sports – especially not golf.
As it is with skeptics, I was given a pair and told to try them out. Skeptical as I was I took them out on the course and ran them through the drills to see if they really could hold up to what a regular golf shoe has to endure. The results may surprise you. They certainly surprised me.

Design and Look
Croc golf shoes, or Ace Golf Shoes as the company calls them, look like… well Crocs. I am pretty traditional in my thoughts of how a golfer should look when they go to the course. While these shoes may never fit into the "traditional" mold, there was certainly nothing aesthetically displeasing about looking down at them.
As I said there is little difference in appearance between the Ace and a regular pair of Crocs aside from a few minor modifications. They currently come in three colors: black, cotton candy, and khaki. Though that's not a huge selection, it certainly covers the basics.
The sole of the shoe is slightly more heavy duty than the one on regular crocs and has eight molded soft spikes, five on the ball of the foot and three on the heel. The spikes are neither removable, nor replaceable unfortunately but as they are surrounded by additional smaller cleats in a target pattern they wear slowly as mine have lasted several months with very little apparent wear.
The inside of the shoe features circulation nubs to stimulate blood flow and decrease fatigue. The top of the shoe has ventilation ports to increase breathability and help keep feet cool and comfortable. The designers did well to eliminate the holes on the side of the shoe like those on traditional Crocs and this helps make the shoe much more water proof on those early morning rounds.
One of the obvious differences between traditional Crocs and the golf shoe is the strap on the back. Like other Crocs the Ace is open heeled and therefore the Croc people had to find a way to keep a golfer's foot secure during the swing. The Turbo Strap does just that. It is made from Velcro, is adjustable to make for a snug fit, and is quite comfortable on the foot when put in place.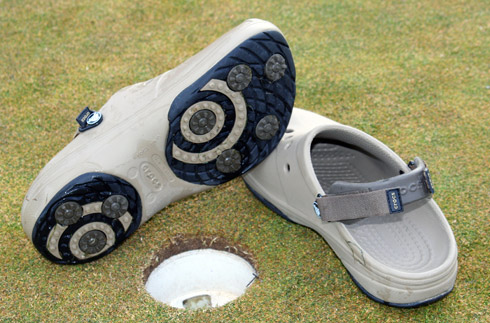 Feel and Performance
This is the area where I felt the Ace really showed off. I first took my Crocs to the driving range to give them time to break in. I found this to be completely unnecessary as anyone who owns Crocs knows; they are extremely comfortable right out of the box. I discovered that wearing Crocs is almost like getting a foot massage while hitting golf balls. The circulation nubs do a fantastic job of making the shoe very comfortable. As I continued to hit balls from half wedges all the way up to full driver swings, I was also very pleased on not only how well the spikes gripped the ground, but on how well they stayed on my feet. One of my very first worries with the Ace was whether or not I would be able to keep my foot inside the shoe throughout the swing. The Turbo Strap does its job very well and not once was I forced to let off for fear of having a blow out.
After the successful practice session, I felt they were ready to take onto the course. The first thing that struck me about them after walking several holes was just how light they were. These shoes were made for walking and for someone like myself who is used to lugging around fairly hefty saddles these were a dream. They again stayed on my feet well even when having to walk up and down hills.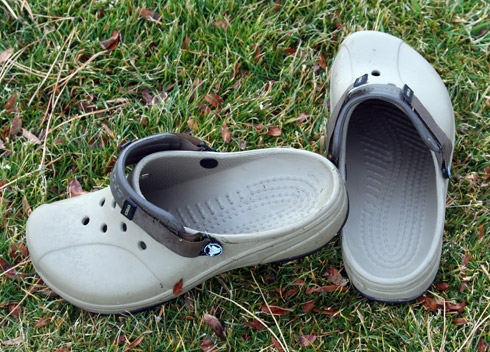 The Crocs also did a fairly good job of being water resistant. The grass was very wet when I teed off and amazingly my feet stayed dry for the most part except for one of my heels. As I mentioned above the holes are only on the top of the shoe making them much more impervious to water than one might think. I will mention though that the only drawback I found was on bunker shots. If you are like me and like to dig in you will find yourself with a shoe full of sand. This problem was of course easily remedied by simple removing them and dumping them out.
Another nice feature is they are made from Croslite™, a PCCR (Proprietary Closed Cell Resin) which although feels like rubber or plastic is neither. Croslite™ has extraordinary impact absorbing qualities and is also anti-microbial, which virtually eliminates odor. So if you're like me and own more than a few stinky pairs of golf shoes then these are definitely nice to have.
Conclusion
I started as a skeptic and now I am a believer. Croc Ace golf shoes are actually very nice. They are comfortable, light, and grip the ground adequately, and with a price tag of just under $40.00 you will be hard pressed to find golf shoes any cheaper. While these won't replace my nice FootJoys when I visit the local country club or high end course I will certainly wear them on the occasional practice round or practice session at my local muni.