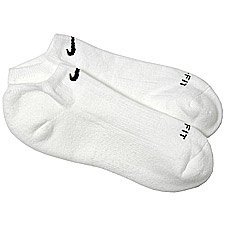 Most golfers don't give their feet much thought. While many golfers buy expensive shoes, they often just throw on an old pair of socks and neglect the impact socks can have on comfort.
I've tried several different types of socks, and I always felt like I've had to sacrifice either cushioning or comfort with any brand I've tried. Some have been great at cushioning my feet, but they were too hot to get through a full round in leather golf shoes. Thinner socks kept my feet dry, but weren't as comfortable over the long haul. On a recommendation from a friend, I tried out Nike's Dri-FIT socks and I realized I can have the best of both worlds.

Dri-FIT
Dri-FIT fabric is a proprietary blend of acrylic, nylon, and spandex fibers. This fabric helps to wick perspiration away from your skin and onto the surface of the fabric so it can evaporate quickly. Note the absence of cotton. While cotton is a very comfortable fabric next to the skin, it does not wick moisture well. This isn't a problem with your shirt which is open to the atmosphere. However, inside a pair of shoes moisture has nowhere to go, leaving your feet smelly and succeptible to blisters. As an added bonus, many high end golf shoes come lined with breathable waterproof fabrics such as Gore-Tex. Wicking fabrics such as Dri-FIT help these membranes transport moisture better since they draw perspiration closer to the membrane rather than trap it next to skin.
Performance
I chose a pair of low cut now-show socks, but Nike has these socks available in a wide variety of styles from full crew to anklet to roll-top. Colors choice is limited to the standard white, black, brown, and blue depending on the style you choose.
To achieve cushioning, the areas around the heel and ball of the foot receive extra padding while the top is thin and aids in breathability in shoes. The arch of the sock is a bit tighter and has less padding for support. In my time with these socks, I have yet to desire any more cushioning or feel any fatigue.
As far as keeping my feet dry, these socks perform better than any other pair I have tried. No matter whether I'm walking around city streets on a sunny 80° day in tennis shoes or plodding on a muddy fairway in a 40° drizzle, my feet stay bone dry.
Conclusion
For golfers everywhere I'd strongly recommend giving these socks a try. They perform just as well running or at the gym as they do on the golf course. The list price is a bit steep at around $7 a pair, but they can be found at many retailers for around $4 a pair. Dry, comfortable feet may not make you shoot a lower score, but they will allow you to enjoy your round much more and your feet will thank you in the long run.
Photo: © Nike Golf