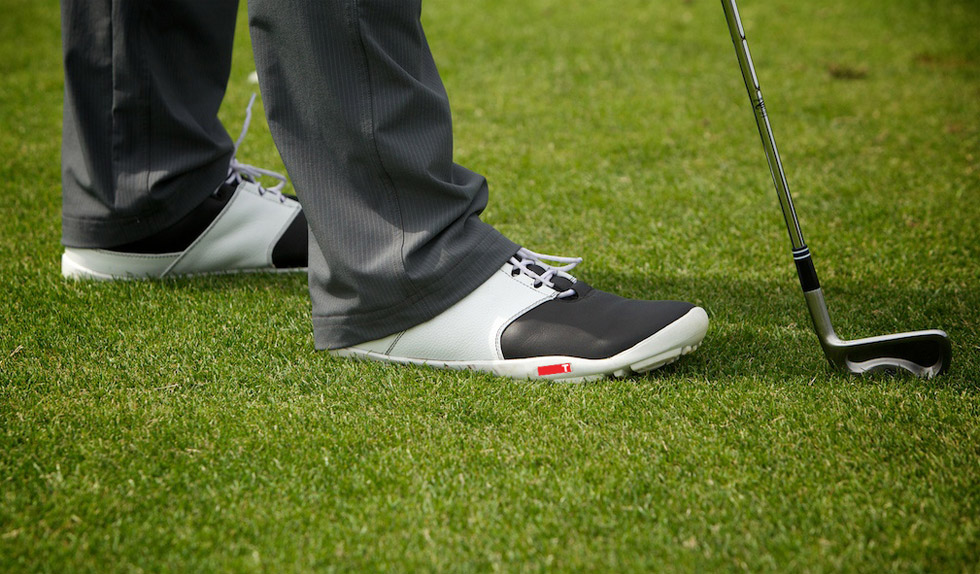 We first mentioned the TRUE Linkswear shoes in our Bag Drop article. The first and only "TRUE" shoe – the "Tour" model – was introduced back in September and has been shipping since earlier last week.
I've had the opportunity to try out a pair of the Tour shoes (I'll likely slip and call it the TRUE several times throughout this review, but for now the terms are almost synonymous) for the past several weeks, and though I don't want to give away the ending, I will say this: Ryan Moore ain't a dummy for wearin' them.

Design and Technology
The TRUE Tour shoes were designed with four key ideas in mind. First, and above all, the shoe was going to be comfortable. Because the shoe is intended to be the first hybrid golf shoe, in that it can be worn on or off the course, it needed to be comfortable.
Weighing in at a minuscule 11-14 ounces (my size 10s weighed 380 grams, or close to 13 ounces, and weight will vary with size), they certainly satisfied the second self-imposed demand. While other shoes weigh in around 18 ounces or more, TRUE wants their shoes to be as minimalist and lightweight as possible. They actually strive to give their customers the closest thing to a barefoot golfing experience as possible.
The guys at TRUE wanted you to feel the course like never before while wearing their shoes. To accomplish that, this new shoe keeps the player's foot at a little less than 10mm from the ground. Those 10mm consists of a "Ergo-Traction" sole with a 4mm tread, a 2.5mm outsole, and a 3mm sock liner. The shoe was designed without a midsole, which normally adds to the weight, torsional resistance, and overall height.
The barefoot platform, which maximizes surface contact, combined with the previously mentioned "Ergo-Traction" outsole provides excellent grip walking as well as swinging, in any weather conditions, without any type of spikes. That "Ergo-Traction" outsole allows the foot to interact with the ground in a natural manner, using bars and knobs to provide traction as opposed to spikes.
The Tour shoe is made up of a full grain leather upper, with 360° protection from moisture provided by the upper and the Water Proof Membrane. The integrated tongue and sockliner assist in both stability and comfort. The Outlast sockliner and footbed also allows for airflow to help keep your feet cool by allowing ventilation and temperature regulation within the shoe.
Further promoting the comfort of TRUEs is memory foam positioned in the heel collar, which forms around the shape of your foot and becomes more personalized every time you wear them. Maybe you've seen the commercials of memory foam beds? Imagine that sort of comfort for your feet as you walk the course.
Performance and Playability
I normally wear a size 10.5 or 10 in my golf shoes, so I got a pair of TRUE Tours measured at a size 10. The first thing you notice – besides the style, of course, which I'll get into later – is the weight. These things aren't just the lightest golf shoes I remember holding, they're among the lightest shoes I've ever held!
Compare the weight of a pair of TRUE Tours to some of my other golf shoes.
Brand       Model               Size        Weight
-----       -----               ----        ------
FootJoy     ReelFit             10M         602g
FootJoy     GF:II               10.5M       592g (-2%)
FootJoy     SYNRG               10M         534g (-11%)
Adidas      Tour 360 4.0 Sport  10          566g (-6%)
Adidas      Tour 360 4.0        10          592g (-2%)
TRUE        Tour (Black/White)  10          380g (-37%)
As you'd expect, the shoes continue to feel as light on your feet as they do in your hands. I did have a scare, though, the first time I slipped the shoes on: the shoe's mouth and heel are a bit smaller than I'm used to, and I was worried I'd ordered them half a size too small. My fears were calmed as I wore the shoes longer – the memory foam in the heel conformed to my heel and the shoes became easier and easier to get on and off. They still don't slide on as easily as some other golf shoes I've got, but that's simply because the heel of the shoe is not made of the same rigid, heavy materials found in other golf shoes.
If you have wider feet, the TRUE Tour may be a godsend. If you can't tell from the images in this review, the toe box eschews the tapered, narrow style found in even the relatively comfy Adidas Tour 360 4.0's in favor of a rounder, wider, and more gentle shape. The TRUE Tour gives your toes room to wiggle a bit without being sloppy or squeezing the sides of your foot. If you've ever had a great pair of slippers, the TRUE Tours may give them a run for their money.
Now, I've worn some lightweight shoes in the past. Most look pretty good and are comfortable enough when you're sitting, but if you're on your feet a good portion of the day, they lack the padding to remain comfortable. I learned this lesson during my five-hour lab sessions in college, so I was somewhat apprehensive about trying the TRUE Tours out during a full-day of teaching golf.
What a waste of worrying that turned out to be. I've never worn a more comfortable pair of shoes. Over an 11-hour day, I didn't think about my feet or my shoes at all. I've got a pair of comfortable Skechers that I like to teach in, but the TRUE Tours blew them out of the water. My feet didn't just feel "okay" by the end of the day – they felt good. Slipper comfort that lasts all day? Yes please!
Now, primarily standing in one place is one thing, but walking the six or seven miles we do when playing golf is an altogether different beast. I'm happy to say that the TRUE Tours withstood the test over hills, dales, cartpaths, greens, bunkers, the occasional wooded area, and more. The slipper feeling lasted all 18 holes.
If you've heard the tip to improve your green reading by listening to what your feet have to say, you'll know where I'm going with this next bit. One of the unexpected bonuses of having a relatively thin, flexible sole is that the nuances of the surfaces on which we play golf – the putting green, the sand, the hardpan, the patchy rough, etc. – come through loud and clear. I'm not saying that you're going to read every putt perfectly or never misjudge your lie in a greenside bunker again, but it won't be because your shoes failed to convey sensations to you. TRUE Tours are the next best thing to playing barefooted.
Unfortunately, the tradeoff of thinner, more flexible soles that transmit more feel from the ground to your feet is that there are no spikes. While the TRUE Tours provide a stable platform in the majority of conditions, some situations present an increased likelihood of slipping – wet grass, hardpan, and even firm sand among them. It's not frequent, but if you are 30% likely to slip with spikes in any given situation, that percentage increases with the TRUE Tour.
If the "no spikes" tradeoff boils down to "thin, lightweight, and super comfortable" versus "a tad more slippery," it's a tradeoff I'll gladly accept 95% of the time I play golf. The other 5% of the time – when I'm likely to encounter super slippery conditions – I'll wear a pair of shoes with spikes. This may be a matter of perception. I might be just as likely to slip in wet conditions with or without spikes, but because I'm reviewing these shoes it's perhaps easier to "remember" the wet weather slips.
Conclusion
I don't have the fashion sense of Ryan Moore, but as far as I'm concerned the guy is a thought leader in the world of comfortable golf shoes.
The TRUE Tours are, hands down, the most comfortable shoe I've ever worn on the golf course and are, frankly, the most comfortable shoe I've ever worn anywhere. They fit well, hold up well, and leave my feet feeling great at the end of a long day of teaching or golfing. While they may not be ideal in slippery conditions, they're a winner every other day of the year.
I believe in taking care of my feet, and at $159 the TRUE Tour is a winner three times over. It's a quality built, comfortable shoe with just the right amount of style – it works equally well on a private golf course or at your kid's school picnic. Comfort never goes out of style.