Before long, there's nothing that exists in the pro shop that you won't easily be able to take with you on every trip to the driving range. The fine tuning and fitting capabilities of adjustable clubs may have only been the tip of the iceberg, and the new VectorX all-in-one launch monitor from AccuSport definitely takes another step in this direction.
As an avid player, just imagine how much more productive your practice could be if you had instant, accurate readings on all facets of your ball flight on every single shot. While it won't directly correct your swing, the information presented on every shot is undoubtedly useful in reinforcing your good swings.

Regardless of whether you're a teacher, a club fitter, or a passionate player with deep pockets, the advantage the VectorX can give you is immediately noticeable. The portability factor makes this one very desirable product.
We are very pleased to bring the same VectorX technology, which is already a trusted tool for teaching pros, retailers and OEMs, to the serious golfer. Up until now, this type of launch monitor system was only available at local golf retailers or pro shops.

Don Thorup, President, AccuSport International
For the player who is serious about improving their game, the VectorX provides the detailed and immediate feedback that is usually only found at an indoor training facility. While I don't want to say that this device can take the place of a coach and a video camera, it could be an amazing supplementary tool for those times the coach isn't available.
For the club fitter, the VectorX system might be just what's needed to set you apart from the competition. Though full dynamic outdoor fittings have been around for a little while, this portable system combines the best of both an indoor fitting and an outdoor fitting, allowing the player to see real world numbers as well as differences in ball flight between clubs – all on the unit's full color display.
By now you may be thinking "Okay, I see the benefit, but how does this thing work?" I'm glad you asked. State-of-the-art photo-metric camera with micro-lens technology captures ball statistics on every shot. The on-board computer then processes this information and provides the player with valuable information such as ball speed, launch angle, back spin, side spin, and side angle. Set up is said to take less than two minutes, as there is no lens focus adjustments needed.
The VectorX is also both flexible and accurate. According to AccuSport's website, ball speed is accurate within 0.5 MPH, spin is accurate within 150 RPM, and launch angle is accurate within two-tenths of a degree. It will also display a wealth of useful information, including how far off line the shot is, total flight time, maximum height, and total distance.
There is also a built in software interface that can provide a variety of other statistics and alleviates the need for an attached laptop. This built-in software serves two purposes – club fitting and practice. The club analysis screen can be easily changed in order to display impact performance instead of shot trajectory, depending on what type of information is desired.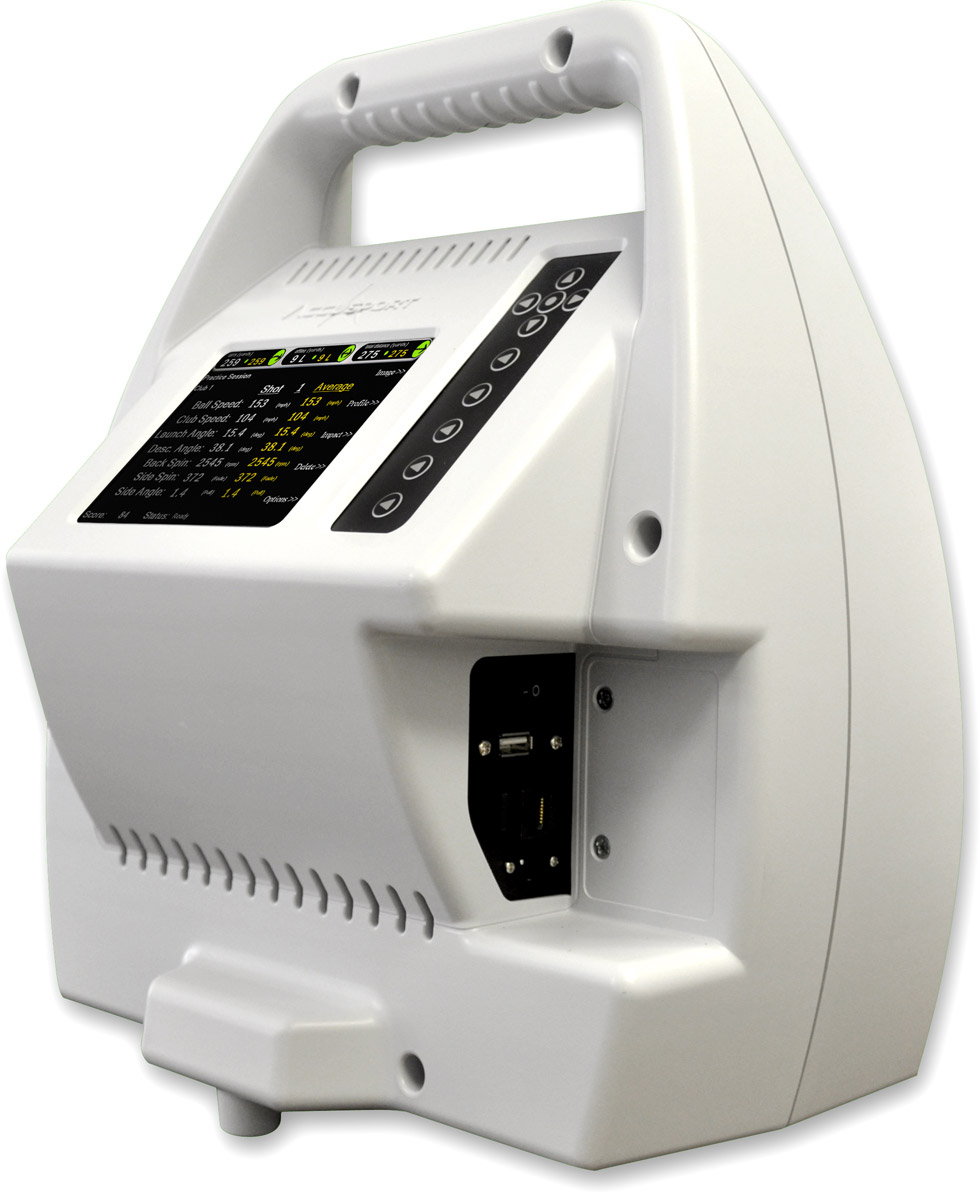 Being that the unit is fully portable, as you may have guessed, it uses an internal battery, which will give the player up to two hours of uninterrupted use. Need more juice? Well, if that's the case, AccuSport sells an external battery on their online store. Of course, first instinct probably leads you to think of using the VectorX at the driving range, but thanks to it's portable design, it can easily be set up in a basement, garage, backyard, or attic, making it a valuable training aid year round.
Though the on-board software interface provides a great deal of data, combining the VectorX with a computer loaded with AccuSport's VFit, VTeach, or VRange software packages takes the product to another level, as you can combine video analysis with statistical data from the monitor for a complete analysis.
VectorX is also perfect for the growing number of young golfers who are working towards playing on the next level, whether that's for their high school team, college, or even one of the professional tours. There are currently thousands of golfers who play high school and college golf. VectorX is ideal for these players.

Don Thorup
Pricing
The VectorX will run you $3195, and can be purchased at AccuSport's online store. Leasing options are also available. In addition to the VectorX, you will also find the Vector Pro, as well as the previously mentioned software suites and a number of accessories for both units. Included with the VecorX is a universal AC Adapter, the user guide, international plug link, and warranty card.
Final Thoughts
If you can afford it, the VectorX looks like a dream for players, coaches, and club fitters alike. Add in a port to attach a camera somehow, so that the data from each shot could be seamlessly synced with video on each swing, and this becomes just about the only tool you'll ever need. Though the price probably seems pretty high to the amateur player, it's an investment that makes a lot more sense than a new set of clubs every year. For the teacher, the VectorX would likely pay for itself pretty quickly. I can imagine an instructor having one of these units set up at the driving range, using the data during a session a student, while everyone else at the range continuously watch and think of how much they'd like to try it out. I'd think that coach becomes popular pretty quickly.