The folks at Callaway Golf have been busy lately introducing new products that they hope will make their way into your bag in 2008. According to George Fellows, Callaway Golf President and CEO "This is the deepest, most robust new product lineup we've ever offered." Based on the sheer amount of new products, he's not kidding.
Never one to shy away from using composite materials, playing with geometry and making getting fit for your clubs easier with the OptiFit system, Callaway Golf is making some major line-up changes for the upcoming year.
From new offerings in the Fusion line (including a square fairway wood), the X-Series, new Big Bertha Irons, women's clubs and oh yeah, new line of golf balls, Callaway Golf has delivered an early gift under the tree for the holidays. You'll need a little bit of patience to wait until the first quarter of 2008 to get your hands on some of these goodies but it looks like it may be well worth the wait.

FT-i Squareway Woods
It didn't take Callaway too long to incorporate the square shape in a fairway wood. The new FT-i Squareway utilizes the Fusion multi-material construction technology and boasts an oversized head shape to give you more forgiveness and stability at impact. Callaway claims the MOI is approaching that of its drivers, so the Squareway really looks to be a "mini-me" driver. Getting square with your fairway wood will cost you $299.
FT Irons
These are not your run-of-the-mill irons as a plethora of technology has been crammed into the new FT Irons. Sporting a titanium face, a "tunite cradle" that allowed the movement of 80% of weight to the perimeter to create a higher Moment of Inertia, an insert of "chemically engineered thermoplastic urethane" with a thinner topline and less offset, Callaway Golf is trying to broaden the appeal of their top-of-the-line offering to golfers. These are some nice-looking irons but get your pocketbook ready as a set of these will cost you a cool $1,099 for steel and $1,299 for graphite.
In addition to the Squareway and FT irons, the Fusion line will also include a new FT-i Tour Low CG driver, which boasts the highest MOI of any Callaway driver and will set you back $529, new FT Fairway woods, which use the OptiFit Weighting System that allow the golfer to choose between Draw and Neutral bias and comes in two models; standard which will cost $249 and a Tour version that will run $269.
A new line of FT Hybrids that utilize the same OptiFit Weighting System and come in either Draw or Neutral bias and will be cost $199. Another new iron set include the blended FT i-brid set (steel/$1,299; graphite/$1,499 which Callaway claims are some of their most forgiving irons made to date.
X Fairway Woods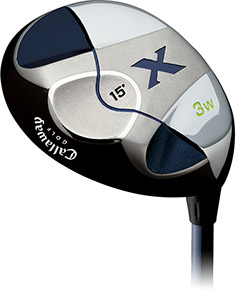 The X-Series fairway woods have been updated for 2008 by utilizing the Modified X-Sole Design that was initially used in the 2007 X Hybrids.
According to Callaway, this "lowers the leading edge and provides clean turn interaction from the rough or fairway. They will come either in steel shaft ($179) or graphite ($199) with a Tour model ($219) available as well. If these are anything like the X Hot from last year, they should be a great seller. The color scheme looks pretty cool too.
X-Forged Wedges
Wedge guru, Roger Cleveland designs some new wedges for 2008 with input from the Callaway Golf Tour staff. The new wedges utilize 1020 carbon steel which is softer and provides better feel, a "tighter heal-toe radius for increased versatility" and of course, the Mack Daddy grooves to provide you with more spin and control. Two finishes are available; Chrome ($109) and Vintage ($119).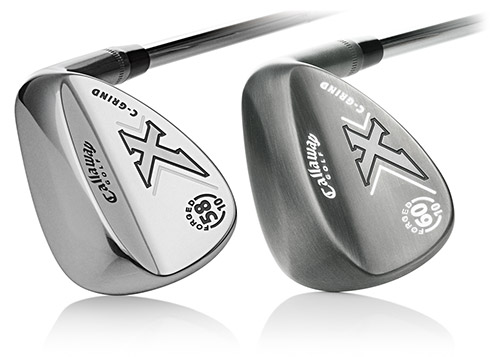 Other additions to the X-Series will be the Hyper X and Hyper X Tour drivers which utilize "Hyperbolic Face Technology", which according to Callaway "redefine the look, feel and speed at which golf balls leave the clubface." As long as they find the fairway, they're OK by me. The Hyper X will run $299 and the Tour model which offer more loft choices by going in half-degree increments rather than whole-degree increments and will have a square face for "enhanced workability and a more pleasing look at address" will cost $329.
Big Bertha Line
Big Bertha is getting some love as well with some changes to the irons. According to Callaway, they "feature the same Fully Integrated Set Design as the FT i-brid Irons as well as increased offset, a larger effective hitting area and a constant width sole in the mid and short irons. This allows for the control and accuracy of irons with the forgiveness, distance and versatility of hybrids." Seems to be a growing trend with game improvement irons. Make them more hybrid-like and easier to hit. Nice! You can check the forgiveness out yourself for $599 for a steel set and $799 for graphite.
Tour i and ix Golf Balls

Callaway redid their entire ball lineup for 2008. The top-of-the-line Tour i sports an
innovative 4-piece inertia technology utilizes a tungsten-infused outer core to shift weight away from the center of the ball, reducing driver spin for maximum distance and straighter shots, and a softer inner core for unparalleled tour feel. The softer urethane cover generates more short-game spin for precision control and aggressive shot-making and refined HEX Aerodynamics further increase distance by reducing drag.
The Tour ix for the most part will be the same with the exception of a firmer core for more distance. The Tour i and ix will cost $44.99 a dozen.
In addition, Callaway is introducing the HX Hot Bite golf ball with a softer core that will sell for $29.99 a dozen as well as an updated and improved HX Pearl which will sell for $24.99 a dozen.
Women's Big Bertha Driver
For 2008, Callaway has designed it's first ever driver made especially for women. With a slightly smaller head (440 cc) to reduce weight and a longer shaft, the new Big Bertha allows driver allows women to increase club head speed for more distance. Also, the center of gravity is set up with draw bias to help eliminate the slice or fade. Adding one of these will run $299.
In addition, the woman's Big Bertha line has been expanded to include a new driver that was designed specifically for women and will run $299, fairway woods for $199 and the GEMS complete set of clubs for $599.
Callaway is also retooling their Big Bertha Irons over on the ladies side as well. With i-brids replacing the harder to hit long irons and game-improvement mid and short irons Callaway is taking "the guesswork out of their set configuration." Some other features include a wide sole design, a lower and deeper center of gravity and longer shafts. A set of these will run $799.
Final Thoughts
Always one to push the technology envelope, Callaway Golf is expanding their use of composite materials, fancy inserts and geometry in their new line of clubs for 2008. More forgiving, higher MOI and more fitting options designed to make golf a little bit easier for you make this lineup a can't miss.