The wedge choices on the market today are enough to baffle even the most astute of short game wizards. Now, with new buzz words like "visco-elastic vibration-dampening material," Cleveland Golf has come out with the CG14, the latest in its venerable "CG" line of wedges.
For the past 20 plus years, Cleveland has held the top spot in the wedge category. Thanks primarily to Titleist's line of Vokey wedges – with assists by Callaway, TaylorMade, and weak sales of the CG11 – Cleveland's market share was reduced by a few points in 2006. After a quick recovery, Cleveland continues to once again distance itself from the competition.

Earlier this year, Cleveland released the straightforward CG12 wedge, aimed at better players. Now Cleveland is looking to target not the higher handicappers but everyone, from Tour pro to duffer, with its CG14. These clubs complement Cleveland's venerable 588 line of wedges and, Cleveland hopes, will signal the start of a new era in their wedge designs and technologies.
Head Design
Cleveland says the new CG14 wedges offer a perfect balance of performance, versatility, and forgiveness, all with unprecedented feel. The CG14's new design takes advantage of Cleveland's most advanced manufacturing process and feel technology, combining it with a tour-scrutinized shape, sole, and offset. In other words, the head shape is very classic and should appeal to the wide range of golfers Cleveland is targeting.
Technology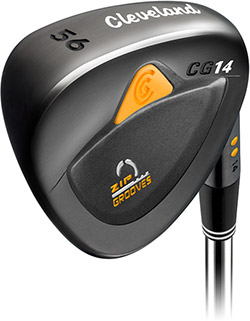 Cleveland's "Zip Grooves" – deeper, square grooves that made their debut on the CG12 – are employed on the new CG14 as well. Zip Grooves are milled to maximum conforming dimensions using a proprietary CNC mill bit and process that creates envelope-stretching geometry, yielding the largest and most precisely milled grooves available in a Cleveland wedge. Cleveland says that the CG14's larger groove volume helps to channel more debris at impact than traditional grooves, so consistent spin is generated from all lies due to improved contact. To improve shot consistency, the new groove geometry was coupled with an innovative plating process that protects the grooves during plating so the edges aren't dulled and the grooves filled by chroming.
Our review of the CG12 wedges indicates that the Zip Grooves don't offer quite the same amount of spin available from, say, a Vokey Spin-Milled wedge, and our forum members agree. Cleveland says that they round the edges of the grooves slightly, opting not for the most possible spin but rather a consistent amount of spin from all lies and less ball damage, making "Zip" grooves somewhat of a misnomer. And we can buy that line of reasoning even if we still miss some of the crazy shots you can pull off with fresh, super-spinny grooves.
The CG14 also boasts Cleveland's new "Gelback Technology," which is the aforementioned "visco-elastic, vibration-dampening material." Cleveland has positioned a cheese wedge of the rubbery material behind center of the wedge's face on the back of the club. The Gelback is vibration-tuned to remove unnecessary vibration on mis-hits, while still allowing players the necessary feedback from the clubhead for a buttery soft yet responsive feel.
The CG14 also features a slightly wider sole design to improve contact on full shots and to help prevent digging on the more refined finesse shots around the green. Additionally, the "tour offset" (is there such a thing on wedges?) provides the player a slightly different shape at address and allows players to drive the head down and through the impact zone to create a more controlled ball flight.
The CG14 wedge comes standard with a Traction Wedge Shaft, which was designed in collaboration with Cleveland's tour staff to enhance feel and improve impact consistency on wedge shots. Players will feel more head control on touch shots and a more consistent delivery at impact, which helps to improve the sole/turf interaction and effectiveness of bounce. Which brings us to…
Availability
The CG14 is available in lofts of 46°, 48°, 50°, 52°, 54°, 56°, 58°, and 60°. Low Bounce models are available in lofts of 54°, 56°, 58°, 60°, right hand only. The left hand option is available in lofts of 52°, 54°, 58°, 60°, Standard Bounce only. Users will also have their choice of two finishes – Chrome and Black Pearl. A W-Series women's model is also available. Cleveland's minimum advertised price (MAP) is $109.
But Will it Work?
Personally, it seems a bit unnecessary to accessorize a wedge with the "Gelback" technology. Though the technology seems to work in irons, I remain unconvinced that it'll make much of a difference in a wedge. Should players really be mis-hitting wedges that badly that they need to dampen the vibrations? As a mid- to high-handicap golfer, I think my shortcomings around the green are probably more closely attributed to swing flaws, and possibly a lack of concentration, and not "unnecessary vibrations."
It would seem that the CG11's inability to capture the attention of consumers was a big motivation behind this new release. This CG14 is somewhat of a replacement for the CG11 – though it also hopes to reach better players as well – and will hopefully further the cause for Cleveland's ever evolving lead on the wedge market.
This article was written by guest author Ryan Sullivan, who remains an active member of our forum.