As winter quickly approaches, and as more and more golfers are constrained to the indoor putting greens and driving ranges, we all quickly develop a case of "equipment-itis." I know I do. I start delving into the stack of catalogs leaning precariously under the coffee table. My random visits to eBay become more like daily rituals, and my cell phone beeps constantly with text messages alerting me to soon-ending auctions.
The latest release from Cobra could quite possibly become the topic of one of these text messages.

Following in the same vein as previous releases, these UFi sticks basically mimic the S9 series of Cobra Irons as far as technology is concerned – the Polymer Topline, Urethane Insert with Aluminum Back Cavity Plate, and the wide sole with heel/toe Tungsten weights. This combination sent the S9 series to the winners circle, with top honors being the "Editor's Choice" award for super game improvement irons on Golf Digest's Hot List for 2007.
"The ultimate in advanced technology for the ultimate in forgiveness." This is not only Cobra's slogan but also their objective for their newest batch of game-improvement irons, the King Cobra UFi. The UFi name stands for Ultimate Forgiveness irons. In addition to the S9's technological accoutrements, Cobra has introduced their new Metal Matrix Face Insert technology. Designed by employing multi-material integration into the clubface and advanced head design, Cobra engineers achieved the highest MOI and lowest CG of any iron Cobra has ever produced. Combined, these advanced technologies provide the ultimate in forgiveness, feel, and distance.
UFi Technology
Metal Matrix Face Insert: The UFi proprietary metal matrix face insert is a metal alloy comprised of nine different metals, which is 65% lighter than steel and 35% lighter than titanium. Nano-sized particles of Scandium (Sc) are imbedded in the metal's structure. The precision combination of the nine metals, combined with precise rolling of the material into sheets and a special heat treatment, allows the Metal Matrix material to achieve a high strength-to-weight ratio. Not unlike 431 stainless steel, which incidentally, was used in the head design of the S9 series. This combination of high strength and light weight make it an ideal material to free up discretionary weight, which moves the CG low, back and to the perimeter and increases MOI for ultimate forgiveness. The hardness is similar to that of a forging, which promotes a soft, solid feel at impact.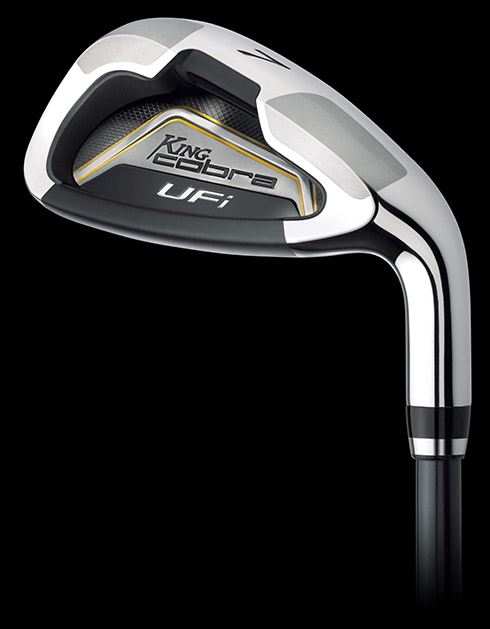 Polymer Topline: The polymer topline weighs one-quarter of the steel it replaces, so this discretionary weight is moved from the top of the club to the heel and toe weights for a low-back CG for higher launch. The polymer topline also helps dampen vibration for improved feel.
Wide-Sole Design with Tungsten Weights: Wide sole allows for lower CG and higher MOI. High density tungsten weights in the heel and toe shift weight low-back and to the perimeter for maximum forgiveness, high launch and superior distance.
Back Cavity Plate, Urethane Insert: Made of aluminum, the full back cavity plate is backed with a urethane layer to dampen vibration and enhance feel. The Lightweight urethane sole insert moves weight to the heel and toe, increasing MOI for maximum forgiveness. These two technologies work in concert with the Metal Matrix face insert and polymer topline to provide amazingly soft feel.
Availability
King Cobra UFi irons are available in men's graphite and steel shafts and include 4-GW. Appointed with Cobra/Golf Pride Tour Velvet 50D grips. Shaft choices include Cobra/GD YS-60+(60g) Stiff flex, YS-55+(55g) Regular flex; Cobra/Nippon NS Pro 900 XH (90g) to promote higher launch, greater control, and accuracy.
UFi sets will begin shipping November 1 with a suggested retail price of $1,240 (graphite) and $1,125 (steel) per set.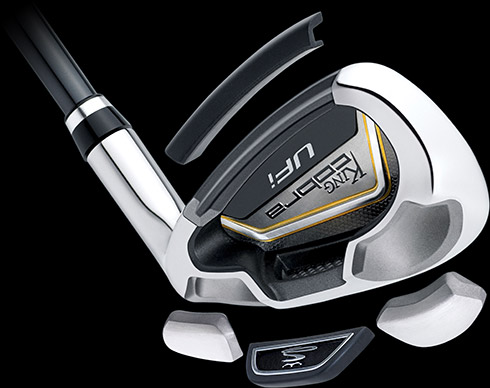 Summary
I personally can't wait to try these irons for myself. I winced a little at the $1,200 price tag, but I still think these irons would be an excellent choice for anyone looking for super-game improvement irons. If these irons are as forgiving as Cobra says they are, they will be an excellent choce. Plus, they are really great looking. Cobra has struck the right tone with this design, and these irons will surely inspire confidence when you are standing over them.
This article was written by guest author Ryan Sullivan, who remains an active member of our forum.