They say that practice makes perfect. The corollary must be that no practice makes imperfect. So, unless you're a golf professional, work at a course, or live down the street from a range, finding time to groove your swing or practice your short game can be difficult. And given the choice between spending what time you do have playing or practicing, well, it's not hard to figure out why those scores aren't coming down.
That's why I became so intrigued when introduced last fall to a relatively new product that's turned my backyard into a viable, fun practice range. The invention of a father-son team from Colorado, it feels and flies like a regular golf ball, just a much shorter distance. The odd part is, it looks like a napkin ring.

The Ball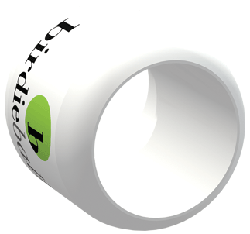 It's called a BirdieBall and, as John Breaker – the son and company president – explained to me, its simple design belies a lot of research and development that combined physics and aerodynamics with some advanced polymer materials.
What he and his father, Richard, ended up with after two years of work is a smooth-sided plastic cylinder with beveled edges that weighs about half as much as a regular golf ball. To hit it, you position it with the hole facing up. Then you whack it. Because it's hollow, it compresses against the face of the club. That compression and the weight deliver a feel that's remarkably like a real golf ball.
This feel may be its single greatest attribute. As one pro stated, "it feels exactly like hitting a Pro V1." And that's a distinct advantage over the plastic wiffle-type and foam practice balls.
Once in the air the BirdieBall takes on the spin you imparted at impact. Just like a real ball it will hook, draw, fade, and slice. It even goes sideways off the hosel. What happens in the air is that the non-dimpled surface and straight sides resist flight. At the same time, the radius on the leading edge and the hole through the center encourage flight and lift.
The lifting aspects help it hang in the air and the braking aspects reduce the distances it travels so you wind up with a short-flight, long-hang-time practice ball. Depending on the club you use, it will fly about 40 or 50 yards – much, much shorter than a Cayman ball. It also makes a cool turbine-like sound as it takes off. And because of the backspin, it doesn't bound forward into the yards of your neighbors.
I don't have quite the distance in my backyard to hit mid and long irons, but I've had a blast hitting wedges and short irons. My favorite game is to try to draw or fade it around a tree and up onto the elevated deck off the back of the house. Makes our dog crazy.
That it's a fun thing to do is another of its real benefits. You can pitch and hit to targets, hit it back and forth with a partner, even play catch with it. John told me that he's even used it in a motel room hitting off the carpet and into the drapes. The more you make it fun, the more practice you'll benefit from.
The Pad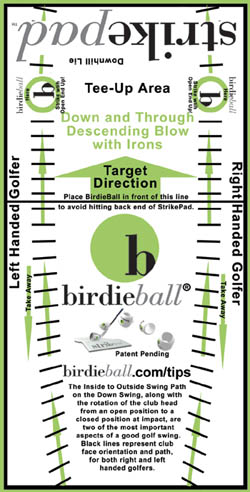 Now, lest you think all that backyard practice will require monthly re-sodding of the lawn, the company has come up with a companion product they call a StrikePad. Again, it's ingeniously simple. It's a one by two foot flexible polymer sheet that's bent slightly to form a camber.
This produces a spring-like effect that lets you actually hit down and through the BirdieBall just as if you were taking a divot. It really works and it lets you hit from any surface you like – even something as hard as a driveway. Graphics on the pad illustrate proper swing path and face angle should you need the coaching.
It definitely delivers a less jarring feel than a standard practice mat, although you lose some feedback in the process. That's because it's impossible to hit the ball fat. The sheet is just too slippery and the club slides along the surface almost unimpeded and into the BirdieBall. The slippery surface keeps the pad in place without the need for any kind of anchor, but again, it takes a bit of the realism away from the strike.
On the other hand, this easier-to-hit surface could be perfect for a beginning golfer or child who could more easily get positive feedback while still learning to hit down and through the ball.
While it's possible to hit driver off the StrikePad, it's a less than ideal simulation. John said last fall that they were working to develop a tee for the BirdieBall that would better enable driver practice, but it doesn't appear they have introduced one yet.
As good a job as John and his father have done in engineering these products, it appears they are doing just as good a job in marketing them. Introduced at the 2005 PGA Merchandise Show, the BirdieBall captured a "Best New Product" award in the instruction/teaching aids category. Since then, they've managed to get mentioned in a number of golf and general interest magazines. They have even been talked about as a gift item on Good Morning America and were a player gift at last fall's Solheim Cup.
Today, the BirdieBall is being used not just in backyards, but also in schools and junior programs. More than one golf course with no range or limited practice space has bought into the concept to provide warm up and teaching opportunities for their players and professionals.
Due to rising oil prices, the company has begun to offer a lower-cost polymer version that, while durable, probably won't stand up as well to cold temperatures and very high swing speeds as their "Pro Series" which are guaranteed not to break. If one does break, they offer to replace it with a sleeve of three.
The BirdieBall and StrikePad are available on their website in any number of configurations and quantities. Twelve balls and a pad go for $36.99. They're running a special until May 1 on their "Back and Forth" package of two StrikePads and 24 BirdieBalls for $54.99.
In the End…
Practice is what you make of it. Making it convenient and fun certainly will help you get the most out of it. The BirdieBall might just be a way to help make that happen.