Stuart Appleby cruised to his second win of the 2006 season this past weekend in Houston. Appleby started off the year by winning the Mercedes Championship for the third straight time. The Aussie showed this past weekend just how good he is with a 54-hole lead. Appleby played well on Sunday en route to winning his eighth career PGA Tour event. It's beyond me why he hasn't won a major championship.
When it comes to golfers without major championships, the media always talks about Chris DiMarco, Sergio Garcia, Adam Scott, Luke Donald, etc. That's not a bad thing because all those guys are near the top 10 in the world rankings. However, what about the golfers ranked a little lower in the world like Stuart Appleby? There are some very talented golfers without major championships, and Appleby tops the list of "underrated golfers without a major championship."

I'm going to talk about a few golfers that fit this category in every way. These guys are going to be ranked in the 20-50 range in the world rankings, but they are great golfers nonetheless. It's just a matter of time before a couple of them break out and win a big one. Here is the list:
1
Stuart Appleby
I already mentioned this talented Aussie in the opening, but I wanted to give him full respect in this article. He deserves it, since he was so impressive last weekend in Houston. Appleby has a load of talent, and it has always surprised me to see him struggle in major championships. He came very close to winning the 2002 British Open, but he fell short in a playoff to eventual winner Ernie Els.
Stuart Appleby has won eight times on the PGA Tour. Retief Goosen and Sergio Garcia each have six wins on the PGA Tour, so that definitely says something about Appleby's accomplishments. When Appleby is hot, he is one of the best golfers in the world. His problem has definitely centered around inconsistency. Take this year for example. The Aussie won the first event of the year, struggled for the next few months, and broke out again by winning last week. That has been Appleby's downfall so far in his career.
Appleby currently sits in the top-five on the PGA Tour money list for 2006, and he is a two-time winner as well. It remains to be seen if Appleby can keep up his good play for an entire season, but the talent is definitely there as I mentioned earlier. The Aussie will win a major championship before his career is over, and it just may come this year at the British Open. The Open Championship fits his game more than any other major, and I hope he gets the job done sooner rather than later.
2
Scott Verplank
Scott Verplank has only won four PGA Tour tournaments in his long career, but it still surprises me that he is majorless so-to-speak. Verplank's game really sets up well for a U.S. Open or British Open. He hits a ton of fairways and putts well. Those two characteristics usually add up very nicely in a U.S. Open Championships. Verplank also hits the ball very low which should set him up well to contend at any British Open.
Scott Verplank has a tough time finishing the deal in any tournament, much less the major championships every season. That's probably the biggest reason he hasn't won a big one yet. He probably won't ever win a major championship either. Verplank just isn't as talented as the big boys on the PGA Tour, and that will probably keep him from tasting the major championship glory. I know I'll be cheering for him though.
3
Padraig Harrington
Padraig Harrington used to be in the "best player without a major" talk, but his name has disappeared from that conversation as of late. It's probably due to Harrington sliding down the world rankings over the past several months. That being said, the Irishman is still loaded with talent and has a long career ahead of him. It was just last season that Harrington finally broke out and won on American soil (twice actually). The outlook is positive if he can get his confidence back.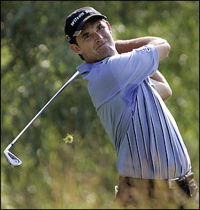 Padraig's golf game sets up very nicely for any of the four major championships. His putting down the stretch has really been the downfall in the big tournaments. Harrington has finished in a tie for fifth at a couple British Open Championships, a Masters, and a U.S. Open. However, he hasn't been able to better those finishes quite yet.
The Irishman has fallen on hard times a little this year as I mentioned earlier, but it's just a matter of time before we see the Padraig Harrington we are used to seeing each and every week. It wouldn't surprise me at all if Harrington breaks out and wins a major championship or two. His best chance to win a big one will come in either the U.S. Open or British Open.
4
Stewart Cink
I can't help but shake my head when thinking of Stewart Cink's play over the past couple seasons. If Appleby is inconsistent, I'm not sure what Cink is exactly. Cink has been on a roller coaster ride the past year or two. In 2004, Cink won a couple tournaments and won over $4 million on the PGA Tour. It looked as though Cink was elevating himself to superstar status.
Last year started off on the right foot for Cink, but he struggled late in the year. Those same struggles are apparent so far in 2006, but he has shown some signs of his old self. Cink finished in 10th place at The Masters a couple weeks back which accounts for about 40 percent of his money won this season. Nonetheless, Cink may be ready to break out once again.
Stewart Cink's game fits a U.S. Open course very well. That was apparent in 2001 when the U.S. Open came to my homestate of Oklahoma (Southern Hills). Cink missed a very short putt on the 18th hole that would have gotten him into a playoff with Mark Brooks and Retief Goosen, although he didn't know that at the time. That was a tough break for Cink, and he may not ever recover from it when playing in future major championships. Still, the talent is in place, and there is no reason why Stewart Cink shouldn't already be a major winner on the PGA Tour.
The Final Say
There are some great golfers out there who never won a major championship. Just take a look at Jay Haas. Haas was one of the most consistent golfers on the PGA Tour for a couple decades, but he never won a big one. The same can be said for guys like Scott Hoch and Loren Roberts. Both golfers had great careers but never won a major championship. They all came close (Hoch a little too close), but they just couldn't seal the deal when it counted.
Haas, Hoch, and Roberts have probably missed their opportunity to win a PGA Tour major, barring a minor miracle in the near future. The guys I listed above, however, still have time to get the job done. I am confident in saying Appleby, Harrington, and Cink will win a major championship before their career is over, but I'm not sure about Verplank. I hope he wins a major, but he will more than likely end up with the same fate as Haas, Hoch, and Roberts.
That's all I have to say this week. It's your turn to tell me what you think. Which other golfers are often overlooked in the first-time major conversation? Also, will any of the guys I listed above win a big one before their career is over? Finally, which golfers would you like to see win their first major championship in the near future? If you have anything to add, please feel free to comment below or discuss it in our forum. Thanks for reading this week's Thrash Talk!
Photo Credits: © Mercedes Championship, © AP Photo.