Maybe you're not a GPS guy. Some of you prefer obtaining your distances from laser rangefinders instead of their GPS-based counterparts. GPS units in the past have had issues with satellite acquisition times, which can lead to frustration for you, the group you're playing with, and potentially groups behind you, whereas the laser rangefinder is point, shoot, and done!
If the laser rangefinders are more to your liking, then hopefully you've considered Leupold's offerings. If you haven't, maybe you should check them out. For starters, we've reviewed previous models from Leupold, and even given a few rangefinders away! Leupold's optical systems can be found in a number of applications, some that require even more pinpoint accuracy than our precious knowledge of distance to the pin. Wouldn't you trust the makers of the same optical systems used by expert marksmen world wide? I know I would.
Read on to find out more about how Leupold's latest rangefinders might just be able to help take a few strokes off of your scorecard.

This week at the Bag Drop, we take a look at Leupold's new-for-2010 GX-3 and GX-4 rangefinders. Building on the proven GX-1 and GX-2 rangefinders (which have a couple of updates of their own), the GX-3 and GX-4 give you the features needed so that you'll never second guess your choice of club and you'll always have the confidence to make that full swing.

Our new GX-3 and GX-4 golf rangefinders build on the success of our GX-1 and GX-2 models. The GX-3 is extremely compact yet actually has a longer maximum ranging distance to the pin than GX-1 and GX-2. Unmatched versatility is the name of the game with GX-4. It can serve as a tournament-legal rangefinder or, with the Smart Key, be employed with the TGR and Club Selector features in casual or practice rounds to help any golfer play the right shots and improve their scores.

Andy York, VP of Sales and Marketing, Leupold
There are a number of new features common to both new models, as well as some updates that add to the robust technology already found in the GX-1 and GX-2. Have you ever gotten an early start, only to find that your readings are inconsistent due some lingering fog? The new Fog Mode was designed to combat exactly that problem, giving all four models the ability to cut through that remaining moisture and provide you with the accurate reading you're accustomed to.
Another new key feature to all four models is the new Prism Lock Technology. Working in conjunction with specially equipped flag sticks (now found on 2200 courses in the U.S.), Prism Lock Technology notifies you with an audible beep when the special pin is detected, and eliminates the need for stability.
Even if you're not playing a course with the previously mentioned flag sticks, it's alright, as all new models (GX-1 and GX-2 included) have PinHunter Laser Technology, which helps to separate the pin from trees or other distracting objects behind your target. All four models also offer three different aiming reticles, giving the player the ability to choose the option that works best for them. Other options include the ability to toggle between English (yards) and Metric (meters) units.
There are a number of features common to the GX-3 and GX-4 only however. Both utilize a solid aluminum body as opposed to the ruggedized plastic on the GX-1 and GX-2. Though both the GX-3 and GX-4 weigh a single ounce heavier than the other two models, the upgrade to aluminum is surely worth it. The other attractive addition is the upgrade from LCD in favor of a brighter, red OLED display.
GX-3
The Leupold GX-3 employs multi-coated, scratch-resistant lenses that not only last in the toughest conditions, but also provide crystal clear optics that are designed to last for countless rounds. To further extend the life of the unit, Leupold made the GX-3 completely weatherproof.
The compact (3.7L x 2.8H x 1.3W) unit weighs in at only 7.8 ounces for maximum portability, and is is accurate from a whopping 450 yards out, with a 6x magnification. One-touch scan mode ensures quick, simple operation. The GX-3 will be available in stores this May with a suggested retail price of $500.
GX-4
Along with all of the functionality that makes the GX-3 a great option, the GX-4 adds a number of appealing options. Exclusive to the GX-4 (and GX-2) is True Golf Range (TGR). If you've ever missed a green long (or short for that matter), due to elevation differences between your ball and your target, TGR might just be the key to shaving a few strokes from your score. By taking into account factors such as incline, decline, temperature, and altitude along with the line-of-sight distance, TGR displays an adjusted "plays like" distance, giving you the information you need to make a confident club selection.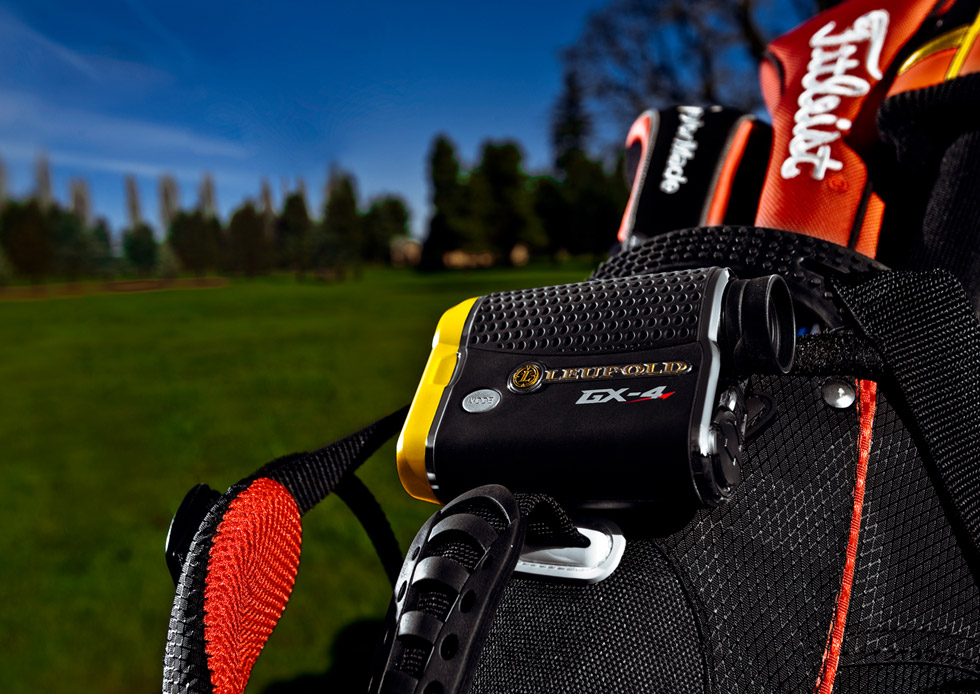 The GX-4 takes club selection one step further with the Club Selector feature. Club Selector asks you how far you hit three of your, then takes into account data obtained from TGR, and ultimately recommends the proper club for you to use. I know I could definitely use that from time to time!
The key to these features is, well, the Smart Key. The Smart Key is, in simplest terms, a specialized yellow face plate which enables functionality such as TGR and Club Selector. The standard chrome face plate turns the GX-4 back to a completely legal, line-of-sight rangefinder, and these face plates are quickly and easily interchangeable. Both ship with the GX-4.
Like the GX-3, the GX-4 makes use of a multi-coated lens system for the ultimate in both clarity and durability. The 4.1L x 2.8H x 1.3W frame is compact and completely weatherproof, and can accurately acquire a pin up to 450 yards away. Included with the GX-4 is a Cordura case for easy carrying. Like the GX-3, this high-end model will be available this coming May, though the suggested retail price of the GX-4 is $625. As with most things, the actual retail price should be lower.