This week is somewhat of a first for Bag Drop, as this marks the first time we've given dedicated coverage to Japanese clubmaker Miura. Does that mean they haven't been worth mentioning up to this point? Absolutely not! In fact, it's quite the opposite.
I'm sure a number of you have heard the name from time to time, often from someone either praising the exceptional feel and performance of their irons, or making the claim that the manufacturer forges irons for Tiger Woods, and many other tour players. While I'm not going to touch that subject with a 1-Iron, I will give you a little bit of background on Miura and then we'll take a look at their new forged K-Grind wedge.For the past 47 years, Katsuhiro Miura (who is still currently active as a clubmaker and continues to direct design and manufacturing for Miura Golf, Inc.) has continually pursued perfection in all clubs that bear his name, a tradition that will surely continue with his sons Shinei and Yoshitaka following in his footsteps. Their positions as heads of the forging division and finishing division of Miura Giken virtually guarantee that the fathers' pursuit of perfection will be carried on for years to come. What you may not know is that Miura Giken manufactures forged clubs as an OEM for some of the biggest names in golf around the world. Though we can't drop any names, the championships won by players with Miura-forged clubs that are on public record include two Masters Championships, one U.S. Open, one Senior PGA Championship, and 25 wins on the Japanese Tour.
The creation of Miura Golf Inc. in 1994 marked the entrance of Katsuhiro Miura's own brand of clubs to the North American market. This gave the multitudes of golfers in the United States and Canada their first exposure to the expertise and craftsmanship that comes from Miura's multiple decades of experience in the industry.
Miura's legendary reputation has come from the performance and feel of their forged irons, which are manufactured in Himeji, Japan. This, in large part is a product of their forging techniques. These forging processes modify the molecular structure of the mild steel which provides uniformity across the hitting area. The end result is tightness in the grain structure of the metal, and ultimately a very controlled, soft feel.
Their proprietary spin welding process is used to ensure consistency in the hosel and guarantees that the bore depths and hosel heights are exactly alike in every club. Because of this, you can be certain that every head/shaft will be perfectly centered.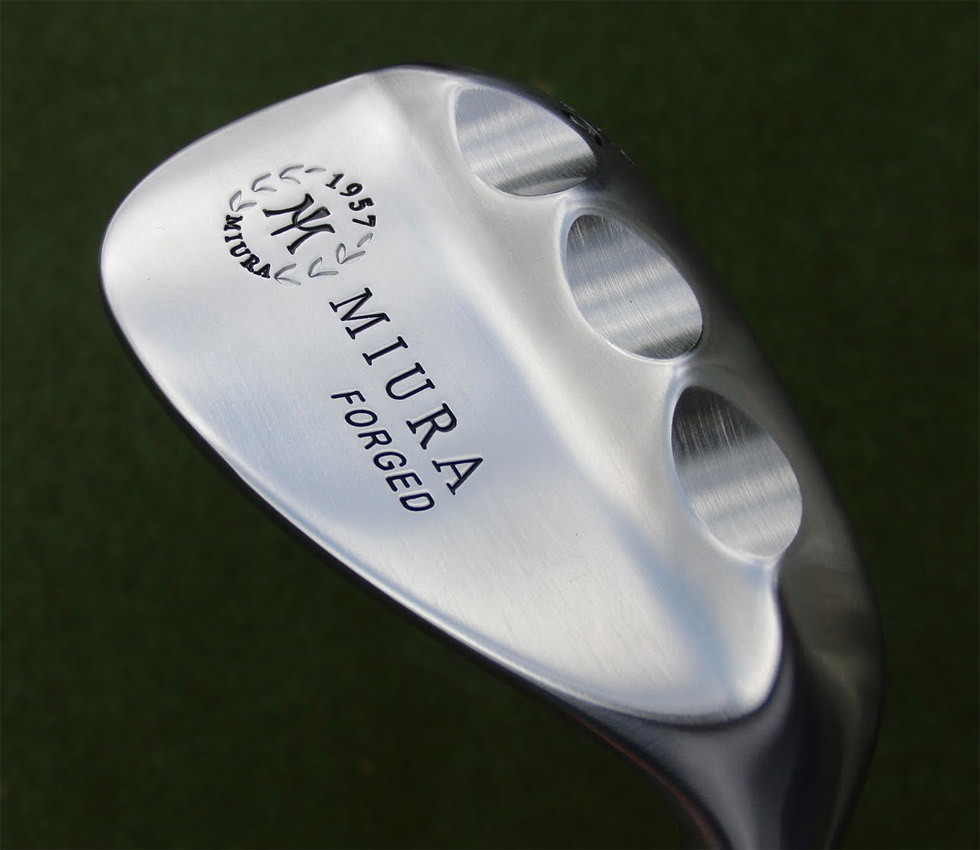 Miura Golf recently released their new K-Grind wedges which are the latest addition to their 1957 Series of wedges. This new model has a very interesting "fluted" sole design. The intention of the unique channels is to improve turf interaction by reducing the resistance against the sole in all lies. Whether you're playing out of the sand, the rough, or the fairway, these channels are intended to help the wedge work with the grass/sand instead of fighting against it. They do this by spreading the turf, instead of bluntly impacting it, which is going to promote acceleration through the ball, regardless of the lie. As we all know, acceleration through through impact (as opposed to deceleration) is going to lead to optimal ball flight, greater spin, and an overall better shot.
We are very excited about the release of the K Grind wedge. The unique sole design (each wedge grinded by hand) delivers uncompromised performance to your short game.

Bill Holowaty, VP of North American Operations, Miura Golf
The design of the sole is also intended to allow for both versatility and feel. When faced with a sand shot, the flutes act as rails, yet off the fairway, they give the player the ability to easily manipulate the bounce, making it very flexible and useful in a number of situations.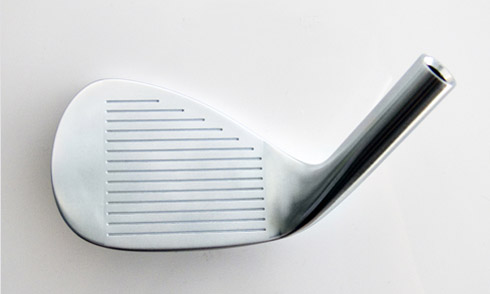 Options and Availability
The Miura K-Grind is comes in two available finishes; black and white nickel chrome . For now, the selection is limited, as the only available loft is 56° and is another righty-only club. Standard lie angle is 63.5°, though this can certainly be dialed in to fit you if need be. The standard bounce angle is 12°
More lofts are planned for later this year. Among the available shafts are models from True Temper, Royal Precision, Nippon, KBS, and others. The stock grip is Miura's Velvet Full Cord.
The K-Grind Wedge is the latest addition to Miura's current wedge lineup, which includes the Wedge and Black Wedge series as well as the Y- and C-Grind wedges. Their iron offering is also noteworthy, containing models such as he CB-501, the CB-202, the CB-301 (all cavity backs), plus the MC-102. If you've only heard of Miura, and the myths that go with them (such as the one about all of Tiger's blades throughout his professional career have been forged by Miura), they're a company with which you may want to look into. They don't have the market share of a Mizuno, Titleist, Nike, or Taylormade, but over the years they have gained a significant, passionate group of followers.
It's also worth noting that they only produce a limited number of clubs every year, and they don't have a set product release cycle, so if you have an interest in the new K-Grind wedges, or any of their other currently available clubs, it may be best to act as quick as you can to ensure they're available.