For you Mizuno fans, get ready for your favorite itch to be well scratched this week, as we look at Mizuno's MP line of clubs for 2010. If that's not enough, stay tuned for part two, where we'll give you the latest on what's new in the MX-series.
For now, we'll be taking a look at Mizuno's latest offerings in the MP line of products, including the MP FLI-HI, the MP T-10 wedges, and we'll finish up with the MP-58 and MP-68 irons. If you're not a Mizuno fan, you might just become one after seeing their latest offerings. Follow along to see what all the fuss is about!

MP FLI-HI
First out the gate is the MP FLI-HI 2010 iron hybrid. As you can see from the picture below, this isn't a hybrid in the same sense as Mizuno's MX-700. Instead, it's more of a driving iron, created as a direct replacement for your long irons, though without the frustration that can sometimes come with a long iron. Mizuno focused on playability with the FLI-HI, and in doing that, they created a long iron replacement with an extra-wide sole for maximum forgiveness out of most any lie. The center of gravity is positioned low and deep in the head in order to get the most out of that not quite perfect shot, while also promoting a more consistent high launch.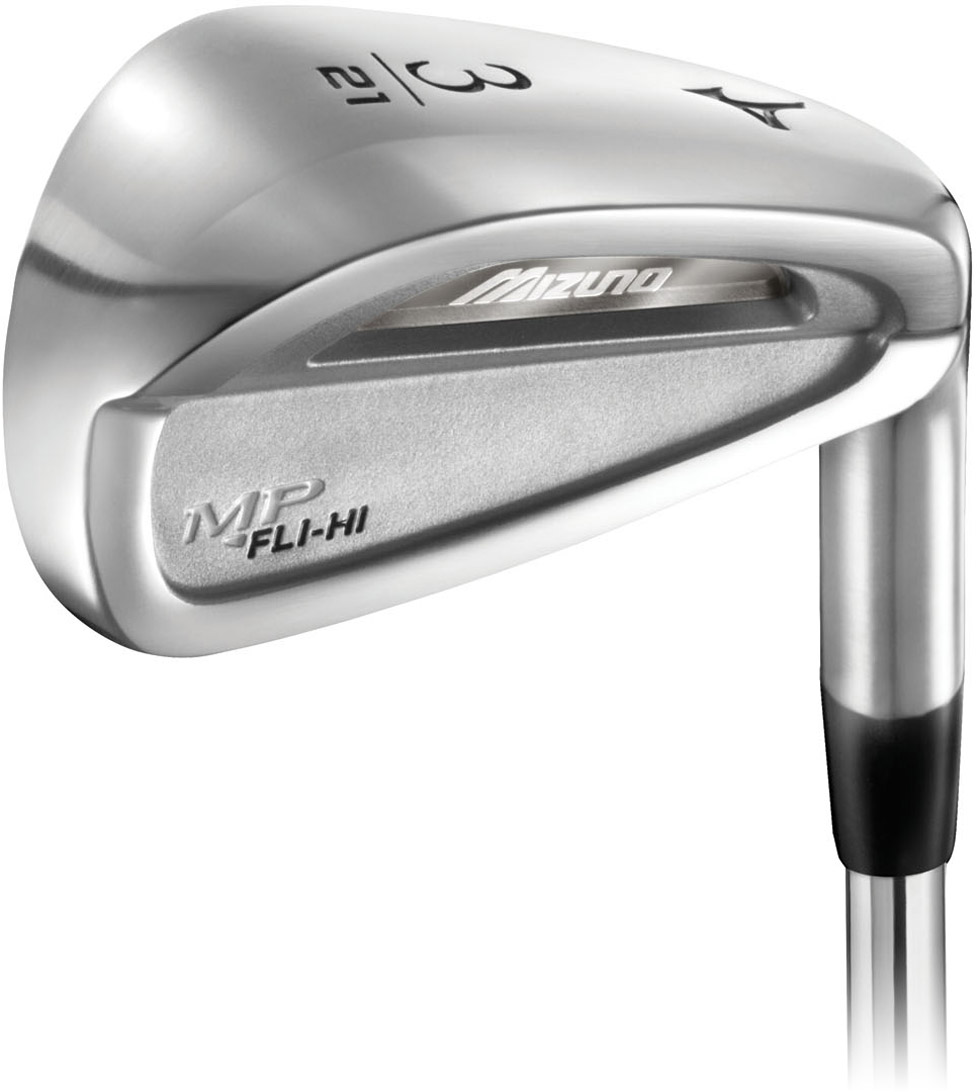 The MP FLI-HI takes advantage of Mizuno's Hot Metal Technology and is created by plasma welding a thin ES230 maraging steel face to a stainless steel body to maximize the elasticity and rebound, which results in a higher ball speed. Mizuno's Grain Flow Forging process is used on 4135 high strength steel for construction of the face and neck, which Mizuno says provides a solid, consistent feel and makes the club as durable as possible. The FLI-HI is then finished off with double nickel chrome plating.
The head of the FLI-HI maintains a traditional, player-preferred shape with a thick front edge bevel, which should further support consistency and ease of launch. The modified U-Grooves are employed in order to conform with the new groove rules which go into effect at the beginning of 2010.
Options, Pricing, & Availability
The MP FLI-HI can be included in your purchase of another Mizuno iron set, or separately if you'd like to add it to your existing arsenal. It can also be fit to your specifications, if alternate lengths or lie angles are required. These hybrid irons are meant to replace your 2-, 3-, and 4-irons, and are thus offered in lofts of 18°, 21°, and 24°.
As much as I hate to break the bad news to you lefties, the FLI-HI is only available to right-handed players at this time. The stock shaft offering is the Project X 5.5 steel, which I think is an added bonus. As far as the standard grip goes, you're looking at the Mizuno/Golf Pride M-21 58 Round.
Customization options are available from the Mizuno's Custom Department if you prefer a different shaft or grip. Expect the MP FLI-HI to run $140, though any custom options may cost you a little more. If you're ready to try one today, you're in luck, as they're available in stores now!
MP T-10 Wedges
Next in line is the Mizuno MP T-10 forged wedges, which utilize Quad Cut grooves. The first question that probably comes to mind is whether these conform to the Conditions of Competition. The short answer is no, not if you're playing pro tournaments. If you're playing elite amateur tournaments, you will be able to game these up until 2014. For the normal weekend warrior, you're in the clear until 2024. Now that that's out the way, let's take a closer look at what makes these wedges tick.
The Quad Cut Groove Technology is essentially a manufacturing process that provides strict control of the width, depth, draft angle, and shoulder radius of every groove. By using such a precise process, the consistency of the grooves is guaranteed. Spin control is ensured from most any lie due to the aggressive nature of the grooves.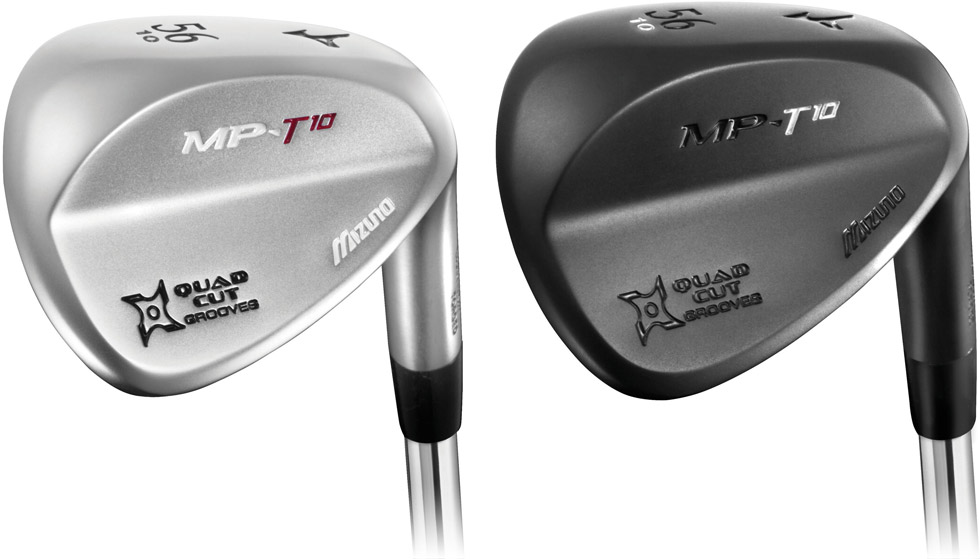 The MP T-10 is a forged wedge, utilizing Mizuno's previously mentioned Grain Flow Forging process for the 1025E "Pure Select" mild carbon steel. The teardrop-shaped wedge makes use of a 360° sole grind on bottom, though at address all you will see is the sleek, slender top line that most all players look for.
Options, Pricing, & Availability
Two glare-resistant finishes are available for the MP T-10, plated white satin and raw black satin. It comes in a variety of lofts, ranging from 50° up to 64°, with the 50°, 53°, 56°, and 58° models using a 35.25″ True Temper Dynamic Gold shaft and the 60° and 64° using the same shaft, but a quarter inch shorter. Most lofts have multiple bounce options as well. Beware that not all models are available to lefties. Mizuno again went with the Golf Pride M-21 58 round grip as the standard. Luckily, for players such as myself that require a little adjustment, Mizuno's Custom Department offers a wide variety of customization options, from lie angle adjustment to alternate grips and shafts. Expect the standard model to cost $120, and you can find them in stores now.
MP-58
If you've made it this far, it was worth the journey, as this is the part I'm sure a lot of you have been waiting for – Mizuno's new forged irons, the MP-58 and MP-68. I'd hate to make you wade through any fluff, and there's not much I can say about them that hasn't been said a million times before, so let's dive right in and take a look at the MP-58.
The MP-58 makes use of Mizuno's Dual Muscle Titanium Technology, which builds on the Dual Muscle Technology previously employed on the MP-52, but adds a high-tech Titanium metal along with the 1025E "Pure Select" mild carbon steel during the Grain Flow Forging process. This is done in order to leverage the qualities previously found in the older MP offerings, yet add a greater degree of playability. The purpose of the Titanium is to provide the perfect reinforcement behind the impact area, which Mizuno says adds to the soft, solid, and consistent feel players expect from Mizuno's irons. The Titanium also assists in raising the degree of playability by increasing the amount of weight that is pushed to the perimeter of the head. As a result, Mizuno says to expect a workable, penetrating ball flight, along with an increase in MOI.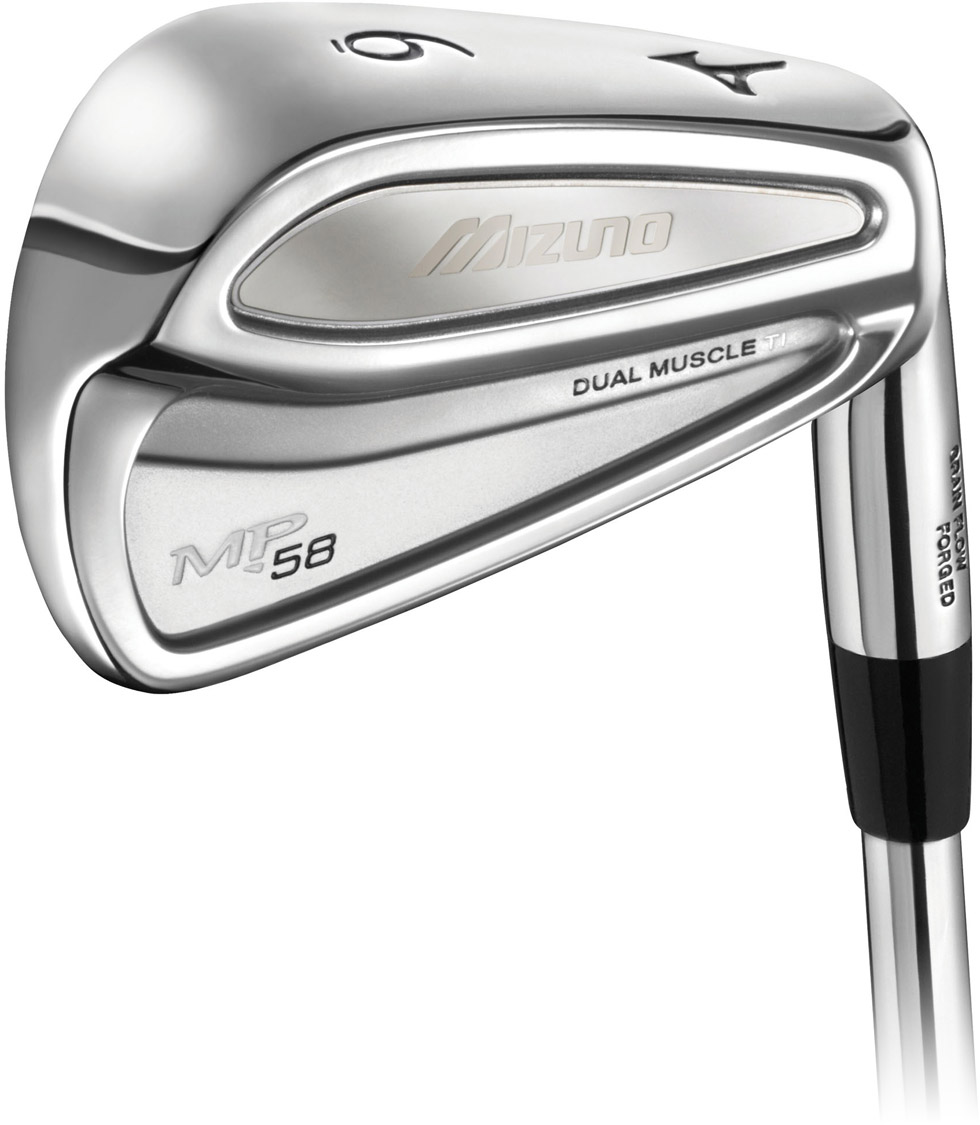 Modal Analysis was used to make sure impact, sound, and feel was right where they wanted it to be. The non-physicist definition of modal analysis is basically the use of computer modeling to predict vibration patterns and shapes, and in this case, those computer models are able to determine the feedback that you, the player, feels from this club upon impact with the ball. Kinda crazy, isn't it???
According to Dick Lyons, Vice President and General Manager of Mizuno USA, the MP-58 is the most technologically advanced iron Mizuno has ever created. By using tools such as modal analysis, he says that qualities such as impact, sound, and feel are optimized.
As far as the externally visible qualities you can see, a rolled leading edge and trailing edge are combined with a flattened mid-sole to produce a great looking head that promotes consistent ball striking ability from all types of lies. To top it all off, the MP-58 features a double nickel chrome plated finish with a black chrome stainless steel muscle medallion. The MP-58 is legal for use by all players, even after 1/1/2010, as modified U-grooves are utilized in the face of the club.
Options, Pricing, & Availability
The standard MP-58 set will include a 3 iron through pitching wedge, and have the True Temper Dynamic Gold S300 or R300 as the standard shaft option. I really hate to break this news once again, but there isn't a left-handed model at this time. Like the previously mentioned clubs, the grip of choice is the Mizuno/Golf Pride M-21 58 round grip is used, though custom options are available if needed. $1200 is what it will take to make these yours.
MP-68
Just like the MP-58, the MP-68 takes all of the best qualities of previous models, and improves on them. Mizuno has deemed the MP-68 as the next generation of muscle back irons, and you'll soon see why. Computer modeling was used in designing and implementing the 3D muscle technology used in Mizuno's new flagship iron. The 3D muscle technology is credited in optimizing the center of gravity, placing it lower and more face-centered. Mizuno says the result is a more penetrating and workable ball flight, with more control than ever.
The MP-58 and MP-68 share many of the same design and production elements. Examples of this include the use of 1025E "Pure Select" mild carbon steel in the forging process, again in order to maintain the soft feel players have come to expect from Mizuno. Modal analysis was also used here as well to ensure the feel of the club. The MP-68 also has a rolled leading edge and trailing edge, with a flattened mid sole, as well as the same double nickel chrome plated finish found on the MP-58. Modified U-grooves finish off the face. What separates the MP-68 from its slightly larger sibling is its lesser offset and the lack of the medallion insert.
Options, Pricing, & Availability
First off, for you lefties, I saved the best news for last. The MP-68 is available in both right handed and left handed models. Though the True Temper Dynamic Gold S300/R300 is the stock shaft, for an extra Benjamin, you can swap in favor of the Project X 5.5 steel shaft. That brings us to the price. The price tag on a set of MP-68s is a cool $1100, but if you prefer the Project X shafts, plan on dropping $1200 to get these in your bag. As always, custom options are available. You should be able to find them in stores now.
Final Thoughts
Stay tuned for part two of The Sand Trap's overview of Mizuno's newest products, where we'll take a look at a couple of new iron sets in the MX line. See you then!!