From time to time, various news here at the Bag Drop gets lost in the shuffle, and though we may not cover it right around the launch date, it just wouldn't be right to go on and not cover it. This is especially products from a fan favorites such as Mizuno. That is why this week, we're going to take a look at the new MP Titanium fairway woods and MP 630 and 630 Fast Track drivers from the guys that have produced some of the most popular irons on the market.
Even though they shipped back in February, they certainly deserve coverage here. Mizuno's drivers and fairway woods haven't quite reached the levels of adoration that their irons have achieved, but that just because they're not as popular doesn't mean they should be casually overlooked. The engineers at Mizuno spends just as much time with their wood lineup as they do with their irons, and that alone warrants at least a demo. So without further delay, let's see what these new fairway woods and drivers have to offer.


MP Titanium Fairway Wood
First up is the MP Titanium fairway wood, which looks to be a strong option if you're looking for more of a player's wood. Almost every fairway wood and driver we cover here prides itself on the mass amounts of forgiveness and how much lower and deeper the center of gravity is this year versus last year's model. The MP Titanium simply isn't one of those clubs. Instead, the multi-piece titanium construction allows for the CG to be located low and more forward, which produces optimal launch conditions with low spin. The end result is great distance control and optimal ballflight.
The Hot Metal face is forged out of Beta Titanium and makes use of Mizuno's CORTECH multi-thickness face. This combination of engineering and materials produces COR numbers that approaches the USGA's legal limits.
The multi-piece Titanium construction utilized in the MP Titanium allowed us to accomplish things that simply aren't possible with more traditional fairway wood designs. The Hot Metal Beta Ti face provides COR numbers that are approaching that of a driver, and you'll definitely notice an explosive, powerful feel at impact. In addition, the MP Titanium is very much a player's design, which makes it possible to work the ball in all directions.

Dick Lyons, V.P. and General Manager, Mizuno
Further catering to the better player is the compact head shape and slightly open face. Helping to make the these fairway woods easily playable from off the deck is a healthy amount of sole relief.
Options and Availability
Three loft options are available; a 13.5° strong 3W, a 15° 3W, and an 18° 5W, though only they're only available for right-handed players. The MP Titanium comes equipped with a 74 gram, "engineered for Mizuno" Mitsubishi Rayon Fubuki shaft that's offered in Regular, Stiff, and X-Stiff flex profiles. Topping it off is the Golf Pride/Mizuno M-21 Round grip. If other shaft or grip options are more to your liking, Mizuno's Custom Club department can get you set up with your preferred components. MSRP is set at $300, though you can likely find them for closer to $250 at this time.
MP-630 and MP-630 Fast Track Drivers
The next evolution in Mizuno's drivers led to two models which share more than just a name badge. The first of which is the MP-630 Fast Track, Mizuno's next iteration in their line of adjustable weight drivers.
45 different weight configurations all but guarantee that that the MP-630 Fast Track can give the player the exact trajectory and ballflight they're looking for (solid, repeatable swing is required, of course). Unlike other adjustable drivers, the weight's are never actually removed from the driver, as they slide within the track in the back side of the sole. This ensures that you don't have to worry about losing and re-buying weights at any time. Whether you're looking to launch the ball higher or lower, or even play a draw or fade, one of the 45 different weight configurations are sure to promote just what you want.
The original Fast Track design was a breakthrough in adjustable technology, as it became the fastest and easiest way to effectively manipulate weight in order to tune your ball flight. Now, this next generation of Fast Track technology in the MP-630 Fast Track once again takes trajectory tuning to a whole new level. Within the 45 possible ball flight settings, players can not only control their ball from left to right, but the weights can now also be adjusted to control up-down trajectory. Simply put, Fast Track is the ultimate technology for unsurpassed ball control off the tee box.

Dick Lyons
Like the MP Titanium fairway wood, a very traditional, pear-shaped appearance is maintained when looking at the club from the address position. The face features Hot Metal technology and is composed of Ti-9 Titanium with CNC CORTECH technology, and was designed to have a larger sweet spot for longer distance, even on off-center contact. Other tweaks include frequency tuning, which the engineers at Mizuno used to perfect the sound and feel.
On the other side of the coin, we have the standard MP-630. The non-adjustable MP-630 has a number of unique qualities over the Fast Track. For starters, it features a 6-4 Titanium Hot Metal face that was designed to give you explosive distance and supreme control. Like the MP Titanium fairway woods, the center of gravity is located low and more forward than that of most drivers. Though this driver may not be ideal for the player looking for max forgiveness, it may very well be perfect for the player who wants as much control and workability as possible. Not only that, it was designed to produce a mid-to-low amount of spin.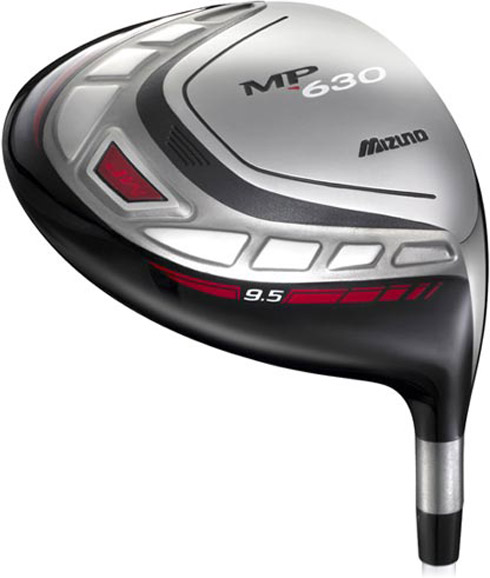 If you are looking for Tour Ready performance right out of the box, the MP-630 delivers. The exotic Hot Metal face in the MP-630 produces unbelievable ball speeds for explosive distance, while a neutral, low COG provides a penetrating and unbiased trajectory, all in a player preferred head shape.

Dick Lyons
Options and Availability
Unfortunately for lefties, both the MP-630 and MP-630 FastTrack only come in right handed models. Both come stock with the 64 gram Mitsubishi Rayon Fubuki shaft that was engineered for Mizuno. The non-adjustable MP-630 comes in two lofts, 9.5° and 10.5°, while the Fast Track has three loft options: 8.5°, 9.5°, and 10.5°. MSRP is $299.99 and $499.99, respectively. Rounding out both drivers is the Golf Pride M-21 Round grip. Like the previously covered fairway wood, if you prefer a different shaft or grip, Mizuno's Custom Club department can get you taken care of.