In sports, whether we're talking about a single player, a team, or even the equipment our favorite athletes use, every entity forms a certain image, or a certain formula that people get to know that entity by. Generally speaking, if you have a successful formula, you stick with it, and over time, with a tweak here and an enhancement there, it may evolves. Sometimes it radically changes for no reason (see Harrington, Padraig), and other times, it gets a little bit too stuck in its ways and resists evolution, even when the situation calls for it (see Pittsburgh Steelers). Though more often is the case that these entities are able to evolve while at the same time staying true to their roots.
Enter Nike Golf. In a little short of a decade, they have kept that balance of both evolution and staying true to what got them to the big game. Technology has been the name of their game for quite a while, and a lot of times it's out there and in your face, like it or not. But ever so slowly, their products evolved as well, by combining that technology with more traditional appearances, while still keeping options alive for players that don't mind a little bit of that technology to be visible. I think the products we've got for you this week prove just how far they've come in a relatively short time. Follow along as we take a look and see what I mean.

Before we jump into the new apparel and equipment, there is a little more to the story you might want to know about. As a company, Nike Golf has a bit of a new approach to the golf market. Over the last few years, we've seen a number of different brand names from Nike, including SQ, VR, Slingshot, Ignite, and many others. At times though, the lines have been a little fuzzy as to which of these lines are geared towards better players or those just starting. Now, there will be three main brandings: VR for the accomplished players looking for the utmost in control and performance, as well as traditionalists; SQ will be the game improvement brand, including clubs such as the Machspeed that we'll get to shortly; and for beginners, the Slingshot brand, which offers the most in terms of forgiveness and ease of use.
I think what you will see now is a stronger, meaner, leaner Nike Golf. We will attack the better player franchise with some amazing clubs. Looking at irons in particular, we will be very aggressive. Overall, you are going see us take a real athletic positioning… You will hear us talk in more athletic terms. Our mission statement is to maximize athletic performance.

Rob Arluna, Business Director of Golf Equipment, Nike Golf
Gidge Moody, who is the Director of Product Marketing had this to add:
In the past, we probably tried to stretch out the SQ brand too far. Since we introduced VR a couple of years ago, we started cleaning up our categories. Now we are completing that transition. All our workable clubs (different flight patterns and trajectories) fall under VR. The help and assistance clubs fall under SQ. Looking ahead to 2011, it will be our big year for VR.

Gidge Moody, Director of Product Marketing, Nike Golf
Keep all of that in mind as we take a look at some of the new equipment coming this fall from Nike.
Nike Performance Carry Bag
This latest bag from Nike was designed for both walking and riding, and appears to be basically version 2 of the SQ Tour Carry bag. The back of the bag features a ventilated back pad, which increases airflow and makes carry this bag an even more comfortable experience. The same Nike Air technology found in the shoes makes its way into the shoulder straps for added comfort. These straps have been enhanced in that the air pocket within the strap so that it has a more ergonomic fit across the shoulders.
The bag also has a dual durometer base to provide excellent stability on a cart or on the ground. On the top side you will find a two-tone, 9.5″ oval top that houses a 14 way full length divider system.
Storage is maximized with 10 different pockets, placed strategically for ease of use and quick access. Among thee pockets is the standard waterproof valuables pocket, a gusseted accessory pocket, and a lined cooler pocket for storing a drink or two. The design of the quick access ball sleeve has also been revamped to make retrieval quicker. Other perks include a pen sleeve and a velcro glove patch for quick placement of your glove when a temporary resting place is needed. The new Nike Performance Carry Bag comes in a number of color combinations and is available in stores now, with a MSRP of $240.
Nike Lunar Control Golf Shoe
If you paid close attention to last weekend's HSBC Champions event, you may have noticed a few of Nike's athletes sporting their latest footwear, the new Lunar Control golf shoe. Though us lowly amateurs cant get our hands on these quite yet, they will be available on January 1st. (By the way, my birthday is 11 days later, so if you're looking for ideas for a present, these will hit stores just in time. Size 12. All black. 🙂 )
At this point in the game, finding the right golf shoe is all about getting the right combination of weight (or lack thereof), stability, and comfort. So who better to consult on a new shoe than the current #7 player in the world, Paul Casey.
Paul is extremely savvy about footwear. He not only knows what he wants in performance golf shoes, but he also has a keen eye for design and color which made him a perfect muse for the Lunar Control. He can pick up a shoe and just by feeling it, have an immediate sense of weight. He worked with us throughout this project and provided his feedback at every stage.

Doug Reed, Global Category Business Director for Apparel, Footwear and Accessories
The Lunar Control shoe combines a classic saddle shoe design with modern technology like their Lunarlon Foam and Flywire. Nike Lunarlon foam is a new cushioning system and is another product of their Innovation Kitchen. This foam is used for the midsole and makes it lightweight, durable, and highly responsive, creating a platform that gives you great support and comfort.
The Flywire Technology also contributes to the support and stability of this shoe. This is the same technology that is found in other shoes, such as the popular Air Max line. They describe this tech as "ultra-strong yet ultra-lightweight construction of high-tensile fibers combined with a TPU (thermoplastic urethane) overlay." The result s a dynamic and supportive fit in the mid-foot that won't stretch out over time.
The waterproof weather upper takes moisture repellent to another level to another level by using an additional waterproofing surface treatment. The new Lunar Control also builds upon the next-gen Nike Power Platform, which can be found on nearly all of Nike's previous golf shoes. This latest revision is more flexible and allows for a greater natural range of motion thanks to a secondary Power Channel.
The Nike Lunar Control golf shoes will be available on January 1st in a number of colorways, including the following: White/Black-Metallic Pewter; Black/Metallic Silver-Black; White/Metallic Silver-Volt-Black; White/Black-Varsity Red. They will have a suggested retail price of $190 and come with a two year waterproof warranty.
Nike Machspeed Black
We'll start this one off by getting one thing out of the way – you may be inclined to think "This is just the original Machspeed with a pretty black paint job", but that wouldn't exactly be true. Yes, they are building on the success of the original SQ Machspeed, and yes, aerodynamic efficiency continues to be one of the goals of this new driver, but there's more to it than that.
For starters, there are now two different 460cc heads. A new round model compliments the ultra-forgiving, square headed version. The face of the new Machspeed Black is also deeper and has an expanded sweet spot for fast, consistent ball speeds across the width of the face. The tall face also tapers off quickly, providing an extra increase in forgiveness.
Possibly the biggest difference between the new Machspeed Black and the previous Machspeed is the ball flight it produces. While the first generation was designed to launch the ball higher, this new one produces a lower ball flight and lower spin as well. A good part of that could be attributed to the use of the lower launching Mitsubishi Rayon Fubuki instead of the UST Mamiya AXIVCore shaft.
The concept of the original Machspeed was to increase club head speed by optimizing the way air moves around the head. The aerodynamic PowerBow design worked to reduce drag and promote greater acceleration through the ball. That PowerBow design has been slightly enhanced, as it now wraps around the toe. The Y-shaped sole diffuser returns as does a plethora of perimeter weighting, which adds extreme stability. One other detail to note is that it looks like Nike really is listening to their customers. One of the biggest complaints with all previous STR8-Fit clubs how much the shaft fitting stood out and took away from the overall appearance of the clubs. Now, in the Machspeed Black drivers, that fitting is no longer polished to a shine; instead it keeps the same matte black that shades the rest of the club.
Also making its return is the inclusion of Nike's adjustable STR8-Fit technology, giving the player the ability to open or close the face in 2° either way, and has a total of eight different positions.
Options and Availability
As stated earlier, there are both round and square versions, both of which are available in 8.5°, 9.5°, 10.5°, 11.5°, and a HL version. The 9.5° and 10.5° are available to both right handed and left handed players, while the rest are righty only. Two womens models are available as well, with loft choices of 11.5 and HL, in right handed versions only. The mens models come matched with black Mitsubishi Rayon Fubuki shafts, available in your choice of A, R, S, and X flex profiles. Though they're supposed to hit stores on 11/26, I did see them in stores this past weekend.
VR Pro Combo Irons
Though Nike has been selling clubs for a little under a decade, they've had a number of very successful products. Look through our forums, and two of the sets you'll probably see the most is the forged Pro Combo irons from a few years back, and the more recent Victory Red irons. The Pro Combos gained popularity due to their appeal to people seeing players irons but with extra forgiveness in mid and long irons. This progressive forgiveness came as a result of the progression from cavity back long irons to a muscle cavity back mid iron, and traditional blade short irons. The concept was a great one, and is something a number of players still try to do, even if the irons aren't all formal members of a single set.
With this in mind, it really made a lot of sense to apply this idea to their popular Victory Red lineup, as even the original VR brand was composed of sets of full cavity irons, split cavity irons, and the TW Blades. In fact, I liked the concept so much, I personally ordered my own blended set, consisting of all three models of clubs. The new VR Pro Combo hasn't just been pieced together like the set I purchased over a year ago. Both the mid- and long irons have been tweaked to make this set even more uniform in both appearance and performance. Unlike the original full cavity backs (which were cast), the new full cavity clubs are now forged like the split cavity irons and blades. At address, the top line of the long and mid-irons has been reduced so that the difference between them and the short iron blades is nearly indistinguishable. Every iron set maintains a high degree of workability so that your ability to play the shot the situation calls for isn't hindered.
The pocket cavity long irons look, feel and sound just like a blade iron, but it is much easier to get the ball in the air with these compared to blades.

Justin Leonard, PGA Professional and Nike Golf Athlete
Using new linear center of gravity mapping, the guys at The Oven were able to locate the CG in a very precise and gradual manner though each club in the set, starting a little lower and deeper in the long irons and moving forward and higher in the scoring irons.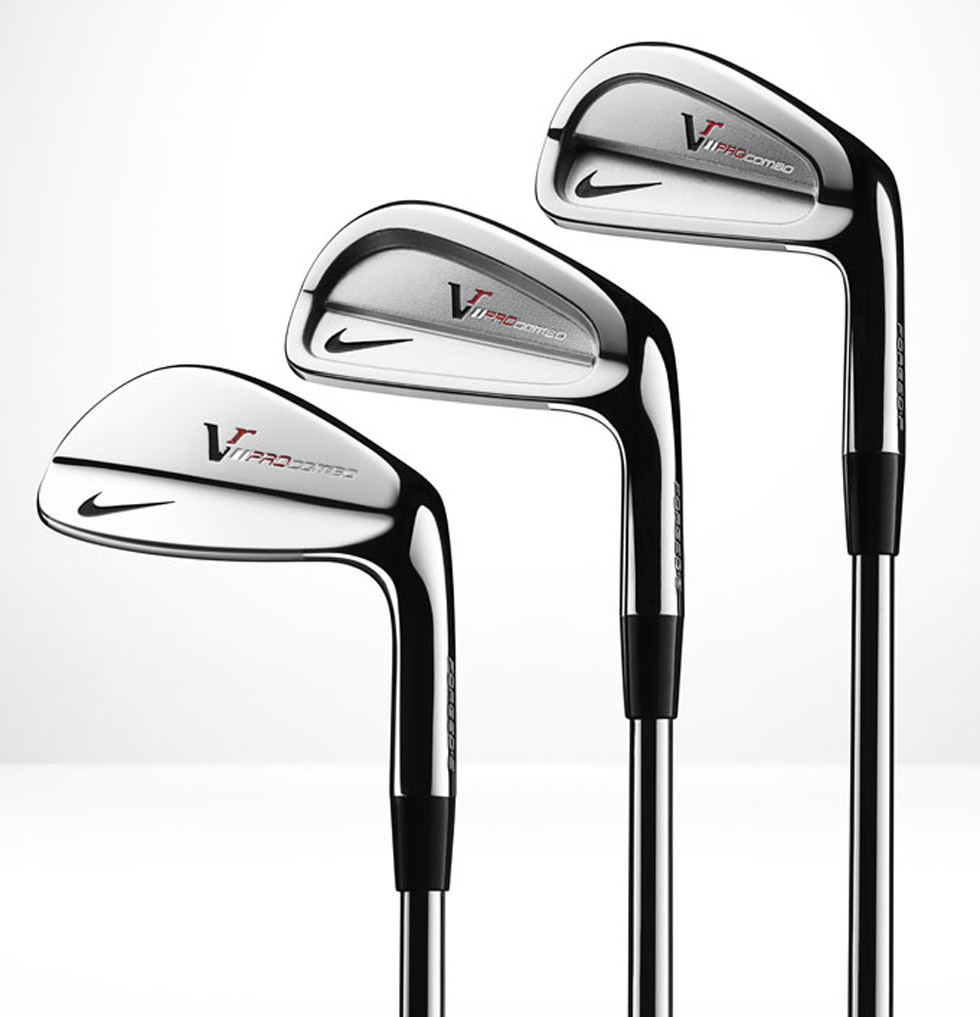 Like many other popular forged irons, 1025 carbon steel is the material of choice, and goes through a precision forging process where they come out and a near-finished level. This ensures consistency by eliminating most hand work. From there, the iron face is precision milled, leaving a perfectly flat exterior. The grooves are then die-stamped into the face, creating very precise grooves.
These faces are said to be Nike's most exact ever produced, and comes thanks to this three-step process. Dubbed X3X, these high frequency grooves promote greater performance and distance control. The number of grooves is actually increased and packed in tighter, and run deeper on the face. The name X3X is a reference to the USGA regulation, which says that for each groove, the space between it and the next one must be three times the width of the groove itself. In order to increase the number of grooves on the face, the brains at the Oven decided to actually reduce the width of the groove itself, allowing for less of a space in between, and ultimately an overall greater quantity. The result is an extra four (or five, depending on blade height) grooves on each face. All this leads to the most consistency and greatest control of ball flight ever in a Nike iron.
Options and Availability
The VR Pro Combos come equipped with True Temper Dynamic Gold shafts topped with the Nike/Golf Pride VR Tour Velvet grip. There are a number of other shafts and grips available, and Nike's site now gives you a full list of options for both. I am also happy to inform you that the VR Pro Combos are available for both righties and lefties. Also available for individual purchase is a full cavity 2-iron, which will cost you $135. The entire set goes on sale November 26th with a MSRP of $1079.99.
VR Pro Blades
In addition to the VR Pro Combos is a full set of forged blades. This is the third full blade set Nike has ever made, and is a successor to the forged TW Blades. These blades were designed in conjunction with the VR Pro Combos and in fact, the 8 iron, 9 iron, and PW is common to both sets.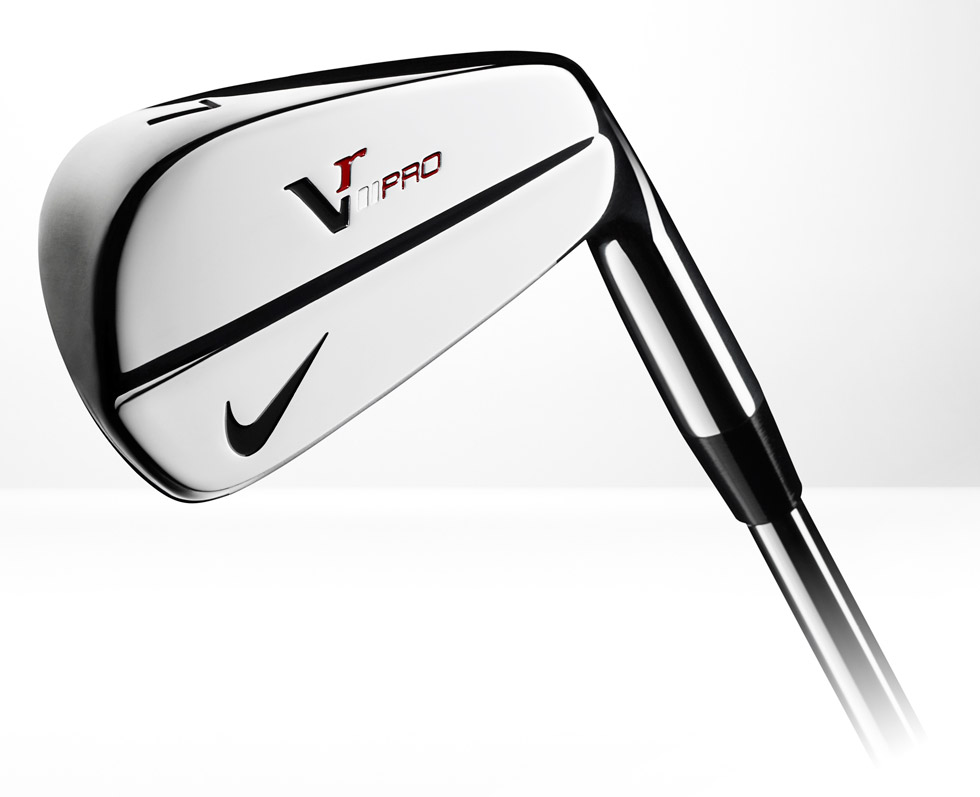 Like the Pro Combos, they are made using the same precise forging process, and feature the same X3X High Frequency Grooves. The VR Pro Blade takes the same sole grind and profile from it's predecessor, the aforementioned VR TW Forged Blades. As you can imagine, dont expect to find excessively low and deep weighting in these – the CG is tuned for workability and precise control, not forgiveness.
Options and Availability
The True Temper Dynamic Gold is the stock shaft here as well, and like the VR Pro Combos, comes wrapped with the Nike/Golf Pride VR Tour Velvet grip. In fact, all options are shared between the VR Pro Blades and the VR Pro Combos, all the way down to the available 2-iron, and the availability of a left-handed set. Also identical is release date and price – expect to see them in stores on November 26th with a suggested price of $1079.99.