A few years ago, I sold a set of Mizuno MP-60s and have been ruing the decision pretty much ever since. At the time, I thought I'd found a better fitting set for my game (plus, newer clubs are always better. Right?). Unfortunately, I haven't found an iron with that same sweet feel that those MP-60s had. The MP-57s were very close, but the MP-52s and 62s seemed to lack the buttery feel that solid impact delivered with the 60s. Plus, that "Cut Muscle" design employed by Mizuno on the MP-32, -57, -60 and -67 made for some very good looking golf clubs.

Would the MP-63, Mizuno's latest entry into the better player's cavity back market, live up to my gilded recollections of the MP-60? Let's take a look at Mizuno's new "Diamond Muscle" irons.
Is a Tour Cavity Back for You?
Before you say, "Oh, a player's club. I don't think I have the game for that." Consider what that really means.
Mizuno claims that MP-63 is the evolution of the company's most popular tour iron the MP-62. Assuming you are not a tour player or top amateur, should you look farther down the Mizuno line for some more forgiveness? Well, yes and no.
Naturally, Mizuno is targeting lower handicaps with the MP-63. In the crowded MP line, the 63s occupy the slot between last year's MP-68 (Mizuno's current "tour blade") and the MP-58 (which promises a little higher launch and slightly more forgiving option). The other new MP iron, the 53 provides the most help in the MP line, with even higher launch and more forgiveness. With four current MP models, Mizuno offers more options for better players than most other manufacturers.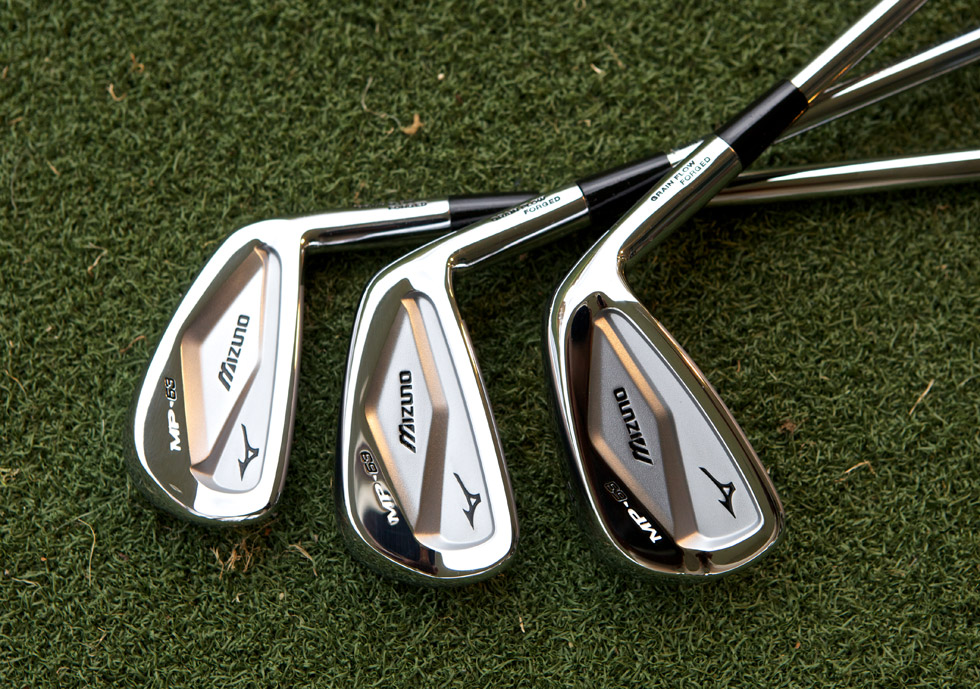 Just because a club is targeted at "better" players does not necessarily mean that it has nothing to offer less skilled players. While some clubs will mask your mistakes more than a player's iron will, they also will resist most attempts at working the ball, even if you consider that an important part of your game or something you are trying to learn. It's the old debate of whether MP-63s are good for your game, which you can find debated time and again in the The Sand Trap forum.
When it comes to selecting golf clubs, some introspection is in order. If practice is not part of your golf experience and you just want to play a weekend round from time to time, perhaps a game improvement or even max game improvement iron is the way to go. But if you are trying to get better or if you just enjoy hitting draws and fades to get around the course, there is no reason to deny yourself those experiences. It may cost you a stroke here and there, but they also might help you improve and being able to work the ball around trouble can come in handy from time to time.
Design
I don't know exactly what Harmonic Impact Technology (HIT) is exactly, but it sure sounds cool.
While developing the MP-63s, Mizuno tapped their tour team to blindly try out various new concepts. The winner, reportedly unanimously, was the "Diamond Muscle" design, the latest in the line of "muscle" themes Mizuno has used in recent years, beginning with the Cut Muscle clubs, continued with the Dual Muscle MP-52 and 62, and last year's Dual Muscle Titanium MP-58 and 68.
One of the primary design goals of the MP-63 was to improve on the feel and playability of the MP-62. So they copied the head size, top line, offset, and sole width, and then set to tuning the sound and feel and enhancing the grind to improve the irons' versatility in shot making. The former involves the aforementioned Harmonic Impact Technology, while the latter primarily has to do with the visible 360° grind on the trailing edge to improve turf interaction.
In reality, Harmonic Impact Technology is a cool way of saying that Mizuno studied the sound the clubs make when they strike the golf ball and tuned the clubs' design to optimize the experience for players. Much of what is experienced as "feel" is actually sound, though a well struck shot with a quality forged iron produces a sensation of solid, almost soft impact. The result of the tuning was the "Diamond Muscle" design.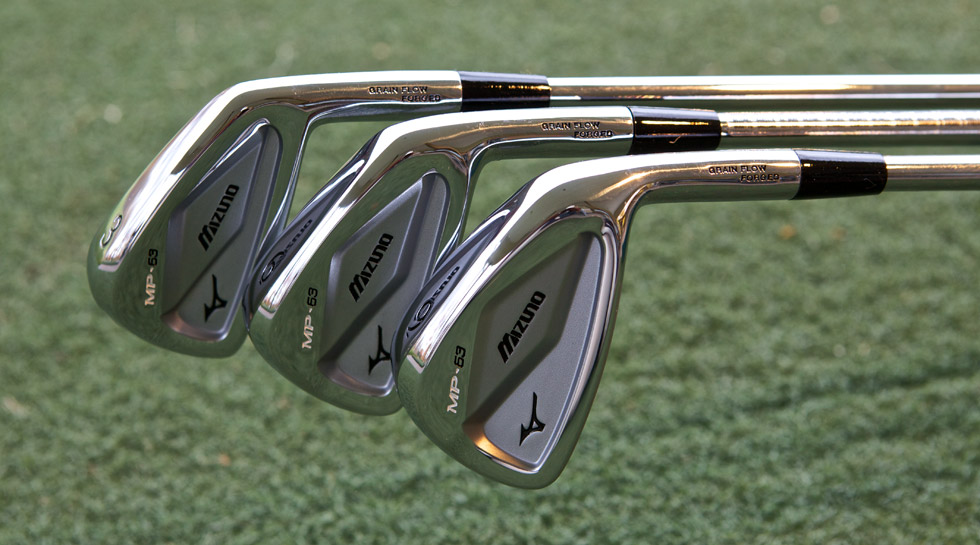 Longer irons in the set are slightly larger than the compact short irons and feature deeper cavities to enhance forgiveness and precision through the set. Another way to say that is that the long irons are easier to hit than long irons in other player's sets that have the same club head size as the short irons.
The MP-63s are Grain Flow Forged from 1025E "Pure Select" mild carbon steel at Mizuno's Hiroshima factory. The irons feature USGA/R&A Condition of Competition-conforming modified U-grooves.
Esthetics
Mizuno MP irons are typically among the prettiest golf clubs you can play, at least from a major manufacturer. The MP-63s fit into that tradition nicely. From the thin topline to the clean soles sporting only the iron number, the MP-63s look all business, in the same way that a well-crafted bamboo fly rod does. The best always combine art and function.
While I still prefer the look of the Cut Muscle MPs, the 63s are sharper looking than their predecessors. There was something about the Dual Muscle look that never quite did it for me. The Diamond Muscle on the other hand is attractive and understated. Unlike so many clubs these days, the 63s do not sport colorful decals in the cavities or much décor of any type. The only additions to the number stamp on the sole are the Roadrunner (moved from the sole in previous models) and Mizuno stamps in the cavity, and "MP-63" stamps and on the toe-side muscle bulge.
At address, there is nothing to distract your eye. To me, the 3-iron looks impossibly thin, but I've been playing Titleist AP2s for two years and there is a big difference in the amount of club you see between those models.
Performance
Looks only get you so far. When the rubber hits the road (or the cart path), how a club performs is what really matters.
The MP-63 does not disappoint. I was a little apprehensive about going back to the 60-level of Mizuno's MP lineup. My game is not quite as tight at the moment as it once was. I was pleasantly surprised by the amount of forgiveness that these clubs offer. Don't get me wrong. You need to hit the sweet spot to get the full distance and optimal ball flight out of these clubs, but that sweet spot is bigger than I would have guessed it would be. While player's clubs traditionally had sweet spots the size of dimes, the MP-63s seem to have at least a half dollar-sized sweet spot. Hit one on the heel or toe and you will know it. But if you make contact reasonably close to the middle and a few grooves up the club face, good things and good feelings will occur.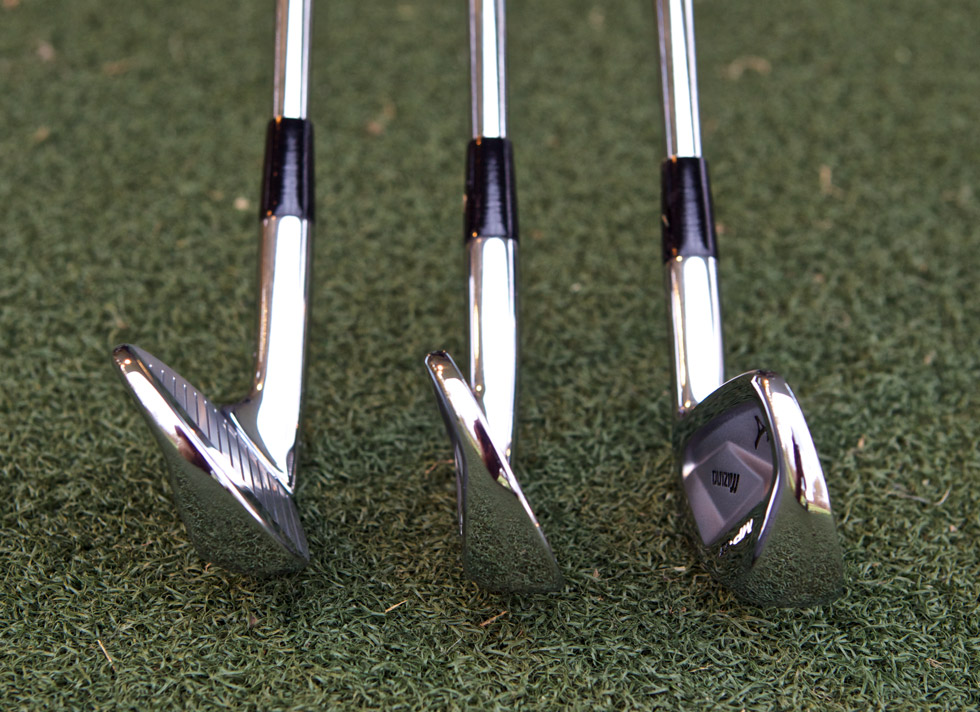 Ball flight is lower with the 63s than with most others in the MP line, but I had no problem getting the ball up over trees when I needed. Put a good swing on the ball and these irons do exactly what you tell them to do. Draws and cuts are equally easy to pull off. Hit side by side with my current irons (AP2s), the MP-63s played a few yards longer through the set with a similar ball flight.
Feel is improved over what I remember from demoing the MP-62s. A good swing and contact produces a feeling of squashing the ball against the clubface. While an off-center strike feels much like that with any other better players' iron, solid contact is rewarded with an absence of vibration, that buttery feel that you often hear associated with Mizuno forgings.
I would still give a slight edge to my old MP-60s in the feel category, but to get that sweet feeling you had to hit the dead center of the sweet spot. With the 63s, the feeling isn't quite as perfect, but it is not far off and you get it with less perfect strikes, as well.
Specifications
The Mizuno MP-63s come standard 3-PW with True Temper Dynamic Gold shafts. Many others are available as custom options. One of best things about Mizuno irons is that you can mix and match a set easily. Want a little more help out of your long irons? Substitute an easier-to-play model for the set's 3- and 4-irons.
Club    Loft    Lie      Bounce    Length
----    ----    -----    ------    ------
 3I      21°    59.5°      2°      38.75"
 4I      24°    60.0°      2°      38.25"
 5I      27°    60.5°      2°      37.75"
 6I      30°    61.0°      3°      37.25"
 7I      34°    61.5°      3°      36.75"
 8I      38°    62.0°      4°      36.25"
 9I      42°    62.5°      5°      35.75"
 PW      46°    63.0°      6°      35.50"
Mizuno MP-63s retail for $899. Sorry lefties. Mizuno is only releasing the MP-63s in right-handed orientation.
Conclusion
I was worried about Mizuno for a few years there. I did not find the post Cut Muscle models to be up to what I had come to expect from Mizuno. I'm now feeling better about things.
Mizuno's latest entry in the better player cavity back arena has classic good looks with 21st century technology hidden beneath. The MP-63s reward good swings, but won't totally bury you for a bad one either. While they are certainly aimed at the single-digit player, many mid-handicappers could fare well with them, as well (at the very least with the mid and short irons). As with any club purchase, demo as many as you can before buying and choose what fits your game.
Am I still missing my old MP-60s? Maybe a little, but that may be more nostalgia than anything else. With everything that the the MP-63s offer, they should definitely ease the pain. They play well and look good. Distance, accuracy, and trajectory… the 63s are strong performers across the board. The fact that I am picking up a little distance over my current set coupled with their other attributes have me thinking of switching my irons.
The MP-63s let you know where you are making contact, and reward strikes on the sweet spot with that buttery forged Mizuno feel. The fact that you don't have to be absolutely dead solid perfect to experience it and get optimal results from the club was unexpected and welcome. Yes, better players will probably get more out of these than a bogey golfer would, but depending on your goals don't dismiss any club simply because of who it's supposedto be for.