It's really great fun to sit back and watch today's club designers labor to come up with something new and different year after year. Given the rules now constraining volume (the 460 cc limit), COR (coefficient of restitution, or spring-like effect), and MOI (moment of inertia), clubhead shape and material composition seems to be the most widely explored options open to them.
Thus, it's probably not a great surprise that two companies have essentially come up with the same idea: a square-headed driver. And rumors are floating around that Cleveland may join them.
When you think about it, it makes perfect sense. How else to move a lot of weight out to the perimeter of the clubhead for yet more forgiveness? Of course, it's a more radical look than even last year's Nike SasQuatch or Cleveland's HiBore. But maybe that's not a bad thing. Read on to see what's coming with and without corners…

Callaway FT-i and FT-i Tour
Nicknamed the "Big Chiclet" by its creators at Callaway, the FT-i has already begun creating a lot of buzz on the net as evidenced by our forum discussion thread.
Like the Fusion FT-3, the clubhead is a carbon composite body with a titanium "cup" face. While designed to the 460cc limit, Callaway says the square shape helps them achieve "complete inertial design" which means they've been able to increase the MOI (moment of inertia, or stability) to better resist twisting horizontally and vertically. Higher MOI and less twisting results in straighter tee shots.
Both the FT-i and FT-i Tour will include Callaway's internal weight system and offer a choice of draw, neutral, or fade bias. Word on the street is that the OptiFit system will be available with the FT-i as well.
The FT-i version will be available in both right- and left-hand models. Right handed lofts include 9°, 10°, 11°, and 13HT. Left handed lofts are 10° and 11° in only a draw or neutral bias. The stock shaft is a Fujikura Speeder 586 in light, regular, and stiff flexes.
The FT-i Tour looks like it will come in only one loft: 9.5°, but will be available in all three bias options for both right- and left-handers. Its stock shaft will be a Fujikura Speeder 686 in regular, stiff, and x-stiff. The FT-i Tour will also feature a slightly open clubface.
Callaway will also bump the FT-3 to the "FT-5" model, and you can see a composite image of the FT-5 here. Special thanks to SirShanksAlot for some of the pictures and information, more of which is available here.
Nike SQ SUMO2 and SQ SUMO
In the square driver war shaping up, Nike definitely wins the naming category with the SQ SUMO2 (get it… "squared?"). And, of course, "SUMO" means something too: "SUper MOment of Inertia."
Officially announced on October 10, the SUMO2 has already won on the PGA Tour with K.J. Choi's victory yesterday at the Chrysler Championship. Like the FT-i, the SUMO features a composite carbon crown married to a titanium face to produce a 460cc clubhead.
Nike seems to have adapted their "Power Bow" trailing edge introduced with the SasQuatch to help visually soften the square shape of the head. But it is what it is: a square clubhead. Nike claims it has the highest MOI in golf at 5300, whatever that number means.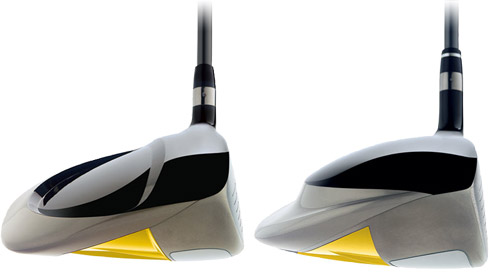 Launched concurrently with the SQ SUMO2 is the more conventional SasQuatch SUMO with an all-titanium 460cc conventionally shaped head. It too carries forward the "Power Bow" design element. Its MOI is measured at 4950 which, says Nike, makes it the highest for any all titanium driver on the market.
I guess the thinking is that if the look of the SUMO2 makes you cringe so comprehensively that you can't draw the club back, you still have a Nike driver as an option.
Both the SQ SUMO2 and SQ SUMO will come stock with SasQuatch/Diamana shafts in lofts of 8.5°, 9.5°, 10.5°, and 13°. The drivers will ship in mid-January and should be in shops around February 1. The SQ SUMO2 will retail for $479.99 and the SQ SUMO will go for $359.99.
In the End…
Twenty years ago if you had put a 460cc driver into the hands of any golfer they would have either shuddered in revulsion or laughed out loud. But we're now in an era of rapid new product development that's less about looks and more about performance. If these square drivers work demonstrably better than conventional ones, you can bet they, or some something like them, will one day be in your bag. Let's just see what happens.