I carried my own bag for years – lightweight canvas bags, then nylon bags that I dropped to the ground and stooped to pick up. Then came stand bags and then double straps, and my definition of a great carry bag was changed forever.
Now Ogio, the innovative bag maker based in Salt Lake City, has finally launched their much-anticipated Shling-equipped stand bags. It remains to be seen whether this is as big a revolution as legs and double straps. Here's the story along with some of my initial impressions.

The Shling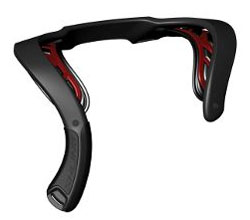 The Shling is basically an adjustable padded plastic yoke that sits on both shoulders. You pick up the bag by the longer right "arm" of the yoke, twist it around and drop it across the back of your neck and onto your shoulders. The Ogio website has a video that illustrates the technique far better than words. I just wonder if left handers will find this easy. I also wonder how a caddie carrying double would manage with this arrangement.
Ogio claims the Shling disperses the weight of the bag more on the top of your shoulders and thus engages your skeletal frame, rather than your shoulder muscles. It really is more comfortable than it looks.
I've always found double straps awkward to get into and out of. The result is that on short walks I don't bother and just use one strap. The Shling, on the other hand, is much easier to don and thus keeps the bag on both shoulders whenever it's carried.
I've only tried it on with a friend's fully loaded bag, so this is by no means a review (we'll have one of those coming later this year). But my initial impression was that it did allow you to stand and walk in a more upright posture than a double strap bag, which seems to encourage you to lean forward against the pull on the front of your shoulders. However, you do end up lifting the bag slightly higher than you have to with a strap that you can just shrug on and off.
What took the company so long to develop was a way to adjust the yoke to fit different physiques. Two different lower strap attachment points let you balance the bag. The shoulder pads under the yoke can be widened or narrowed independently with three different settings on each side so you can adjust the pads to fit your shoulders.
And it's this fit that's the rub (pun intended). From what I've heard and read, despite Ogio's diligent design efforts, the Shling doesn't fit everyone. While they claim they've engineered the yoke to fit medium to extra large folks, I've heard some beefier guys feel it's too small. And unlike a strap that easily conforms to your shoulder profile, this is a rigid device. It feels very different; although I think it's a feel one could get used to as long as the fit is right.
The bottom line is that you really have to try this before you buy it. When you do, make sure the bag is loaded with clubs and balls comparable to your normal load so you can judge weight and balance. As of now, the Shling is available on two bag models:
Ogio Vision SS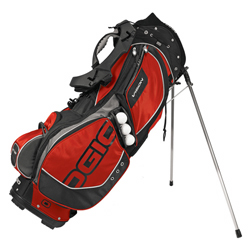 The Vision SS is a bag with all of Ogio's acclaimed bells and whistles, including their patented 9″ Woode top, molded shaft dividers, molded ball dispenser, and zipperless ball pocket.
It's similar to their Grom bag that we reviewed here, although it's slightly lighter at 5.85 lbs., versus the Grom's 6.3 lbs.
Both Shling-equipped bags feature a convenient, well designed hook to stow the yoke when you put the bag down. An elastic cord secures the yoke for travel or use on a cart.
The Vision SS (the SS denotes the Shling System) comes in a black and silver version as well as the "fire" red shown here.
Innovation, in this case, does not come cheap. The Vision SS retails for a whopping $229.99 or more (the Grom, by comparison, goes for around $149.99). While available online from GolfSmith and Ebags, again I'd strongly suggest you try it on for size before buying. You can find retailers at the Ogio website.
Ogio Flight SS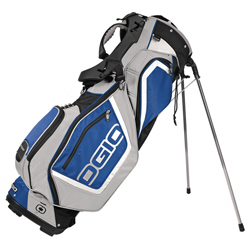 If only because it weighs in exactly a pound lighter than the Vision SS, the Flight SS seems to me a more practical carry bag. It has the unique Ogio Woode-Lite top, nine pockets and a water bottle holster.
It also has an external cell phone pocket (perish the thought – although I guess that's reality), a zippered rain hood and a fleece-lined valuables pocket. It's available in three color combinations: the blue shown here; black, white with orange; and red, black with white.
The Flight SS is no small investment, either. It retails for at least a cool $199.99, as compared to the similar Ogio Ozone bag without the Shling that runs $129.99. It too is available online from GolfSmith and Ebags.
In the End…
You have to applaud all the innovation and hard work that have gone into bringing the Shling to market. Attached to Ogio's highly regarded bags, it's certainly an attractive option. But the premium price it commands, along with the uncertainties of fitting, mean a buying decision must be carefully considered. Is it right for you? Only your wallet and your shoulders know for sure.