Just in time for their 50th aniversary, PING is introducing two completely new lines of clubs: the G15 and i15. The largest product launch in PING history includes something for every level of player, from the beginner to the advanced player. In today's Bag Drop, we're taking a look at the Solheim family's latest innovations.
PING is introducing not one but two completely new lines of clubs, with new drivers, fairway metals, hybrids, and irons in each. PING is also introducing a new putter line and adding a few models to existing lines, but given the massive introduction of eight new products, this Bag Drop won't get around to talking about the new flatsticks.

PING has long used the "G" series to denote their game-improvement line for the higher handicapper with added forgiveness, and kept their "i" series for the more skilled player looking to push their game even further with enhanced workability and shot control. This continues with the G15 and i15 lines, each of which will pair with an expansion to the comprehensive fitting system PING has always offered. Along with the famous PING Dot System, they have added six PING grip sizes, more shaft flex and material options, and more loft and bias combinations than ever before.
John K. Solheim says that "custom fitting continues to grow in importance for golfers wanting to improve their games." He added that "what we're learning from our nFlight Fitting Software and other research is being incorporated into our development process. It's leading us in some very interesting and exciting directions as we look for ways to help lower scores and make the game more enjoyable."
The new clubs will be available at golf retailers worldwide in mid-August. Now, let's take a look at the new PING sticks that everyone has been waiting for.
PING's Newest Irons
Let's begin with the irons. After all, you use them on virtually every hole and there are more of them in your bag than any other type of club.
The G15 Irons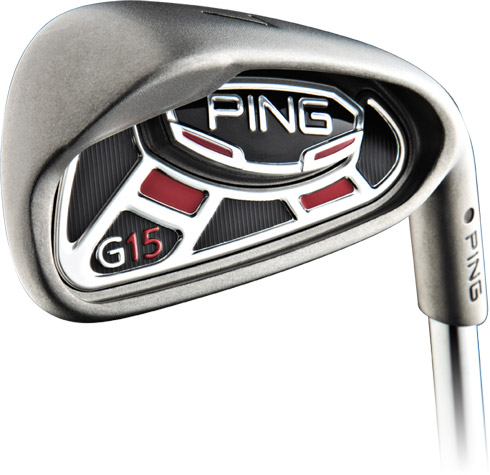 PING's new G15s are designed to launch the ball high and long. Wider soles and improved weighting allows these irons to launch the ball high, while strong lofts add a little distance. The new irons feature a wider sole to help get the ball in the air, and a new Custom Tuning Port (CTP). The CTP creates a higher moment of inertia, while a thinner face expands the perimeter weighting to the toe of the club. This extra toe weighting helps to square the face and avoid those pesky pushes and slices.
The irons are available in 3-9 irons, PW, UW, SW, and LW. Available shafts are the PING-designed AWT steel (Soft R, R, S and X flexes) and TFC 149i graphite shaft (L, Soft R, R and S flexes). MSRP is $107.50 per club for steel, and $135 per club for graphite.
The i15 Irons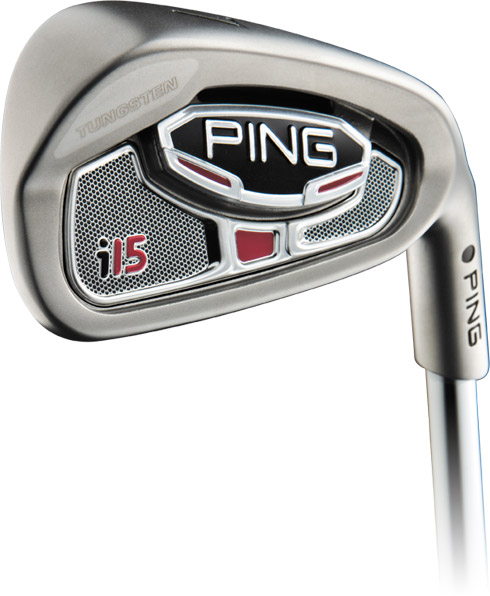 Though the i-series irons were designed with the better player in mind, several of the features from the G15 make their way into a sleeker, more workable iron in the i15. The i15 line features more compact heads and thinner lines to give these better players more workability and shot control.
Designed as a progressive set, the long irons are slightly longer heel to toe for a touch of added forgiveness, while the short irons are a more traditional width (here's an image) for better shot-making ability and control.
The i15 features a tungsten weight in the toe to add forgiveness without being visible at address or adding any size to the clubhead. A stabilizing bar and a Custom Tuning Port (CTP) help to add the feel that better players expect from an iron.
The i15s are available in sets of 3-PW, and come with either the PING-designed AWT steel (Soft R, R, S and X flexes) or TFC 149i graphite shaft (L, Soft R, R and S flexes). MSRP is $115 per club with steel shafts and $142.50 per club with graphite shafts.
The Latest PING Hybrids
With everyone and their brother (including the vast majority of PGA Tour golfers) putting a hybrid in the bag, PING is advancing their two hybrid lines with a new-look G15 and a classic but improved i15 model. Let's take a look at each.
G15 Hybrids
PING's new G15 hybrids are designed to launch the ball high and straight for the mid to high handicapper.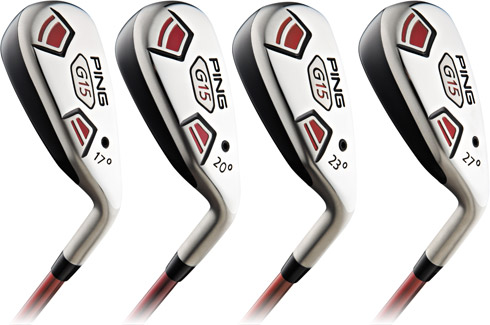 Featuring a new squarer shape and an iron-like clubface, the G15 hybrids set up and play more like an iron than a fairway wood. This design provides improved launch angles and reduces spin on the ball, leading to a higher, flatter trajectory with more carry. An internal toe weight makes the G15 the most forgiving hybrids that PING has ever made.
They come in five lofts: 17°, 20°, 23°, 27°, and 31°. Shaft options include PING-designed AWT steel (Soft R, R, S and X), TFC149H (L, Soft R, R, S and X) and Aldila Serrano 85 Hybrid (R, S and X). MSRP is $160 per club for steel and $185 per club for graphite.
i15 Hybrids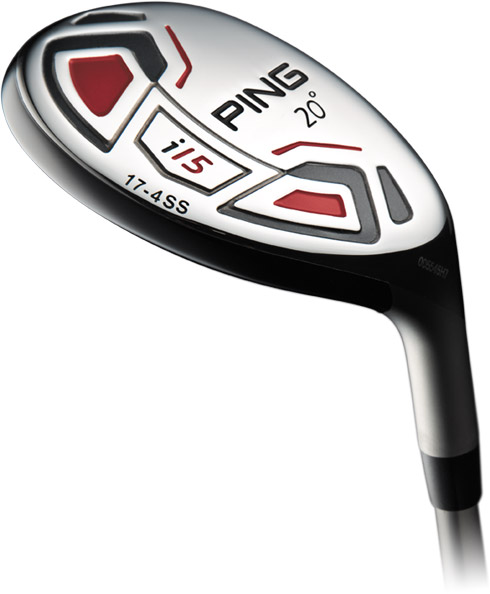 Contrary to the iron-like G15, PING's i15 line of hybrids has a more traditional shape, but – as we'll see throughout these two sets – have a bit more in common than you might think at first.
With strong lofts and a low center of gravity (you can see why), the i15 hybrids provide penetrating, tour-preferred ball flights that comfortably take the position of long irons or even shorter fairway metals. The spin rate is reduced in order to help keep shots under control while providing a little extra distance from a variety of lies.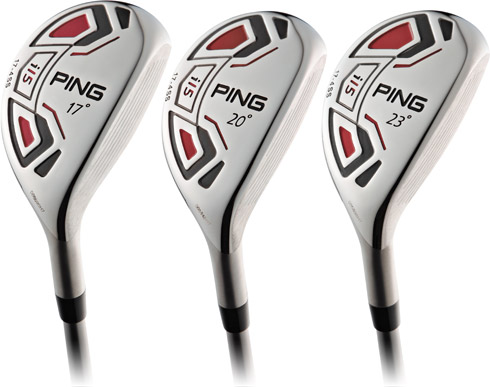 The i15s come in three lofts: 17°, 20°, and 23°. They are available in PING-designed AWT steel (Soft R, R, S and X), TFC700H (R, S and X) and UST Mamiya AXIVcore Tour Red 85 Hybrid (R, S and X). MSRP is $180 per club for steel and $210 per club for graphite.
Fairway Metals
Great off the tee or off the deck, you won't find many players who don't have a fairway metal.
G15 Fairway Metals
The G15 fairway metals are designed to get the ball in the air, keep the ball in the air for a long time, and land the ball softly.
The G15 line features external weight pads, which move the center of gravity low and to the rear of the club, adding both effective loft and increased forgiveness. Elongated, low-profile heads help maximize the head volume and forgive mis-hits.
The PING G15 is available in four lofts: 3- (15.5°), 4- (17°), 5- (18.5°), and 7- (21.5°) woods, with the 3-, 4-, and 5-woods available in a draw model as well. These fairway metals come with PING-designed TFC149F (L, Soft R, R, S and X) and Aldila Serrano 75 Fairway (R, S and X). MSRP is $230 per club.
i15 Woods
The i15 woods are designed to create lower, piercing shots that better players expect out of their fairway metals. A slightly elongated head offers some forgiveness, while the internal weighting gives players the lower ball flight that they crave.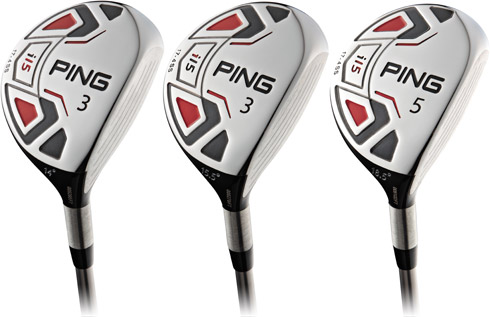 The i15 woods come in three lofts: a strong 3- (14°), traditional 3- (15.5°) and 5- (18.5°) wood. Shaft options include PING-designed TFC700F (R, S and X) and UST Mamiya AXIVcore Tour Red 79 (R, S and X). MSRP is $265 per club.
The Drivers
Finally we arrive at the big dog, and I think you'll be impressed with PING's offerings off the tee.
G15 Driver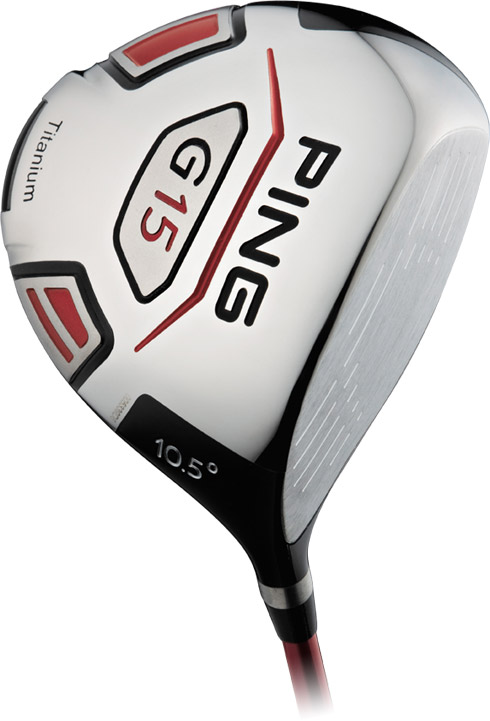 The new G15 driver is loaded with technology. The 460cc head is designed for maximum forgiveness and distance. Thin crown technology helps save weight, which was moved to optimize launch angles for higher and straighter shots.
A longer, larger face increases ball speed and reduces spin to help get all the distance that you can out of your tee shot. The larger face provides an expanded sweet spot that provides a more consistent hitting area spanning the whole face. This maximizes ball speed even on mis-hits and adds to the forgiveness for long, consistent drives.
PING has paired the G15 head with the new PING-designed TFC149D high balance point shaft, which allowed them to add a little mass to the head without increasing swingweight or overall club weight.
The G15 comes in four lofts: 9°, 10.5°, 12°, and 13.5°. Draw models are available in all but the 13.5° loft. The club is offered with the PING-designed TFC149D (L, Soft R, R, S and X flexes) and Aldila Serrano 60 (R, S and X flexes) shafts. MSRP is $350.
The i15 Driver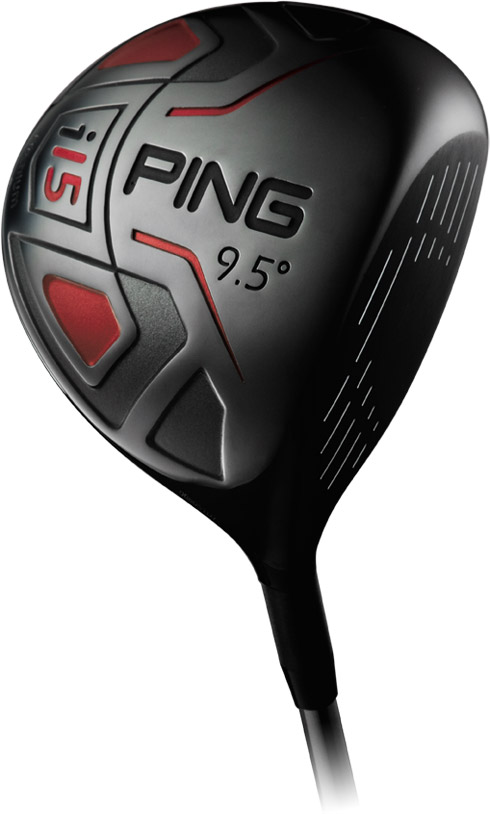 The i15 is a tour-style driver. What's that mean, exactly? For starters, it's got a fade-biased head that allows for an aggressive release through impact and greater workability.
The traditional pear-shaped head is paired with a deeper face, which provides greater ball speed and a solid feel as well as the look at address that better players prefer. The hosel is positioned slightly behind the face, enhancing workability.
The i15 comes in three lofts: 8°, 9.5°, and 11°. No draw models here, as this club is all about shaping your shot and controlling your golf ball while sending it hundreds of yards from the tee. The club is offered with the PING-designed TFC700D (R, S and X flexes) and UST AXIVcore Tour Red 69 (R, S and X flexes) shafts.

A Brief Word from PING
John K. Solheim had a bit more to say, and rather than filter his language, we thought we'd share it with you here.
Our engineering team continues to research and analyze the needs of all golfers. Our newest families of clubs address the specific performance goals of these players and they are designed accordingly. The G15 Series appeals to the majority of golfers who rely on the easier-to-hit attributes of a maximum forgiveness, higher launch type of club. With the i15s, a lot of players will be attracted to the added control and versatility they offer. The i15s will deliver the forgiveness we all need, but they've been engineered to provide the workability that a lot of more skilled golfers look for in their clubs.

The early feedback from our Tour staff has been very favorable. Several players put the product in play immediately and others will wait for the opportune time.
This article was written by a guest author. If you'd like to contribute, send us an email.