It's always great to see a golf club become popular without endorsement or bonus money. For a PGA Tour player to give up income just to use a putter he believes in is pretty refreshing in these days of logo festooned shirts, caps, and bags.
So when Zach Johnson won the Masters this year with his SeeMore putter, it said a lot. It said even more when he won the AT&T Classic a month later. It also doesn't hurt that Vaughn Taylor, who led the PGA Tour's top 50 money winners in fewest putts on greens hit in regulation, uses it.
So while no less than Nick Faldo cast aspersions on Johnson's putting style during the Masters broadcast, it obviously works. And that's really the story of the SeeMore putters. They promote a specific kind of stroke and technique. Here's the story…

The Company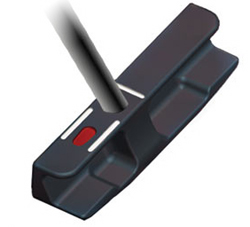 The original SeeMore putter – designed by a Southern California teaching pro named Jim Weeks – was introduced in 1997. The company struggled until Payne Stewart's 1999 U.S. Open win at Pinehurst, then foundered again after his death. Weeks sold most of the company to an investment group, but still nothing happened.
Finally, last September, two former Odyssey executives, Jim Grundberg and Jason Pouliot, purchased SeeMore and immediately set out to expand the line and refine the marketing strategy. Of course, it never hurts to get lucky and with Johnson's win, the new owners have built momentum. Before the Masters they were selling a couple putters a day from their website. The night of that win, they started selling a putter every five minutes.
The Concept
All the SeeMore putters are at least somewhat center-shafted. Behind the shaft on the topline is a red oval flanked by two white lines. The idea is to cover the dot with the black painted bottom of the shaft and keep it hidden by the shaft betwen the white lines not just at address, but also throughout the stroke. They call it RifleScope technology.
To do this, you have to employ a pure pendulum motion in which the putter follows an arc from inside to square to inside. Actually, when first introduced, some pros simply used the putter for practice to groove a stroke that would keep the blade square to the arc throughout the motion.
Scotty Cameron has employed a similar concept with three small dots behind the shaft on the center-shafted Red X2 and Detour 2.
What's very different to me about the SeeMore line of putters is that there is no offset. In fact there is negative offset with the shaft behind the face. But according to Pat O'Brien, a putting teacher to Johnson and Taylor and a SeeMore representative, this encourages you to set up with the ball more centered in your stance. This, he says, helps you set up more symmetrically with your eyes aligned with the line of your putt.
There are a series of rather poorly shot video segments of O'Brien explaining his concepts, including his rather unique take on the putting grip, on the SeeMore website.
The Putters
The original FGP blade is still available in the aluminum/bronze version that Payne Stewart used and the black powder-coat version that Zach Johnson uses. Both are priced at $149.00.
But with the acquisition of the company, Grundberg and Pouliot brought in putter designer Andre Shmoldas, formerly with Never Compromise, to update the line. What he came up with were two more classically shaped Anser-type heads and a mallet that are milled from 303 stainless steel and feature a lightweight aluminum back cavity insert to increase MOI (moment of inertia) and expand the sweet spot.
These three putters, along with a milled version of the original FGP blade dubbed the mFGP (pictured above), are slightly toe heavy, again to encourage that pendulum arc stroke. The heads of standard length putters weigh 345 grams, carry 3.5° of loft, and come with a standard lie angle of 70°. The belly putter versions of the M1 and the M3 have a head weight of 390 grams.
There are a lot of options available. Lengths can be ordered from 33″ to 35½" in half inch increments on standard putters and from 41″ to 45″ in the belly putters. Golf Pride grips in three different sizes are available on the standard putters. Lie angle can be ordered at a flat 68°, the standard 70°, or an upright 72°.
The milled standard putters go for $325 and the belly putters $350.
The SeeMore putters are only available via their website, some green grass accounts, and some clubmakers. Apparently SeeMore is trying to sell their technique along with their putter.
In the End…
That Zach Johnson still holds a chance at a grand slam going into this week's U.S. Open, it'll be interesting to see how his SeeMore putter stands up to the notoriously wicked fast Oakmont greens. You can bet I'll be watching to see.