In case you haven't heard the news, it's friggin' hot outside! With a few exceptions, this summer has been really brutal for everyone, no matter where you live. The heat index has been so high here in south Louisiana, I'm ready to catch the next plane back to California, just to enjoy the same weather I did during the U.S. Open. Unless that's a feasible option for you, you're probably suffering through the oppressive beatings the sun/high temperatures/high humidity every time you step foot on the golf course. Though I can't help you to outfit your golf cart with full blown air conditioning comparable to that of an refrigerated trailer, I may be able to give you a few tips on some equipment and apparel that might make it a little more manageable.

I'll be the first to tell you that I sweat a lot. It's not just because I've put on a few pounds since college – I have always sweated heavily, even when I was in the best shape of my life. That, coupled with the extreme heat and humidity here where I live, makes me look like I dove head-first into a pool after just a few minutes outside. As you can probably tell, I love the game of golf as well. So as you can imagine, I go to great lengths to do what I can to keep my cool, or at least manage it as well as possible. What does this have to do with golf equipment, you might ask? Follow along, and you'll soon see that apparel can have an impact on how well you deal with extreme temperatures.
For starters, I maintain a couple of rules of thumb when it comes to the clothes I wear during hot rounds. First, they need to be loose. Not like mid-1990s JNCO jeans loose, but loose enough so that there's separation between my skin and the fabric. The tight stuff is reserved for colder weather. To be honest, if I'm out there looking like the world's number two player (or the number one, for that matter), it's highly likely that I'm uncomfortable.
The human body sweats as a result of heat, not from humidity itself. The problem is high levels of humidity and moisture amplify the problem because skin relies on air to get rid of that moisture, thus cooling the skin via evaporative cooling (do I sound like Bill Nye The Science Guy yet?). The problem is, humid air already contains a certain amount of moisture, thus reducing the amount it can pull from your skin. If the air is already saturated, there is no more water it can take in.
Because of all that, my second rule is that the fabric must be as breathable as possible. Have you ever worn one of the Polo full-knit shirts to the course? Air flows through them about as well as it does through a brick wall. On top of that, I've always thought that they restrict my movement a bit. Of course, luckily, Polo Golf has an entire line of clothing designed specifically for our sport.
Going even further than the fabric itself is, for lack of better terms, the implementation of those fabrics. I'm not sure if you've taken a close look at the golf apparel available on the market lately, but if you have, you've probably seen the abundant use of polyester. Now, don't immediately think of the same stuff that your grandpa's old suit is made out of. Yes, technically the material is the same, but it's worlds different in terms of comfort and breathability. When I mention the "implementation" of the fabric though, I want you to realize that there can be a big difference from one style of clothing to the next. And with that, let's jump into our first topic of discussion – shirts.
As I said, nearly all performance golf apparel today is made of polyester, but they can be very different, and those different designs act different in various climates. One great example would be to compare Nike Golf's Dri-FIT Body Mapping polos to their Dri-FIT Knit polos. In a higher humidity climate, the Body Mapping polo is going to do a much better job with allowing heat to escape, thanks to it's strategically placed mesh areas. The looser mesh works very well to wick sweat away from the skin versus the knit polo, which is going to hold moisture in slightly longer. The bigger difference however is that more air is reaching your skin. You should also know that the fabric itself is more breathable than cotton and does an overall better job at wicking sweat away from your skin. Of course, this isn't specific to Nike apparel. Let's go further and look at some options from some of the other brands you might be familiar with.
Adidas is another company, much like Nike, that makes clothing for a wide variety of sports, and thus have done a good bit of research on what helps keep you cool, and what doesn't. For the warm weather, you'll want to keep your eyes open for ClimaLite, ClimaCool, CoolMax, and ForMotion. The ClimaCool fabric, for example, is a combination of mesh and sold material that works like the previously mentioned Nike Body Mapping design. The mesh offers tremendous ventilation benefits so that more air reaches your skin, and more moisture is taken away by the air. In the pictures below, look closely at the chest area of the blue ClimaCool polo. That's the separation of the mesh fabric and the solid material. Both the ClimaCool (right) and ClimaCool ForMotion (left) polos are great examples of shirts that will keep you cool and looking good, even as the temperature continues to climb.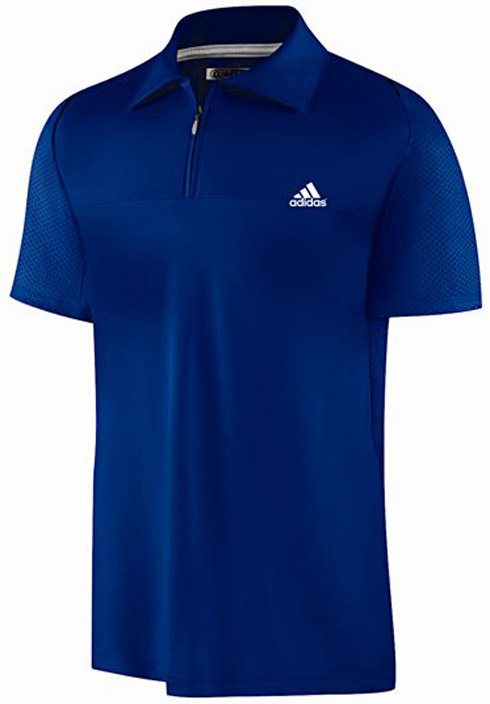 Don't just limit yourself to Nike and Adidas though. All manufacturers are now selling these synthetic materials. Some examples are Cutter & Buck's DryTec, FootJoy's ProDry, Under Armour's HeatGear, as well as a long line of performance clothing from Oakley, Ping, Puma, and others.
So now that you have some shirts to check out, the next important factor in beating the heat is keeping a cool head – literally and figuratively. Again, the same principles apply – the more airflow, the better off you'll be. I'm pretty sure a lot of us have seen a NFL game or two played in the extreme cold, and I'm sure you've seen the shots of the players on the sidelines with steam rising from their heads. In case you didn't know, heat rises, and what's the highest point on your body?? Unless your head is stuck in your you-know-what, all the heat coming off your body is coming right up in your face. We really don't want to trap it there, do we?
If your head is hotter than the rest of your body, obviously, you'll feel much hotter than you actually are. And a hot head is going to lead to bad shots. The combination of heavier materials such as wool and thick cotton would actually prevent heat from escaping and severely restrict any airflow. At one time, we'd overcome this problem by sporting a cool visor – obviously the lack of an actual top is going to allow heat to instantly escape. The only problem is at times, you'd end up with a sunburned head and one really bad case of dandruff down the road. So what are our choices here?
First up is Titleist. One of my favorites is the Titleist Structured Sports Mesh Cap. As the name implies, the upper back portion of the hat is mesh, allowing for much greater ventilation over a thicker solid wool or cotton cap. The cotton front panel is stitched with the classic Titleist script, and "FJ" and "Pro V1" decorating the right and left sides. Though it is a fitted cap, it comes in three sizes and uses the same flex-fit material in the band that is found in many other popular caps. Though a lot of places are selling them for just under $26, if you look around enough, you can find these sharp looking caps for closer to $21 or $22.
Nike also makes a couple of different models of adjustable and fitted, flex-fit hats that feature various ways of achieving desired breath-ability. The Dri-FIT Tour Flex-Fit caps are designed much like the Titleist caps above, featuring back panels made of mesh, while the Swoosh-decorated front portion is made of polyester. The left and right sides are adorned with the VR and ONE logos. Another great option from Nike is the adjustable Dri-FIT Tour Perforated caps. These are very lightweight, and achieves great ventilation thanks to the 100% polyester perforated mesh side panels. For quick adjustability, the back strap is secured using Velcro for quick removal, adjustment, and clean appearance. Both should run you a little less than $25, with the Tour Perforated cap being slightly less expensive.
Though we're only scratching the surface here, now you should have a good idea of what to look for in a good summer cap. You're certainly not limited to just Nike and Titleist, as most all manufacturers are quick to throw their logos on a good looking fitted flex-fit or adjustable cap. TaylorMade and Titleist even have caps with NFL and MLB logos and colors on them, though most of those I've seen aren't going to be quite as breathable.
Of course, as I mentioned, for the ultimate in air flow, a visor might be the best way to go. Of course, most all of your favorite manufacturers have adjustable visors available nowadays, to help you achieve the ultimate David Simms look.
Stay cool out there, and we'll see you next week!