Though we took a break from the summer-centric topic of ways to help cope with the heat in order to look at some of PING's new clubs (in case you missed it, here and here), this week, we're back on the topic of apparel that can help you stay cool and comfortable.
In addition to the shirts and caps we looked at a few weeks ago, comfortable, lightweight shorts and shoes can also go a long way to helping you be as cool and comfortable on and off the course as possible. The downside to the late summer months is that the blazing heat can turn into pouring rain in the blink of an eye. As the summer showers quickly roll away, the heat always seems to be amplified quite a bit. By that, I mean it gets nearly unbearable. The upside to that problem is that tour players face the same issues we do in that regard. Luckily, their equipment and clothing sponsors have designed some great performance apparel that satisfies the standards of tour players, and yet is available to us amateurs.

At a course I frequently play, there's a couple of guys I see wearing pants all the time. I can't help but think WHY?! In the morning, when I'm leaving to go to work, it's already 92 outside, along with 90%-plus humidity. That equals out to a heat index that's roughly equivalent to that of an oven on full blast. Why punish yourself like that when there's a multitude of inexpensive, comfortable shorts out there. A while back, my normal summertime attire would consist of a good golf polo, but I'd often sport some normal khaki shorts from Polo, J Crew or whatever was convenient at the time. That was before I got lucky and found a big sale on some Nike Dri-FIT and Adidas ClimaCool shorts. They were cheap enough that I decided "why not, I'll give them a try." Easily one of the best decisions I ever made. Just like the shirts we talked about last week, regardless of manufacturer, they're all made of a lightweight polyester blend that's designed to wick moisture from your skin, and keep you cool, dry, and concentrating on your game, rather than that nasty sweat stain forming in areas that you'd rather not have sweat stains in. Let's just leave it at that.
Ideally, I'd be out there playing in some mesh basketball shorts but I think I'd look a little out of place. Luckily golf shorts like these aren't too far removed from those gym shorts I love so much. Though we've got the same usual suspects here, there's a reason for that – all of them do the job and they do the job well. I'm definitely speaking from experience here.
Nike has something for just about everybody. Their wide range of styles, fits, and colors make it easy to find just what you're looking for. This year's offerings include a number of styles in the Tiger Woods and Tiger Woods Platinum collection, though expect to pay a little bit more for them. What makes them different though from Nike's normal Dri-FIT shorts? Not much, really, except for a TW metal logo here and there. The material blends will vary between all of their shorts, but no matter which direction you go, they're going to be more comfortable than their full cotton counterparts. As for specifics, take a look at the Dri-FIT Tech Flat Front shorts, the SP Shorts, and their various patterned variants. You can easily find them at a number of online retailers for a good bit cheaper than the MSRP. Note that in my experience, they ran a size small. Either that, or I've gotten fatter than I thought. I prefer to believe the former rather than the latter.
Adidas also has quite a few choices for shorts. The ClimaLite full length shorts are an excellent choice, as they feature the moisture-wicking COOLMAX technology. The ClimaCool line of shorts has three different styles to choose from, each of which are highly breathable and again feature the COOLMAX technology. While you're visiting Adidas' apparel site, also be sure to check out they're other shorts, including their Formotion, Tech, and stretch twill shorts.
Like I mentioned a few weeks back, adidas and Nike are not the only ones out there, but we'd be here quite a while if I were to cover every single manufacturer and model of golf short. Just know a few things when it comes to shopping for a good pair – first and foremost, be comfortable. Being sweat-soaked and miserable can make even a casual round with friends go south very quickly. The big advantage to shorts such as the ones I've mentioned above is that your mind stays on the game, or on the fun you're having, and not locked on the overbearing heat and wetness. The second thing is to shop around. Paying $60 for a pair of these shorts is a little crazy. Finding closeouts, or good online sales is easy.
Anyone who has walked a course knows finding the right shoes can go a long way to making a round enjoyable versus having blisters on your feet after the 3rd hole. By nature, golf shoes are stiff, and heavier than normal athletic shoes. This is usually due to the use of full grain leather rather than the various lightweight materials used in most. The last few years have shown us that it doesn't have to really be this way. A number of companies have produced various styles and shapes of golf shoes that break away from the traditional appearance and blur the lines between golf shoe and performance footwear. We have covered a number of these styles here at the Bag Drop, but in case you missed them I'll give you a brief rundown.
A couple of months back, we took a look at the Adidas Tour360 4.0 Sport, and more recently, reviewed by Erik, but I couldn't go without at least mentioning them. Though I could cover some of the details of these shoes, I think you'll find the review a bit more helpful.
If you're looking for a less expensive alternative, Adidas' Tech Response 3.0 are another great example of a lighter, more athletic type of golf shoe. The combination of lightweight mesh and synthetic materials help your feet breathe and give an added degree of comfort due to it's lightweight nature. Don't let the athletic appearance fool you though, these shoes were built for golf. They feature Adidas' THiNTech low profile technology (like the Tour360 4.0 Sport) which was designed to improve stability throughout your swing. Part of the THiNTech technology is the THiNTech cleats, which help to bring the foot low to the ground, while providing excellent grip.
FootJoy has a few models that have more of a sporty functionality and appearance as well. One of those is the GreenJoys Athletic Golf shoes. Though they don't make use of a mesh material, the soft synthetic leather is a good example of how that mesh isn't 100% necessary in making a shoe breathable and comfortable. Sponge rubber insoles provide a comfortable, "cushion-y" feel, while the DuraMax rubber studded outsoles provide all the grip you'll need.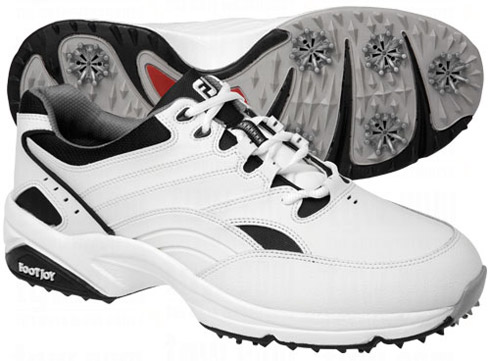 As you can see, there are a number of great options out there for a lightweight, more athletic, summertime golf shoe and these are only a sample of what's available. If you look around, you can find a number of great deals on previous years' models, including a couple of my personal favorites such as the Nike Air Max Summer and Air Max Edge. The bottom line is treat your feet well, and your scores might just thank you for it.